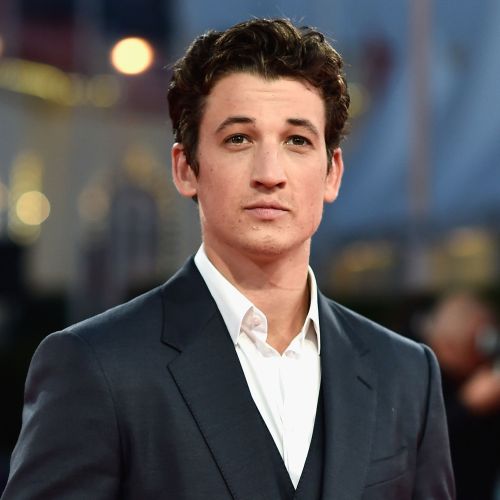 Inquire below to book Miles Teller
Actor
Miles Teller: Biography at a Glance
Starred in the Oscar-winning film "Whiplash"
Credits include the "Divergent" series, "Bleed for This," "War Dogs," "Footloose," "21 and Over," "Project X," "The Spectacular Now," "Get a Job" and "That Awkward Moment"
Made his feature screen debut opposite Nicole Kidman in the film based on the Pulitzer Prize-winning play "Rabbit Hole"
Actor
Miles Teller is the charismatic and ambitious actor taking Hollywood by storm, effectively cementing his name into into stardom one film at a time. He was most recently featured in three time Academy Award-winning film Whiplash in which he played the leading role of 'Andrew Neiman,' a jazz drummer who aspires to achieve greatness with the willingness to risk it all.
Miles Teller had the distinct honor and privilege of making his feature screen debut opposite Nicole Kidman in the film based on the Pulitzer Prize-winning play Rabbit Hole. In this tragic family drama, directed by John Cameron Mitchell, Miles played 'Jason Willette,' a bit of a loner teen who escapes into a world of comic books and science fiction.
Miles was born in Downingtown, Pennsylvania and during those formative years he developed a love of sports and has remained a die-hard Phillies and Eagles fan. The family moved to Citrus County, Florida when Miles was twelve.
During his sophomore year he and his best friend auditioned for Footloose. His pal got the lead and Miles was cast as 'Willard,' the best friend. As a result he was recruited to attend a six-week performing arts class in New York City at the New York School for Film and TV. Back in Florida he participated in the Florida State Thespian Festival. His monologue was impressive enough to represent his district at the state event. He graduated Summa Cum Laude from high school and auditioned for Julliard and New York University. After what he thought was a disastrous audition, Miles was thrilled that NYU did accept him. Ironically Miles was cast once again as 'Willard,' but this time in the new Paramount film Footloose, which was released in October 2011.
He was seen in Relativity's 21 And Over, Todd Phillips' Project X, The Spectacular Now with Shailene Woodley, Get A Job opposite Bryan Cranston and Anna Kendrick, Two Night Stand with Analeigh Tipton and Kid Cudi and That Awkward Moment with Zac Efron and Michael B. Jordan.
He is starred in the Divergent series, based on the best-selling novel by Veronica Roth, Bleed for This a motion picture story of World Champion Boxer Vinny Pazienza who, after a near fatal car crash, was left not knowing if he'd ever walk again and War Dogs opposite Jonah Hill a story about two average joes who wind up with a $300 million military contract.
To book a speaker, or for more information, call 424-288-2898, or send us a message using the form below.