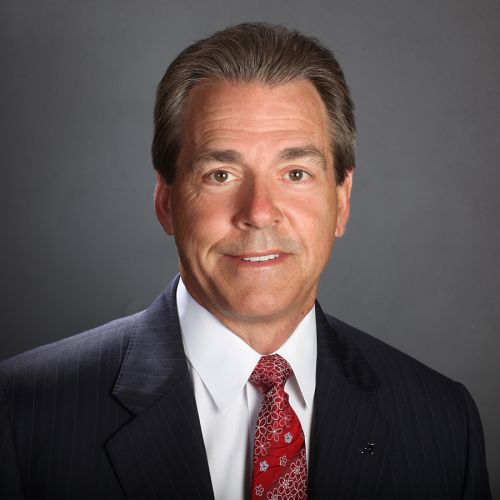 Inquire below to book
Nick Saban
Head Football Coach, University of Alabama Crimson Tide
At a Glance
Nick Saban

: Biography at a Glance
Led the Alabama Crimson Tide to the 2018 College Football Playoff Championship, his 6th National Championship overall
Holds more national championship titles than any other active college football coach
The first coach in college football history to win national championships with two different schools
Led the LSU Tigers to the 2003 BCS National Championship
Earned two AP National Coach of the Year Awards ('03, '08), the 2003 Bear Bryant Award and three SEC Coach of the Year Awards ('03, '08, '09)
Founded Nick's Kids, a non-profit organization dedicated to helping mentally challenged children
Biography
Nick Saban, head coach of the Alabama Crimson Tide, is widely considered to be one of the greatest coaches of all time, not only in college football, but in any sport.
Saban has six national championship titles, one with LSU (2003) and five with Alabama (2009, 2011, 2012, 2015, 2017), tied with former Alabama coach Bear Bryant for most all-time. He is the first coach in college football history to win national championships with two different schools.
In addition to his five national championships, Saban has earned two AP National Coach of the Year awards (2003,2008), the 2003 Bear Bryant Award, and three SEC Coach of the Year awards (2003, 2008, 2009), among many other accolades. Previously named by Forbes Magazine "The Most Powerful Coach in Sports" and NFL.com's "Best Head Coach in College Football," the legend of Saban continues to grow.
Saban has come to be known for his fiery personality on the sidelines and his strong leadership in the locker room and at practice. Saban's staff and players, as well as sports experts and fans alike, have come to identify Saban's coaching style as "The Process"—a rigorous work ethic and focus on the being the best in the immediate moment rather than looking toward what may be on the horizon. Saban demands that his players concentrate only on the task at hand and give it their all. Once that task is accomplished, move on to the next, repeat, and inevitably success will come. It is this philosophy that has distinguished Saban since his first national championship with LSU in 2003, and it's the same credo that has rewarded his 'Bama team with their most recent success.
Outside of coaching, Saban, along with his wife Terry, dedicates his passion to Nick's Kids Foundation, his non-profit organization dedicated to helping mentally challenged children. The Sabans hosts and organize several functions throughout the year to bring awareness and raise money for their mission, and to date have distributed over $4 million to deserving recipients.
Saban and his wife have two children, Nicholas and Kristen. Born in Carolina, West Virginia, Saban graduated from Kent State University where he played defensive back for the Golden Flashes football team.
Reviews
Everything was great! Nick was a HUGE hit -- our guys were thrilled to have him and he is definitely a new favorite. He really is a fantastic speaker. I truly appreciate all of your help making this happen!
Tiger Global Management, LLC.
He did a great job. Feedback has been very positive.
Duck Creek Technologies
For speaker-related inquiries, email speakers@caa.com, or send us a message using the form below.