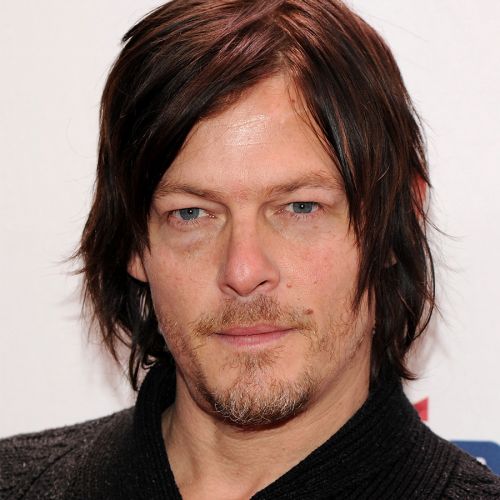 Inquire below to book Norman Reedus
Actor
Norman Reedus: Biography at a Glance
Stars as Daryl in "The Walking Dead"
Hosted "Ride With Norman Reedus" on AMC
Star and executive producer of the 2015 film "Air"
Other credits include "The Boondock Saints," "Blade II," "Mimic," "Deuces Wild," "Six Ways to Sunday" and "Floating"
Published a book of photography, "The Sun's Coming Up...Like a Big Bald Head"
Actor
As of 2010, Norman Reedus stars as 'Daryl Dixon' in the AMC television series The Walking Dead. The character was not originally in the comic book series of the same name, but was created specifically for Reedus after his audition for the character of 'Merle Dixon.' The Walking Dead comic creator Robert Kirkman has stated he feels "absolutely blessed [Reedus] has honored the show with his presence, and the way he has come in and taken over that role and defined 'Daryl Dixon.' A lot of Norman's portrayal of the character in the first season inspired all the writers to do what we did with him in the second season."
He was most recently the star and executive producer of the 2015 film Air.
Norman will next be seen on AMC's new series Ride with Norman Reedus. The six-episode series will follow Norman and a different riding companion in a different city each week as they travel to a destination and explore motorcycle culture along the way.
Norman starred in his first film, the Guillermo del Toro horror thriller film Mimic, in 1997. He was also seen in Floating, Six Ways to Sunday, Deuces Wild, Blade II, Gossip, 8mm, American Gangster, Hero Wanted and Moscow Chill. He was also seen in Christian Alvart's German film Antibodies and the 2008 film Red Canyon.
Norman is perhaps best known for playing the role of 'Murphy MacManus' in the 1999 film The Boondock Saints. He also starred in the 2009 sequel The Boondock Saints II: All Saints Day.
To book a speaker, or for more information, call 424-288-2898, or send us a message using the form below.