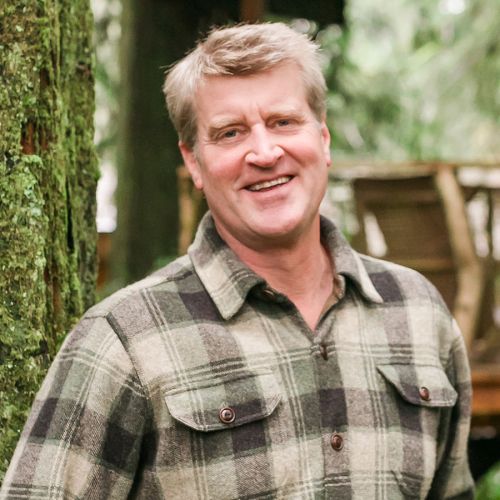 Inquire below to book Pete Nelson
Animal Planet's "Treehouse Masters"
Pete Nelson: Biography at a Glance
Stars on Animal Planet's hit series "Treehouse Masters"
Founded Nelson Treehouse and Supply, the company responsible for some of the world's most incredible treehouses
Owns and operates Treehouse Point in Washington, a retreat featuring six treehouses for rent
Author of "New Treehouses of the World," "Treehouses: The Art and Craft of Living Out on a Limb" and "Be in a Treehouse"
Widely considered as the world's best treehouse builder
Biography
"The Treehouse Guy" Pete Nelson is the star of Animal Planet's Treehouse Masters. Pete runs Nelson Treehouse and Supply, the company responsible for designing and building some of the world's most incredible treehouses. He and his wife, Judy, currently own and operate Treehouse Point in Washington State, a retreat featuring a half dozen treehouses for guests to rent.
With a reputation for limitless imagination and incomparable skills, Pete is widely known as the best treehouse builder in the world. Living by the motto "if you dream it, you can build it," he constantly pushes his clients' treehouse expectations to the max. With an arsenal of experience Pete continues to design and build treehouses the world has never seen before.
Pete also teaches people how to safely design and build their own treehouses. He has shared his breadth of knowledge in the coffee-table staple New Treehouses of the World and Treehouses: The Art and Craft of Living out on a Limb. His latest book titled Be in a Treehouse details the technical aspects of building in the trees along with showcasing treehouses from all over the world. His creations have been featured on countless TV shows and newspaper articles. He continues to challenge himself and his team to build the most luxurious lifestyles in the lofty heights of trees around the world.
"Everything went great! Pete was very easy to work with, we enjoyed his presentation very much! We had about 600-650 for the Saturday seminars and about 400-500 for the Sunday seminars. He has a strong following and I would definitely recommend him to other home show promoters. His seminar fit nicely in the building with the landscapes and tiny house village. Overall a thumbs up!"

Fresno Home Shows
"Pete was great! Very easy to work with and super nice."

Fredericksburg Spring Home & Garden Show
"Pete did a great job. He did his presentation twice on the same day and to my surprise the second presentation was busier then the first. We will continue to bring you offers for Pete!"

Home Builders Association of Central Michigan Home
"Pete is such a lovely person. His presentation was incredible and his meet and greet was wonderful. I cannot tell you how much Kansas City loved him. We were so privileged to get him to come to Kansas City and he was a huge draw to our show. Thanks again and I look forward to working with you for next year!"

Home Builders Association of Greater Kansas City
To book a speaker, or for more information, call 424-288-2898, or send us a message using the form below.