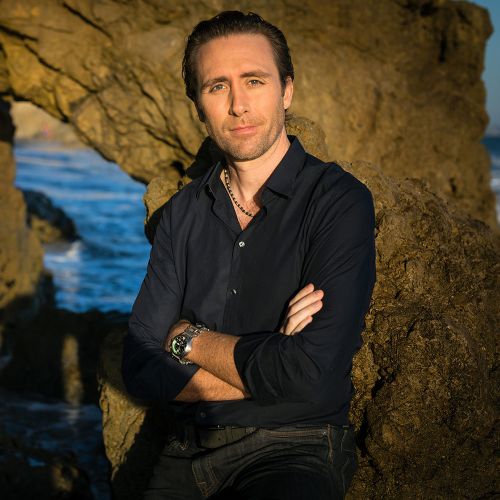 Inquire below to book
Philippe Cousteau
Environment Advocate
At a Glance
Philippe Cousteau

: Biography at a Glance
Emmy-nominated host and executive producer of "Xploration Awesome Planet" on Fox and Hulu
Hosted two seasons of "The Aquatic World of Philippe Cousteau" on GreatBigStory.com
Co-host of "Caribbean Pirate Treasure" on the Travel Channel
Has hosted several award-winning shows as a special correspondent for CNN, including "Going Green" and "Expedition Sumatra"
Author of the children's books "Follow the Moon Home," "Going Blue" and "Make a Splash"
His latest book, Oceans for Dummies, is a comprehensive guide to some of the most incredible, bizarre, and fascinating creatures in the ocean.
Founded EarthEcho International, a leading environmental education organization dedicated to inspiring youth to take action for a sustainable planet
Biography
Inspired by the legacy of his grandfather of Jacques Cousteau, Philippe is an multi Emmy-Nominated TV host and producer as well as an author, speaker, and social entrepreneur.
He and his wife Ashlan are the stars of The Travel Channel's newest series Caribbean Pirate Treasure.  It follows the Cousteau's as they travel around the Caribbean, diving into maritime mysteries, exploring pirate histories and investigating the lore of lost treasures.   In addition, Philippe is the host and executive producer of the multi-Emmy nominated series Awesome Planet, now filming its fourth season which is syndicated on Fox and Hulu.
He is also producer and host of a three-part series exploring innovation for sustainability in business sponsored by United Technologies.
In 2016 Philippe teamed up with his wife Ashlan to co-host Nuclear Sharks, the #1 show for Discovery's Shark Week. In 2015, they co-hosted a three-part series with Takepart.com, exploring tiger and rhino conservation in Nepal called Treasures of the Terai.
As a special correspondent for CNN, he has hosted several award-winning shows, including Going Green and Expedition Sumatra. Philippe has also hosted and produced television programs for Animal Planet and the 8- part series Oceans for the BBC and Discovery Channel.
Philippe has served as a consultant on a select group of international resort developments where he advises on best practices for social and environmental sustainability and his team designs immersive and meaningful 21st century experiences that leverage local environmental and cultural assets to redefine destinations.
In 2012 he was the president and spokesperson of the US Pavilion at the Yeosu World Expo in South Korea.  His firm designed, built and operated the Pavilion in partnership with the United States Department of State.
As an author, Philippe latest children's book, Follow the Moon Home has been chosen for the prestigious Texas Bluebonnet Award Master List.  In addition, he has co-written two award-winning books, Going Blue and Make a Splash, both of which have won multiple awards, including Learning Magazine's 2011 Teachers' Choice Award for the Family, a Gold Nautilus Award, and a 2010 ForeWord Reviews Book of the Year Gold Award.
His conservation efforts are focused on solving global social and environmental problems. In 2004 he founded EarthEcho International, a leading environmental education organization dedicated to inspiring youth to take action for a sustainable planet.
Philippe is a sought-after speaker having hosted and keynoted various events for the United Nations, Harvard University, the University of Florida, the Society of Environmental Journalists, The Economist Magazine global summit, and countless corporate events and global conferences. He has testified before Congress several times and most recently presented at TEDx Pennsylvania Ave.

 
Reviews
He was absolutely fantastic, I keep getting email after email thanking us for having him and hosting such a wonderful event.
Morgan Stanley
It was a phenomenal event, Philippe absolutely nailed the message in a way that we're hearing spectacular feedback from a wide range of campus community members.
University of Florida
Everyone at the conference was so impressed and everyone had so many questions – wanted to ask him about everything! The event was a huge success.
Sales & Special Events Manager, Las Ventanas al Paraíso
Philippe was extraordinary! He was very accessible to the people at the event and his keynote was superb.
Morelos Unico
Philippe's part at the Business Breakfast and the Q&A was so interesting and also very witty! His keynote speech was also great and we learned a lot! Everything was awesome!
REWE International Services Vienna
Our audience really enjoyed Philippe's session and are hopeful that there is more opportunity to work with him in the future.
BDT & Co.
For speaker-related inquiries, email speakers@caa.com, or send us a message using the form below.