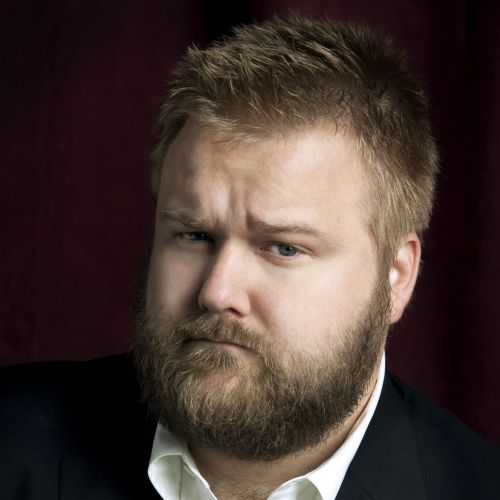 Inquire below to book Robert Kirkman
Creator & Executive Producer, "The Walking Dead"
Robert Kirkman: Biography at a Glance
Creator, writer and executive producer of AMC's "The Walking Dead"
Writer and producer of "The Walking Dead" spin-off "Fear the Walking Dead"
Creator of the comics "The Walking Dead," "Invincible," "Battle Pope," "SuperPatriot" and "Tech Jacket"
Made his feature film debut with "Air"
Former artist for Marvel Comics
Creator & Executive Producer, "The Walking Dead"
Robert Kirkman is a New York Times best-selling author known for being the cultural zeitgeist of the comic book industry. Following the grassroots success of the self-published Battle Pope (2000), Kirkman caught the eye of Image Comics founding partner Erik Larsen. After several short-term projects (SuperPatriot and Tech Jacket), he achieved superstar status in 2003 with Invincible and The Walking Dead. During a subsequent stint at Marvel Comics, he gained many new fans with the haunting and hilarious Marvel Zombies.
MTV translated Kirkman's Invincible into a motion comic — one of the first in a growing industry trend. Kirkman's Skybound imprint, under the Image Comics umbrella, is committed to fostering up-and-coming talent in the industry, and all acquisitions are handpicked by Kirkman himself.
Kirkman won the 2010 Eisner Award for Best Continuing Series for The Walking Dead. AMC's interpretation of the comic has received glowing reviews from critics and fans alike, and continues to garner the highest ratings for the network, making it a game changer for groundbreaking television on cable.
Kirkman recently made his big screen debut as the producer of Air, starring Norman Reedus and Djimon Hounsou. He is currently serving as a writer and producer of The Walking Dead spinoff Fear the Walking Dead, which premiered Fall 2015.
To book a speaker, or for more information, call 424-288-2898, or send us a message using the form below.