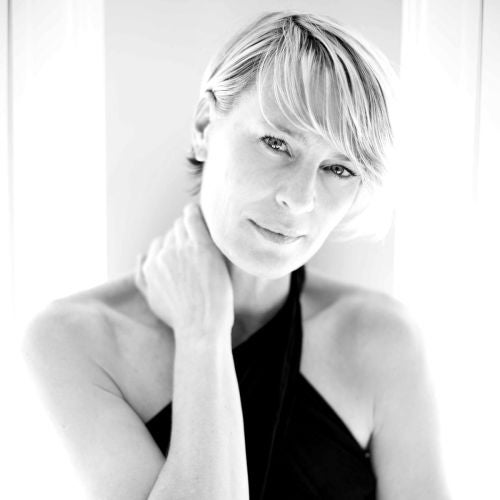 Inquire below to book
Robin Wright
Star, Netflix's "House of Cards"
At a Glance
Robin Wright

: Biography at a Glance
Currently starring as 'Claire Underwood' on the award-winning Netflix series House of Cards
Won a Golden Globe for her role on House of Cards, becoming the first actress to win the award for a online-only web television series
Earned Golden Globe and Screen Actors Guild nominations for her role of 'Jenny' in Forrest Gump
Film credits include The Girl with the Dragon Tattoo, Moneyball, Unbreakable and The Princess Bride

 

Named one of TIME's "100 Most Influential People"
Biography
Robin Wright is an award-winning actress, director, and philanthropist who has carved an incredible, long-lasting mark in Hollywood. She can currently be seen as the formidable Claire Underwood in the highly acclaimed Netflix original series "House of Cards," for which Robin received a Golden Globe as well as many other award nominations.
Some of Robin's most notable roles in film include "Forest Gump," "Moneyball," "The Princess Bride," and most recently "Wonder Woman" and "Blade Runner 2049."
For Robin's powerful performance as Claire Underwood in "House of Cards," she has been nominated for the Golden Globe for the Best Actress (2013-15), taking home the award in 2013. She received Emmy nominations for Outstanding Lead Actress in a Drama Series (2013-17), and Screen Actors Guild nominations for Outstanding Performance by a Female Actor in a Drama Series (2014-17) and Outstanding Performance by an Ensemble in a Drama Series category (2014-15), among others. "House of Cards" is going into its sixth and final season.
Robin first gained notoriety for her role as Kelly Capwell on the hit NBC soap Opera "Santa Barbara," which she played from 1984 to 1988, for which she won a Soap Opera Digest Award and was nominated Daytime Emmy Award.
Robin then made the transition to film, starring in the now classic romantic comedy adventure film "The Princess Bride" in 1987, which established Wright as a name to know. In 1995 Robin starred in the unforgettable role of Jenny in Oscar Best Picture winner "Forrest Gump," for which she received her first two award nominations by the Golden Globes and Screen Actors Guild for Best Supporting Actress. Robin earned her second SAG nomination for Best Lead Actress in the 1997 film "She's So Lovely." Robin has since starred in such films as "Message in a Bottle," "Unbreakable," "Nine Lives," "Beowulf," "State of Play," "The Conspirator," "Moneyball," "The Girl with the Dragon Tattoo," "A Most Wanted Man," Everest," and most recently the superhero hit "Wonder Woman" and sci-fi film "Blade Runner 2029."
Robin also starred in the acclaimed HBO miniseries "Empire Falls" in 2005, alongside Ed Harris, Philip Seymour Hoffman, Helen Hunt, and Paul Newman, earning her a SAG award nomination.
Robin was honored with a career tribute at the 35th Annual Deauville American Film Festival. In 2014, she was named one of TIME magazine's "100 Most Influential People."
In 2014, Robin launched Pour Les Femmes, a socially conscious sleepwear line with clothing designer Karen Fowler. Pour Les Femmes partnered with Action Kivu and Synergie, two organizations dedicated to aiding women in the Congo who are victims of violence.
Reviews
She was lovely! So easy going. it went really well. She was effortless in the Q&A. A lot of fun. Thank you for making it happen. Looking forward to working with you and CAA again. Hopefully, very soon!
The Phoenix House of Texas
For speaker-related inquiries, email speakers@caa.com, or send us a message using the form below.