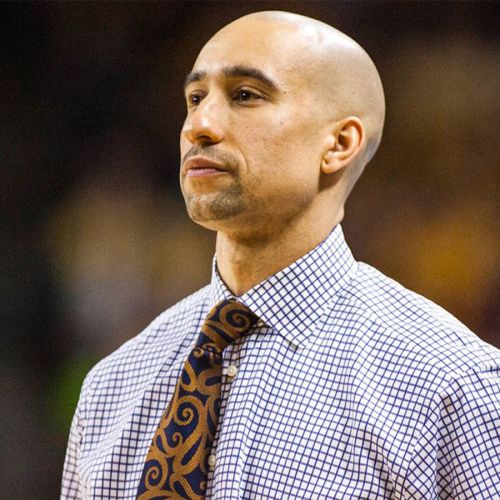 Inquire below to book Shaka Smart
Head Basketball Coach, University of Texas
Shaka Smart: Biography at a Glance
Head coach of the University of Texas men's basketball team
Former head coach of the Virginia Commonwealth University men's basketball team
Led the Rams to the 2011 NCAA Final Four
Posted at least 26 wins in each of his six seasons at the VCU
Head Basketball Coach, University of Texas
The leader of a Virginia Commonwealth University program that advanced to the 2011 Final Four and posted at least 26 wins in each of his six seasons at the school, Shaka Smart became the 24th head basketball coach at The University of Texas on April 3, 2015.
While at VCU (2009-15), the 38-year-old Smart posted an overall record of 163-56 (.744) and guided the Rams to five NCAA Tournament appearances. The 163 wins tied him for the second-highest number of total victories during the first six years of a head coaching career in NCAA history. VCU and Duke are the only two programs in the country to have posted at least 26 wins in each of the past six seasons.
VCU is one of only 11 schools in the nation to earn an NCAA Tournament bid in each of the past five years (Cincinnati, Duke, Gonzaga, Kansas, Louisville, Michigan State, North Carolina, Ohio State, San Diego State and Wisconsin). During Smart's tenure, the Rams posted a 27-9 (.750) mark in postseason play and a 33-10 (.767) record in the month of March, including a 7-5 mark in five NCAA Tournament appearances. The Rams' NCAA appearance March 2015 marked the first time in school history VCU had advanced to the Big Dance five straight years, and the first time in the history of the Commonwealth of Virginia that a Division I basketball program had accomplished that feat.
To book a speaker, or for more information, call 424-288-2898, or send us a message using the form below.