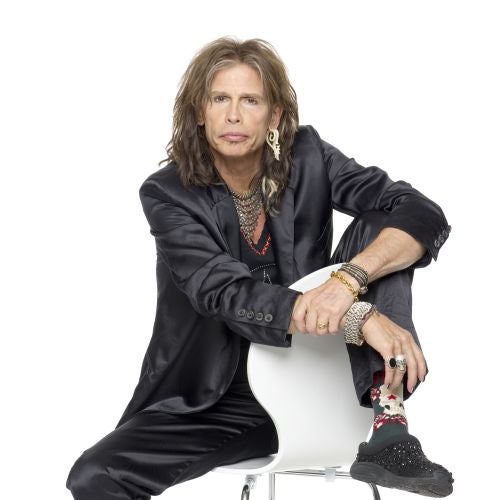 Inquire below to book Steven Tyler
American Music Icon
American Music Icon
Born Steven Victor Tallarico on March 26, 1948, in Yonkers, New York, Steven Tyler is the iconic songwriter, composer and voice of Aerosmith - America's Greatest Rock and Roll band - and is considered one of rock's most recognizable and dynamic frontmen. Rolling Stone Magazine has cited him one of the greatest singers of all time.
After moving to Boston in the late 1960s, Tyler met the musicians that would form Aerosmith. He joined with guitarist Joe Perry, bassist Tom Hamilton, guitarist Ray Tabano (who was later replaced by Brad Whitford) and drummer Joey Kramer to form the group. The penultimate lead singer, Tyler is also known to play harmonica, percussion (he began his career as a drummer) and the occasional piano. Tyler's one of a kind style can always be seen at the microphone with his signature scarves wrapped around the mic stand, outrageous hats and embellished stage clothes supporting his unmatched stage swagger.
The band played its first gig together in 1970, and by 1975, emerged as one of the world's leading rock bands. Almost 40 years later, "The Bad Boys From Boston" continue to excite fans in stadiums and arenas worldwide. Aerosmith came full circle when they played their ultimate gig in August 2010... to a sold out crowd at Fenway Park in their hometown of Boston, a few blocks from their humble beginnings as a band. Closing out the show, Steven Tyler appeared atop the famed Green Monster in the outfield projecting his classic smash "Dream On" on a white baby grand piano to a mesmerized audience in what can only be described as one of the greatest moments in recent rock and roll history.
The band has sold over 100 million records across the globe and have won numerous prestigious awards - multiple Grammys, American Music Awards, Billboard Awards, and MTV Awards and were inducted into the Rock N' Roll Hall of Fame in 2001.
Some of the band's hits reads like the top of the Billboard charts through the years: "Dream On," "Walk This Way," "Sweet Emotion," "Toys In The Attic," "Janie's Got A Gun," "Don't Want To Miss A Thing," "Livin On The Edge," "Cryin," "Crazy," "Amazing," "Pink," "Love In An Elevator," "Dude (Looks Like A Lady)" and "Mama Kin" are a sample of the songs Aerosmith has brought into the American landscape. Their trendsetting range of videos defined and forever changed the MTV video era.
The band has infiltrated rock history with their memorable appearances in "Wayne's World," on "The Simpsons" at Halftime at the Super Bowl XXXV in 2001 and in their own Aerosmith version of Guitar Hero.
Tyler can currently be seen on FOX's "American Idol". His autobiography, Does The Noise In My Head Bother You? was released in 2011. Tyler currently resides in the Greater Boston Area.
To book a speaker, or for more information, call 424-288-2898, or send us a message using the form below.