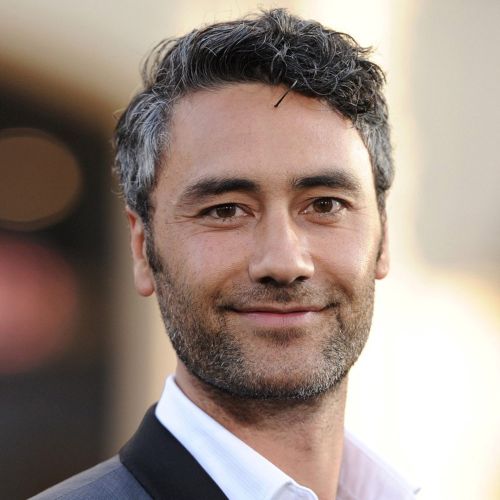 Inquire below to book
Taika Waititi
Academy Award-Winning Filmmaker, JoJo Rabbit
At a Glance
Taika Waititi

: Biography at a Glance
Taika Waititi is a New Zealand filmmaker, actor and comedian. He is the recipient of an Academy Award and two Oscar nominations.

Waititi's most recent directing credits include the Marvel Cinematic Universe superhero film Thor: Ragnarok (2017) and the satirical comedy film Jojo Rabbit (2019), the latter of which he also wrote and starred in as Adolf Hitler.
His work in Jojo Rabbit earned critical praise, receiving a nomination for the Academy Award for Best Picture and winning the Academy Award for Best Adapted Screenplay.
His feature films Boy (2010) and Hunt for the Wilderpeople (2016) have each been the top-grossing New Zealand film of all time.
He co-directed and starred in the horror comedy film What We Do in the Shadows (2014) with Jemaine Clement.
Biography
Taika Waititi is an award-winning filmmaker from New Zealand. His second film, BOY, which he wrote, directed, and acted in, became New Zealand's highest-grossing local film of all time. The film premiered at the Sundance Film Festival and went on to win the Generation Grand Prix at the 2010 Berlinale, as well as awards at the Maui, Sydney, Melbourne, and AFI Film Festivals. Waititi's other writer/director credits include the 2005 short TWO CARS, ONE NIGHT, which was nominated for an Academy Award, and the short film TAMA TU, which made the Oscars shortlist and picked up many festival prizes worldwide.
In 2017 Waititi made the jump to American blockbusters, helming the Marvel action-comedy film THOR: RAGNAROK, the seventeenth entry in the Marvel Cinematic Universe. The Chris Hemsworth vehicle made over $800 million at the global box office and was hailed as a comedic masterpiece by critics and fans alike. He has also written and directed multiple episodes of the TV series FLIGHT OF THE CONCHORDS and SUPER CITY, which he is currently developing for American television. He directed the MTV pilot THE INBETWEENERS which has since been picked up for series production, and an adaptation of his film WHAT WE DO IN THE SHADOWS, for which he wrote the pilot, was recently picked up to series at FX.
Waititi has a long history of performance in theatre, film, and television. He has appeared in numerous films including his first feature, EAGLE VS SHARK, which he also wrote and directed. The script was workshopped at the prestigious Sundance Institute Directors Lab and the film was nominated for the Grand Jury Prize at the 2007 Sundance Film Festival. With a strong background in painting and photography, Waititi has also spent many years presenting his work in various mediums from painting and mixed media to book and album illustration, exhibiting in both New Zealand and Berlin.
Waititi is of Te-Whanau-a-Apanui descent and grew up on New Zealand's East Coast as well as in Wellington, attending Victoria University as an arts student. In 1999, as one half of the comedy duo Humourbeasts (the other half being Jemaine Clement), he won the Billy T Comedy Award. In 2006, Waititi was made a New Zealand Arts Foundation "New Generation" Laureate and in 2010 he was invited to Doha, Qatar, to present a TEDx talk on his approach to creativity in different mediums.
For speaker-related inquiries, email speakers@caa.com, or send us a message using the form below.