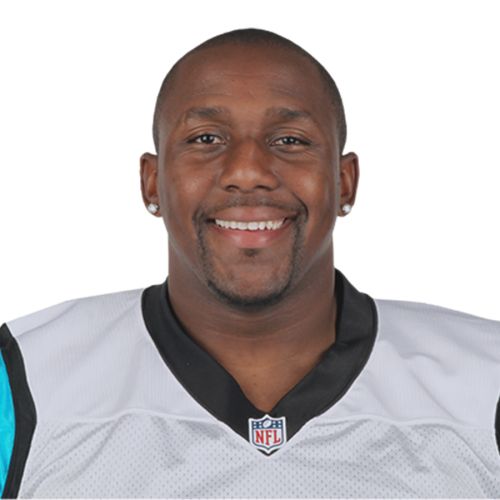 Inquire below to book Thomas Davis
Outside Linebacker, Carolina Panthers
Thomas Davis: Biography at a Glance
Outside linebacker for the Carolina Panthers
Named the 2014 Walter Payton Man of the Year, recognizing his off-the-field community service work
Selected for the 2016 Pro Bowl
The first NFL player to recover and return from three ACL tears
Outside Linebacker, Carolina Panthers
Thomas Davis is an outside linebacker currently playing for the Carolina Panthers. Drafted in the first round, 14th overall by the Panthers, Davis has overcome many challenges in his lengthy career.
Davis was an All-American at the University of Georgia. In 39 career games, he recorded 272 tackles, 18 for a loss, 10.5 sacks, three interceptions, six forced fumbles and nine fumble recoveries.
Drafted as a safety for the Panthers in 2005, he was converted to a linebacker during his rookie year. He became a regular starter in 2007 and annually recorded three sacks.
Over the next three years, Davis tore his ACL three times. No NFL player had ever recovered and returned from three ACL tears and Davis hoped to be the first.
In 2012, Davis returned to the field recording 105 tackles, an interception, and 2 forced fumbles in just 12 starts.
The 2013 season marked the high point of Davis's career. He started in all 16 games and recorded a career high 123 tackles and 4 sacks, in addition to 2 interceptions and a forced fumble. He was an integral part of Carolina's second ranked-defense.
The following season, Davis was among the league leaders in pass coverage linebackers allowing only 7.1 yards per reception. Davis earned the 2014 Walter Payton Man of the Year by the NFL, recognizing his off-the-field community service work.
In 2015, David was named to the Pro Bowl Team, a rare honor for an outside linebacker in a 4-3 defense. He wrapped up the regular season with 105 total tackles, 5.5 sacks, and 4 interceptions. Davis returned to the NFC Championship game for the first time since his rookie season in 2005 and was the only active Panther to have played in both Conference Championship games. Despite Davis's 7 tackles, the Panthers fell to the Denver Broncos in Super Bowl 50.
To book a speaker, or for more information, call 424-288-2898, or send us a message using the form below.