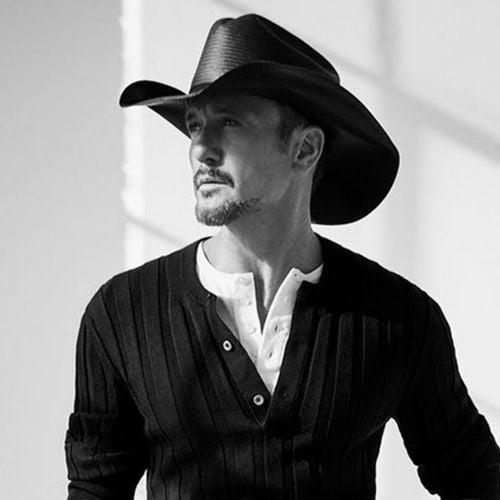 Inquire below to book
Tim McGraw
Grammy-Winning Musician
At a Glance
Tim McGraw

: Biography at a Glance
Tim McGraw is 

routinely cited as one of the biggest touring artists in the history of country music.

McGraw's latest book, "Songs of America," is a collaboration with Pulitzer Prize-winning presidential historian Jon Meacham, and became an instant New York Times bestseller.
His 

unparalleled career includes 43 number one radio singles, 16 number one albums and countless industry awards and accolades.

McGraw has been the most played country artist since his debut in 1992, including two singles that spent over ten weeks at #1 on Billboard.

His multi-week #1 single "Humble and Kind" became one of the biggest hit singles of all-time. It won the Grammy for Best Country song, spawned a New York Times bestselling book, and won a coveted Clio Award for Best Integrated Campaign.
Biography
Tim McGraw has sold more than 50 million records worldwide and dominated the charts with 43 worldwide No. 1 singles. He's won 3 Grammy Awards, 16 Academy of Country Music Awards, 14 Country Music Association Awards, His iconic career achievements include being named BDS Radio's Most Played Artist of the Decade for ALL music genres and having the Most Played Song of the Decade for ALL music genres. He is the most played country artist since his debut in 1992, with two singles spending more than 10 weeks at No. 1. His career-long tour successes include the record-setting "Soul2Soul The World Tour 2017" with his wife, Faith Hill. McGraw starred in and narrated the hit movie "The Shack" and co-wrote and performed the closing credit song for the Oscar nominated documentary "Free Solo."  His other movie credits include blockbuster hits "Friday Night Lights" and "The Blind Side. McGraw recently co-authored the New York Times Best Seller, "Songs of America: Patriotism, Protest and the Music that Made a Nation" with Jon Meacham and enjoyed a critically acclaimed multi-city book tour featuring conversation and music from the book. McGraw is the founder of health and fitness brand, TRUMAV and has authored a health and fitness book "Grit and Grace" due out in November 2019. His latest music single, "Thought About You" was a featured televised performance on both the NFL Tailgate Party for Super Bowl LIII and the NFL Draft.
For speaker-related inquiries, email speakers@caa.com, or send us a message using the form below.