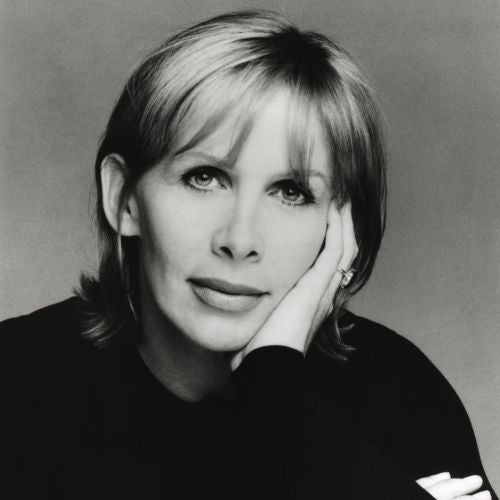 Inquire below to book Trudie Styler
Actress, Activist
Actress, Activist
Trudie Styler's dynamic personality and incredible determination have made her one of the most powerful women in today's entertainment industry. Her passionate concerns for the environment and human rights motivate many of her career choices, and are reflected most clearly in her documentary films and fundraising activities.
Trudie's charitable work for human rights and the environment has also been recognized by many award-giving bodies. Styler was the Keynote Speaker at the Reebok Human Rights Awards in 1994; and her honors include: the 1994 Rainforest Hero Award by the Rainforest Action Network for her efforts in protecting the Xingu Park in Brazil; Outstanding Woman Environmentalist by the Center for Environmental Education; The Humanitarian Award (1995) from the Hospitality Committee for the United Nations delegations; the Ermenegildo Zegna International Environmental Award (1998) from GQ magazine; the Human Rights Champion Award (2000) from Amnesty International; a Forces for Nature Award (2002) from the Natural Resources Defense Council; and most recently the Liz Tilberis Humanitarian Award (2004). As an ambassador for UNICEF, she remains committed to working to improve the lives of impoverished and exploited children all over the world.
With her production company, Xingu Films, Trudie has used her creative talents and expertise in the field of cinema to produce award-winning films.
Trudie's first documentary, Moving the Mountain was made for the BBC. Directed by Michael Apted, it told the stories of the student leaders of the 1989 student demonstration for democracy in Beijing's Tiananmen Square, and won an International Documentary Association Award. Subsequent documentaries include two with director John-Paul Davidson: Boys from Brazil (1993), about Brazilian transvestite prostitutes; and The Sweatbox (2002), a documentary on the making of the Disney animated feature The Emperor's New Groovewhich Trudie also stepped behind the camera to co-direct. She also produced the documentary A Kind of Childhood (2002), directed by Cannes award-winning team Catherine and Tareque Masud (The Clay Bird2002). The film follows the lives of a group of working children in Bangladesh over a period of six years, providing a fascinating document of their young lives.
Feature films and collaborations include The Grotesque (1995) directed by John-Paul Davidson; Guy Ritchie's Lock Stock and Two Smoking Barrels (1998); the sequel Snatch (2000); and Joel Hershman'sGreenfingers (2001) starring Clive Owen and Helen Mirren. In 2003 Xingu completed Cheeky by David Thewlis (co-produced with Luc Besson's EuropaCorp); and in 2005 released Alpha Male, written and directed by Dan Wilde.
Trudie's directorial follow-up was the significantly praised romantic short Wait (2005). This popular film was prominently featured in Glamour Magazine's "Reel Moment", and stars Tyson Beckford, Anna Chlumsky, and Kerry Washington.
Her most recent and critically acclaimed feature is the award-winning A Guide to Recognizing Your Saints, by writer/director Dito Montiel. This autobiographical picture about first-time writer and director Dito Montiel's troubled adolescence in Astoria, Queens won the coveted Dramatic Directing Award at the 2006 Sundance Film Festival and was honored with a Special Jury Prize for Best Ensemble Cast, which includes Robert Downey Jr., Shia LaBeouf, Chazz Palminteri, Dianne Wiest, and Rosario Dawson. Other notable awards the film received include the Venice Film Festival's Critics Week Lion for Best Feature, the Venice Isvema Award for Dito Montiel and the Hollywood Life Breakthrough of the Year Award for Channing Tatum's performance. In addition, Channing received a nomination for Breakthrough Actor at this year's Gotham Awards. The film was also nominated for three 2007 Independent Spirit Awards including Best Supporting Actor for Channing Tatum, Best Supporting Actress for Melonie Diaz and Best First Screenplay for Dito Montiel.
Forthcoming projects include an adaptation of Haruki Murakami's novel South of the Border, West of the Sun, a co-production with Ruby Films (Proof; Elizabeth) and to be directed by Michael Radford. Trudie has also recently acquired film rights to Joshua Doder's A Dog Called Grk children's book series. The deal covers all four books in series, which have been compared to the Tin-Tin comic series. In the first story we meet 12-year-old Timothy Malt and a lost dog, Grk. Tim's quest to return Grk to his owner leads him on an exciting adventure in Eastern Europe - and the rest of the series doesn't disappoint with many amazing adventures in exotic locations around the world.
A leading player in the Royal Shakespeare Company during the 1980s, Trudie studied drama at the Bristol Old Vic Theatre School and has extensive experience in British repertory theatres. In many major roles she has co-starred alongside such notables as Peter O'Toole, Harvey Keitel, Greg Henry, Richard Berry, Alan Bates, James Earl Jones and Danny Huston. Her recent TV work has included roles in the The Scold's Bridle(BBC, 1998); Midsomer Murders (ITV, 1999); a guest appearance in the US sitcom Friends (2002); a major role in the US series Empire (ABC); and Love Soup (BBC, 2005). Her recent film work includes roles in Me Without You (2001); the ABC film Confessions of an Ugly Stepsister (2002); Cheeky (2003); and Alpha Male (2005).
In 1988, along with her husband Sting, Trudie started the Rainforest Foundation, an organization devoted to protecting rainforests and their indigenous peoples. Her efforts over the years have aided in expanding the project over three continents: South America, Africa and Asia. Since 1991, Trudie has produced the annual benefit concert at New York's Carnegie Hall, working with some of the world's most exciting and talented artists across the range of musical fields and raising more than $20 million dollars. Her fundraising for the Rainforest Foundation has also taken Styler's career into the record industry, with the 1997 release of an album entitled CARNIVAL! on the RCA Victor label. The album debuted at #3 on the world music chart, and features an unprecedented assembly of top international artists from the classical, pop and world music genres. 2008 is a special year, marking the 20th anniversary of the founding of the Rainforest Foundation Fund and the 15th Rainforest Benefit Concert.
Styler published The Lake House Cook Book in 1999, co-written with international chef Joseph Sponzo. Alongside Sponzo's recipes, she describes her family's move to the countryside and their subsequent move towards self-sufficiency through organic farming, a subject on which she has spoken publicly and passionately on several occasions. Styler now plays an active role in the UK's leading organic organization, The Soil Association. Trudie and her husband Sting practise yoga year-round, making frequent trips to their home in Italy, where they also run annual yoga retreats. (For more information please visit: www.palagioretreats.com.)
In the spring of 2006, Trudie and Sting joined together on Broadway for the US debut performance of "Twin Spirits" to benefit Broadway Cares/Equity Fights Aids. This emotional piece about the lives of composers Robert and Clara Schumann will be filmed by the BBC in December 2007.
As an actress, director, producer, and humanitarian, Trudie Styler continues to amaze us with her unique depth and range in the creative arts. Her ability to balance her artistic vision with her inspiring and revolutionary charitable campaigns allow us to recognize her as a true leader in making a difference in the world.
Trudie currently resides in New York City.
To book a speaker, or for more information, call 424-288-2898, or send us a message using the form below.