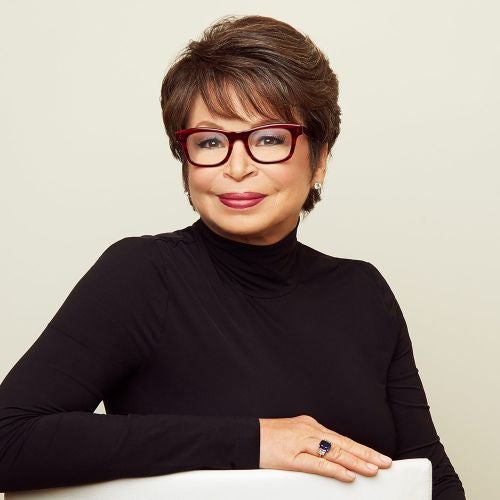 Inquire below to book
Valerie Jarrett
Former Senior Advisor, Obama Administration; Bestselling Author
New & Noteworthy
Valerie Jarrett's new book, "Finding My Voice," is a New York Times bestseller
At a Glance
Valerie Jarrett

: Biography at a Glance
Valerie Jarrett is the New York Times bestselling author of Finding My Voice. Her memoir is an optimistic reflection on her journey from her birth in Iran to serving as the longest serving senior advisor to President Obama. She shares what she has learned about the leadership - and the responsibilities of citizenship - inspiring readers to lift their own voices.

Senior Distinguished Professor, the University of Chicago Law School.

Senior Advisor to the Obama Foundation and ATTN.

Co-Chair of the Board of The United State of Women, a national organization focused on closing the gender gap.

Board Chair of When We All Vote, a non-partisan effort to encourage voter engagement and participation.

Serves on the Board of Directors for Lyft, Ariel Investments, 2U, the Economic Club of Chicago, the Innocence Project and John F. Kennedy Center for Performing Arts.

Formerly Senior Advisor, Assistant to the President for Intergovernmental Affairs and Public Engagement and Chair of the White House Council on Women and Girls (2009-2017).
Biography
Valerie B. Jarrett is a Senior Distinguished Fellow at the University of Chicago Law School and author of the New York Times bestselling book Finding My Voice: My Journey to the West Wing and the Path Forward, published in April 2019. She is a senior advisor to the Obama Foundation and Attn and serves as the Board Chair of When We All Vote and the Co-Chair of The United State of Women. Jarrett also serves on the boards of the Innocence Project, Ariel Investments, 2U, Lyft, the John F. Kennedy Center for Performing Arts, and the Economic Club of Chicago.
Ms. Jarrett was the longest serving Senior Advisor to President Barack Obama. She oversaw the Offices of Public Engagement and Intergovernmental Affairs and Chaired the White House Council on Women and Girls. Ms. Jarrett worked throughout her tenure at the White House to mobilize elected officials, business and community leaders, and diverse groups of advocates. She led the Obama Administration's efforts to expand and strengthen access to the middle class, and boost American businesses and our economy. She championed the creation of equality and opportunity for all Americans, and economically and politically empowering women in the United States and around the world. She oversaw the Administration's advocacy for workplace policies that empower working families, including equal pay, raising the minimum wage, paid leave, paid sick days, workplace flexibility, and affordable childcare, and led the campaigns to reform our criminal justice system, end sexual assault, and reduce gun violence. 
Ms. Jarrett has a background in both the public and private sectors. She served as the Chief Executive Officer of The Habitat Company in Chicago, the Commissioner of Planning and Development and Deputy Chief of Staff for Chicago Mayor Richard M. Daley. She also served as the director of numerous corporate and not-for-profit boards including Chairman of the Board of the Chicago Stock Exchange, Chairman of the University of Chicago Medical Center Board of Trustees, Vice Chairman of the University of Chicago Board of Trustees,  Director of the Federal Reserve Bank of Chicago and Chair of Chicago Transit Board. Ms. Jarrett has also received numerous awards and honorary degrees, including TIME's "100 Most Influential People" and the Abner J. Mikva Legal Legends Award.
Jarrett received her B.A. from Stanford University in 1978 and her J.D. from the University of Michigan Law School in 1981.
Reviews
There were tears, chills and thought provoking conversations after Valerie spoke - I am convinced that these types of conversations inspire more important conversations.
2U, Inc.
I heard today was deeply impactful and absolutely fabulous. I only wish I could have been there to see the standing ovation! Thank you for helping so many of our teammates find their voice, influencing our culture, and inspiring so many.
Wall Street Bank
She was the only speaker to get a standing ovation after her talk. She was honest, relevant and engaging.
Facebook
The talk was exactly what the students needed as we get closer to final exams here on campus. They left feeling refreshed, energized, and ready to go make a difference in their communities.
Virginia Tech
She was amazing. What a wonderful night!
Center for Women in Law at University of Texas Austin
All went perfect. It was a wonderful commencement speech. We were so thrilled to have her be a part of this special day. Thank you for all of your help.
Northeastern Illinois University
So many pearls of wisdom, sharing a story that has sparked conversations about civic responsibility, choices, consequences, empowerment, equality, diversity, how we achieve success in business and life, and much, much more.
Stewart McKelvey
I thought I would share the speaker ratings from The Art of Leadership for Women. As you can see, Valerie was the highest rated speaker. She was fantastic.
Art of Leadership
We were amazed with Valerie. She received a standing ovation and one of the highest ratings we've ever had for a speaker.
ALM Media
In a word, excellent. Grand-slam! Valerie was thoughtful, insightful, and quite funny.
Wall Street Bank
Fabulous! Valerie was amazing. We had a packed house and everyone I talked to loved her.
American Psychiatric Association
For speaker-related inquiries, email speakers@caa.com, or send us a message using the form below.