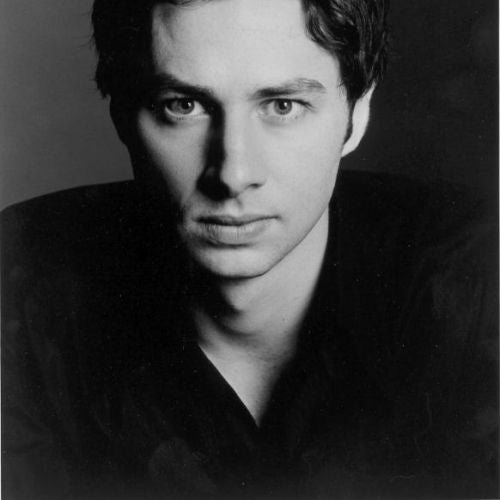 Inquire below to book
Zach Braff
Award-Winning Actor & Filmmaker
At a Glance
Zach Braff

: Biography at a Glance
Zach Braff is best known for starring in the hit TV series Scrubs and directing the award-winning Garden State
He is a three-time Golden Globe winner and Emmy nominee
Zach co-hosts of the podcast Fake Doctors, Real Friends with Donald Faison, where the Scrubs co-stars and real-life best friends relive the hit TV show, one episode at a time.
He raised $2 million in five days on Kickstarter to fund his film Wish I Was Here
Zach played the lead in the musical adaptation of Bullets Over Broadway
Biography
Zach Braff is an actor, director, screenwriter and producer most notable for his lead role as Dr. John "JD" Dorian on the hit television comedy series Scrubs, which premiered in 2001 and lasted 175 episodes. Braff was nominated for three Golden Globes and the 2005 Primetime Emmy Award for Outstanding Lead Actor in a Comedy Series for his work on the series.
In 2004, Braff made his directorial debut with the feature film Garden State, which he also wrote, produced and starred in with Natalie Portman. In addition to numerous awards for his directing work on the film, he won the 2005 Grammy Award for Best Soundtrack Album.
Braff has since worked on a variety of projects, including directing and co-writing his second feature film, Wish I Was Here, which he starred in with Kate Hudson, Mandy Patinkin and Josh Gad, as well as debuting on Broadway as the lead in Woody Allen's Bullets Over Broadway.
Braff directed a remake of the 1979 Martin Brest caper comedy Going in Style starring Academy Award winners Alan Arkin, Michael Caine and Morgan Freeman. 
Reviews
The event was a huge success and we had a packed house! Zach was personable, excited and very easy to work with. The discussion was fun, insightful and entertaining. I would highly recommend Zach to other universities... they will not be disappointed!
The University of Texas at Austin
Zach was fantastic! It was an amazing event that our community will remember for years to come. Please thank him for sharing his time and talent with us. Many thanks for being a huge part of our successful event.
Birthright Israel Foundation
It was an amazing evening and our audience loved interacting with Zach! Zach was warm, personable, and funny, while also at times clearly speaking from the heart and with a sometimes serious touch. It was so wonderful to see our guests laugh, smile, and applaud - Zach was great!
Jewish Federation of Greater Phoenix
For speaker-related inquiries, email speakers@caa.com, or send us a message using the form below.