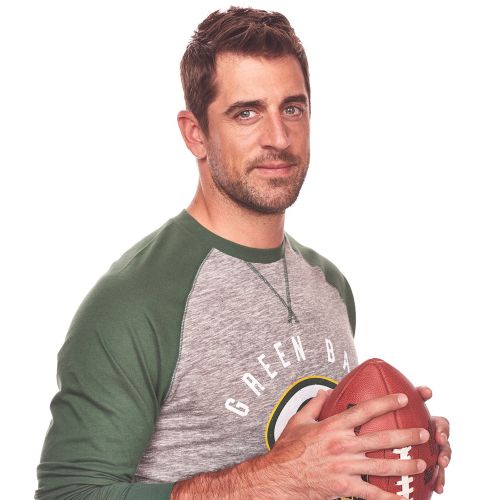 Inquire below to book
Aaron Rodgers
Super Bowl Champion & Two-time NFL MVP
At a Glance
Aaron Rodgers

: Biography at a Glance
Led the Green Bay Packers to a Super Bowl Championship, and was named Super Bowl MVP for his performance
Awarded as the NFL's Most Valuable Player twice in his career, setting the record for most consecutive pass attempts (512) at home without an interception
NFL's all-time career leader in passer rating during the regular season with a rating of 104.1
Eight-time Pro Bowl Selection
Supports the MACC Fund, a 501(c)(3) charitable organization dedicated to funding childhood cancer and related blood disorder research
Biography
Aaron Rodgers, quarterback of the Green Bay Packers, is widely considered to be one of the premier athletes in American sports. Over his career he has earned some of the NFL's highest honors, including a Super Bowl championship, two MVP awards, and eight Pro Bowl nominations.
Rodgers is also known for his contributions off the field as the founder of itsAaron, a foundation that spotlights organizations and people who are changing the world. ItsAaron has been a major supporter of the MACC Fund, RAISE Hope for Congo, as well as many other charities.
Rodgers began his career at Butte Community College where he played for one year before receiving a scholarship to play for the University of California, Berkeley. After forgoing his senior season, he was selected in the first round (24th overall) of the 2005 NFL Draft by the Packers.
Taking over in 2008, he quickly proved that he was one of the best quarterbacks in the league by passing for over 4,000 yards and throwing for 28 touchdowns in his first season as a starter. In 2010, Rodgers led Green Bay to a victory in Super Bowl XLV where he was named Super Bowl MVP. The following season, the Packers had one of the most dynamic offenses in NFL history – driven by Rodgers' 45 touchdowns and only 6 interceptions. The team went 15-1 and he was named Associated Press Athlete of the Year in 2011 and league MVP by the Associated Press. He would later go on to win the 2014 league MVP award after throwing for 38 touchdowns and 4,381 yards with just 5 interceptions—he set an NFL record for most consecutive pass attempts (512) at home without an interception that season.
He has been selected to the Pro Bowl six times and other career accomplishments include: leading the NFL three times in touchdown-to-interception ratio (2011, 2012, 2014), twice in passer rating (2011, 2012), touchdown passing percentage (2011, 2012), lowest passing interception percentage (2009, 2014), and once in touchdown passes (2016) and yards per attempt (2011).
Rodgers is currently the NFL's all-time career leader in passer rating during the regular season with a rating of 104.1 and fourth all-time in the postseason with a rating of 99.4 (among passers with at least 1,500 and 150 pass attempts, respectively). He is the only quarterback to have a career passer rating of over 100.0 in the regular season as well as having the best touchdown-to-interception ratio in NFL history at 4.13 touchdowns per interception. Rodgers also holds the league's lowest career passing interception percentage for quarterbacks during the regular season at 1.5 percent and the single-season passer rating record of 122.5.
Reviews
He was the highlight of our conference and the best closing speaker we've had. Our attendees and firm management were thrilled. It was an amazing success!
Pershing
For speaker-related inquiries, email speakers@caa.com, or send us a message using the form below.