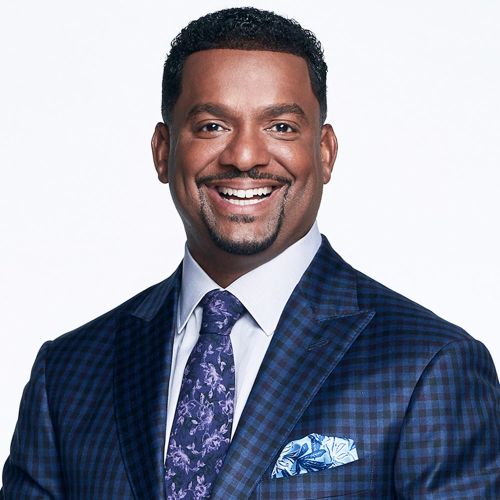 Inquire below to book
Alfonso Ribeiro
Host, ABC's America's Funniest Home Videos
At a Glance
Alfonso Ribeiro

: Biography at a Glance
Alfonso can currently be seen as the host of ABC's America's Funniest Home Videos and Game Show Network's reboot of Catch 21.
He is best known for his roles as "Alfonso Spears" on the long-running series Silver Spoons and "Carlton Banks" on Fresh Prince of Bel-Air.
His big break came when Michael Jackson cast him in one of his Pepsi commercials after seeing Alfonso starring in the Broadway Musical The Tap Dance Kid.
Directed multiple episodes of Shake It Up, Are We There Yet?, The Wannabes, Meet The Browns, Cuts, Eve, One on One and ten episodes of All of Us.
Won the coveted Mirrorball Trophy on Season 19 of ABC's Dancing with the Stars.
Biography
Currently host of ABC's America's Funniest Home Videos, Alfonso Ribeiro is the iconic television personality who danced his way into our hearts with his talents as an actor, TV director, award-winning dancer and Broadway star. He has spent more than 30 years leaving his unique mark on the worlds of television, theater and pop culture. 
America's Funniest Home Videos is celebrating their 30th Anniversary this September with Alfonso at the helm of this ABC record breaking series.
Alfonso is also the host of Game Show Network's reboot of Catch 21 and is joined by his partner from DWTS, professional dancer and choreographer Witney Carson. The series is a fact action blend of pop trivia with the excitement of the classic card game, 21. The series is set to premiere this October.
Alfonso's love of music has led him to radio where he has his own nationally syndicated radio show, The 90s with Alfonso Ribeiro. He is joined by Daena Kramer as his co-host. The show is a fresh take on 90s music and pop culture with throwback hits and light hearted recollections of the decade.
Ribeiro began his career as a child actor, most notably on Broadway playing the lead role in the Tony-winning musical The Tap Dance Kid. As news of Ribeiro's dancing and singing skills spread, he was offered a recording contract with Island Records, for whom he released several dance/pop singles, as well as his role in Michael Jackson's 1984 Pepsi commercial.
Ribeiro was then cast opposite Ricky Schroder in the long-running NBC sitcom Silver Spoons, making him an instant teen idol. After earning a Theater Arts education from Cal State University, Los Angeles, he was given the opportunity to choose a role on the established sitcom A Different World or a new pilot called The Fresh Prince of Bel-Air. Showing an adventurous streak, he chose the latter and created the iconic character of Carlton Banks for which he is known for throughout the world.
Having grown up in front of the camera, Alfonso knew that opportunities existed behind the scenes, too. His impressive resume as a TV director includes popular programs like In The House, Shake It Up, Are We There Yet?, The Wannabes, Meet The Browns, Cuts, Eve, One on One and All of Us.
Ribeiro continued to make good use of his dancing skills in 2014 when he won the nineteenth season of Dancing with the Stars. After finishing in first place, he hosted the country-wide Dancing with the Stars tour.                                                  
Golf is also one of Alfonso's passions, and he is currently a PGA TOUR Champions Ambassador
He resides in California with his wife and four children.
Reviews
He was absolutely amazing. We are so grateful to him for attending. I've been receiving rave reviews all day about him. We're already working to see how we can get him back at URM again.
Union Rescue Mission
Alfonso was amazing! He's just really down to earth and professional. I have heard rave reviews. Please let him know how grateful we are to him for being there!
Union Rescue Mission's Hope Gardens Family
He was amazing. The crowd loved him, he was a true pro and a great person. We are truly happy.
CLIO Awards
It was AMAZING, he was truly a dream to work with and well received in the audience by all. It was a special treat to have him part of our program.
Amway
For speaker-related inquiries, email speakers@caa.com, or send us a message using the form below.