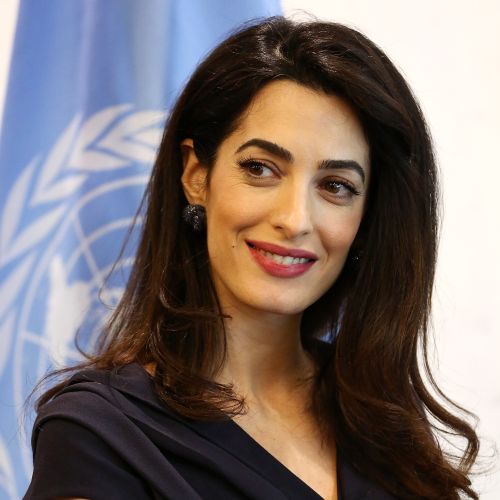 Inquire below to book
Amal Clooney
Human Rights Lawyer
At a Glance
Amal Clooney

: Biography at a Glance
Amal Clooney is a lawyer specializing in international law and human rights.
Amal frequently represents victims of mass atrocities, including genocide and sexual violence. She has acted in many landmark human rights cases in recent years
She has appeared before the International Court of Justice, the International Criminal Court, the European Court of Human Rights, and various courts in the United Kingdom and the United States.
She is a Visiting Professor at Columbia Law School, where she teaches Human Rights.
She is co-author of a book titled The Right to a Fair Trial in International Law, published by Oxford University Press. Her latest book, Freedom of Speech in International Law, will be out in 2022.
Biography
Amal Clooney is a barrister who specializes in international law and human rights. She represents clients before international courts including the International Criminal Court, the International Court of Justice, and the European Court of Human Rights.
Ms. Clooney is ranked in the leading legal directories Chambers and Partners and Legal 500 as one of the top lawyers in the UK in the fields of international human rights and international criminal law. According to the rankings, she is described as "a brilliant legal mind" who "handles cases of real international importance" and has a 'passionate commitment to the law and compassion for the people it serves'.
Ms. Clooney represents victims of human rights abuse and has argued many landmark cases throughout her career. She has for many years represented women from the Yazidi community -- including 2018 Nobel Peace Prize Laureate, Nadia Murad -- who are seeking accountability following a campaign of executions and sexual enslavement by ISIS in Iraq and Syria. In 2020 she represented a Yazidi woman in the world's first trial in which an ISIS member was convicted of genocide. She also represents Yazidi victims in the first case alleging complicity in crimes against humanity by a company that funded the terror group. She has represented Armenia in a case involving the Armenian genocide and was recently counsel to 126 victims of the genocide in Darfur, Sudan, at the International Criminal Court. And in 2021 she was appointed Special Adviser to the Prosecutor of the International Criminal Court on Darfur.
Ms. Clooney also represents political prisoners around the world and has received many honors for her work to secure the freedom of journalists arbitrarily detained across the globe. For the past two years she has represented Maria Ressa, a leading journalist in the Philippines, who faces over 100 years in prison based on spurious charges and was the 2021 winner of the Nobel Peace Prize. She has acted as counsel Khadija Ismayilova, an investigative reporter imprisoned in Azerbaijan for reporting on corruption; Mohamed Fahmy, when he was Al Jazeera's bureau chief in Cairo; and two Pulitzer Prize-winning Reuters journalists who were imprisoned in Myanmar in 2019 following their reporting on crimes committed against the Rohingya. All these journalists were released from prison following Ms. Clooney's representation.
Ms. Clooney also served as a Senior Advisor to Kofi Annan when he was the UN's Envoy on Syria and as Counsel to the UN Inquiry on the use of armed drones. She has been appointed to the UK's panel of experts on combatting sexual violence and to an expert panel established by the UK Attorney-General on public international law. In 2019 she was appointed the UK's Special Envoy for Media Freedom by the UK Foreign Secretary and served until recently as vice-chair of the High-Level Panel of Legal Experts on Media Freedom chaired by the former President of the UK Supreme Court.
Ms. Clooney is a Visiting Professor at Columbia Law School, where she co-teaches the Human Rights course, and she is co-author of an academic textbook titled 'The Right to a Fair Trial in International Law', published by Oxford University Press. The book has been heralded as the 'definitive work' in the field, a 'great work that will sustain people around the world in their fight for justice', and cited by the UK Supreme Court.
In 2016 she and her husband George established the Clooney Foundation for Justice to advance justice through accountability for human rights abuses around the world. One of their initiatives, TrialWatch, shines a light on injustices by monitoring criminal trials and advocating for the rights of imprisoned journalists, LGBT persons, women, minorities, and human rights defenders. Another flagship initiative, The Docket, gathers evidence of genocide, war crimes and crimes against humanity to trigger prosecutions and civil suits and advocates for the rights of victims in those trials. The foundation's most recent initiative – Waging Justice for Women – uses strategic litigation to advance women's rights in Africa.
For speaker-related inquiries, email speakers@caa.com, or send us a message using the form below.