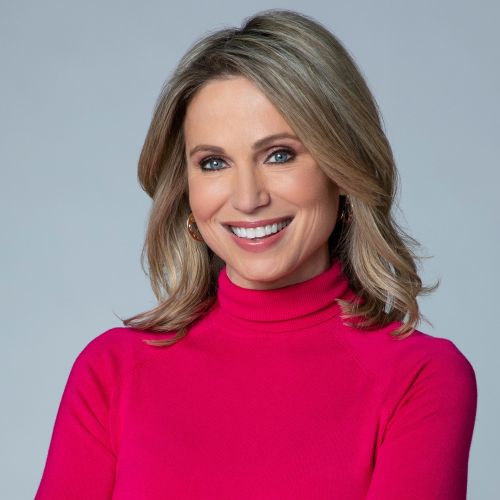 Inquire below to book
Amy Robach
ABC News Anchor & Author
At a Glance
Amy Robach

: Biography at a Glance
Amy Robach is co-anchor of ABC News' GMA3: What You Need to Know, and reports for Good Morning America, co-anchors ABC News' 20/20, and reports across ABC News platforms.
She reported from Brussels on the terrorist bombings in Belgium, Orlando, Florida on the mass shooting at Pulse nightclub, Dallas, TX to cover the shooting ambush of police officers, and on the ground in Newton, Connecticut for the Sandy Hook Elementary School shooting
She also reported on the 2020 election campaigns of Joe Biden and President Donald Trump and the death of George Floyd in Minneapolis, MN, and its aftermath.
Amy was diagnosed with breast cancer after a live mammogram on Good Morning America
She is the author of a very personal book, Better: How I Let Go of Control, Held on to Hope, and Found Joy in My Darkest Hour about her journey with breast cancer
She is the former national correspondent for NBC News, co-host of the Saturday edition of NBC's TODAY, and an anchor on MSNBC
Biography
Amy Robach is the co-anchor of ABC News' GMA3: What You Need to Know, a daytime program bringing viewers the latest news, information, and human interest stories each day. She also reports for Good Morning America, co-anchors ABC News' 20/20, and reports across ABC News platforms.
Since joining ABC News, Robach has interviewed countless newsmakers. Recently she's had exclusive, headline-making interviews with Hunter Biden, the son of former Vice President and presumptive 2020 Democratic nominee Joe Biden, who became a focal point of a political firestorm; New York Governor Andrew Cuomo on his COVID-19 response; Tonya Harding for a two-hour Truth and Lies primetime special; Gretchen Carlson, in her first television interview on sexual harassment in the workplace; and Monica Lewinsky, in her first network interview in over a decade.
Robach has covered major national and global news events such as the mass shootings at the First Baptist Church in Sutherland Springs, TX; Pulse Nightclub in Orlando, FL; and Sandy Hook Elementary School in Newton, CT. She has also reported on the 2020 election campaigns of Joe Biden and President Donald Trump and the death of George Floyd in Minneapolis, MN and its aftermath. Her international reporting includes coverage of terrorist attacks in Manchester, UK and in Brussels, Belgium. She also traveled to Iceland to report on the front lines of climate change with the world's most elite ice climbers and reported live from Tanzania on the poaching epidemic and its impact across the globe. In 2014, she traveled to Nigeria to interview Malala Yousafzai, the seventeen-year-old who was campaigning to free hundreds of captive school girls. She also reported live from South Africa just days after the shooting of Oscar Pistorius' girlfriend Reeva Steenkamp.
Robach anchored ABC News' Olympic coverage of the 2018 Winter Games in PyeongChang, South Korea; the 2016 Summer Olympics in Rio de Janeiro, Brazil; and the 2014 Winter Olympics in Sochi, Russia. She also contributed to network-wide coverage on Election Night 2016 from Trump headquarters and the Washington Mall in Washington, DC for the 2017 Presidential Inauguration.
Recently for 20/20 Robach exclusively interviewed Kelly Ripa in the wake of the news of Regis Philbin's passing as well as Leanna Taylor, the woman whose ex-husband was convicted of their toddler's death in a hot car. She also extensively covered the University of Virginia campus rape case landing the first interview with Dean Nicole Eramo following the retraction of the infamous Rolling Stone article.
In 2015, Robach wrote a New York Times bestseller titled Better: How I Let Go of Control, Held On To Hope, and Found Joy in My Darkest Hour about her unexpected journey with breast cancer after being diagnosed following an on-air mammogram on GMA.
Before joining ABC News, Robach worked at NBC News from 2003 to 2012. In 2007, Robach was the co-anchor of Saturday TODAY and an NBC News National Correspondent. During that time, she also filled in as weekday TODAY co-anchor and newsreader, and NBC Nightly News anchor. Prior to that, Robach was an anchor for MSNBC from 2003-2007. She also worked as a correspondent for WTTG TV in Washington, DC and WCBD TV in Charleston, SC.
Reviews
She was fantastic, great all around, she had the room (including me) in tears. Great kick off! Thank you!
Chase
Our event with Amy Robach was nothing short of INCREDIBLE! Everything went off flawlessly. Her presentation was over the top great.
Emanuel Medical Center
Amy was a HUGE hit. Everyone has been raving about her. I have been working on this event for 6 years, and by far the best speech I have seen.
Roswell Park Cancer Institute
Not only was she incredibly warm and friendly to all our guests, her keynote address was personal, poignant and moving – there were few dry eyes as she exited the ballroom to a standing ovation.
Baylor Health Care System Foundation
Amy Robach was FABULOUS, and our event would not have been complete without her. Truly, she is likely the best speaker we have had in so many ways, and I know that she touched the hearts of many in our audience.
Pink Alliance
The event was a huge success. Amy was a joy to work with - so professional, friendly and easy-going. Her keynote was perfect - touching, funny, inspiring, and (wonderfully) real; the best, I believe, in the event's 20 year history.
Memorial Hermann
She was fantastic. So warm, engaging, open and funny.
Cure Media Group
The event was a smash! Amy was so easy to work with, so down to earth, it really was a pleasure to work with her.
Greater Lehigh Valley Realtors
Amy was truly wonderful to work with. She was very easy-going, kind and fun! Amy moved and inspired many of our guests yesterday and we received so many positive remarks.
Richmond Performing Arts Alliance
For speaker-related inquiries, email speakers@caa.com, or send us a message using the form below.