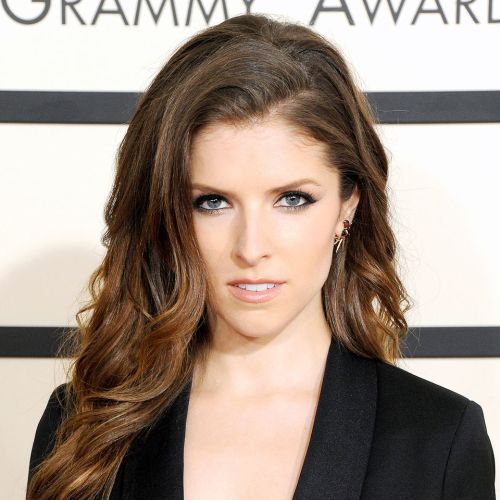 Inquire below to book
Anna Kendrick
Award-Winning Actress
At a Glance
Anna Kendrick

: Biography at a Glance
Anna Kendrick is known for her lead in Pitch Perfect 2, which broke the record as the highest-grossing musical of all time
The song "Cups," which she performed in the first Pitch Perfect went multi-platinum, and was one of Billboards' top songs of 2013
Author of the collection of humorous, autobiographical essays Scrappy Little Nobody
Nominated for an Academy Award for Best Supporting Actress for her role in Up in the Air
Received a Tony Award nomination for Best Featured Actress in a Musical for her role in High Society when she was 12 years old, becoming the second youngest Tony nominee in award history
Other credits include Trolls, Mike and Dave Need Wedding Dates, The Accountant, Into the Woods, End of Watch, Drinking Buddies, The Hollars, Happy Christmas and 50/50
Biography
Actress and singer Anna Kendrick has starred in dozens of films, but is perhaps best known for her lead role in the "Pitch Perfect" series, the second of which broke the record as the highest-grossing musical of all time.
Along with several nominations for her work on the screen and stage, Kendrick also went multi-platinum with her song "Cups," a rendition of "When I'm Gone" she performs in the first "Pitch Perfect," which quickly became one of the top Billboard songs of 2013.
In 2016, Kendrick wrote and published "Scrappy Little Nobody," a collection of humorous, autobiographical essays, published by Simon & Schuster. Using her witty, one-of-a-kind commentary, Kendrick shares the absurdities of life she has experienced.
Kendrick most recently starred in "Pitch Perfect 3," Fox Searchlight's "Table 19," the action-thriller "The Accountant" opposite Ben Affleck, and "Mike and Dave Need Wedding Dates" with Zac Efron. She is the voice of Poppy in the DreamWorks Animation music-filled comedy "Trolls," opposite Justin Timberlake. She can also be seen in "The Hollars," alongside John Krasinski (who also directed the film), which premiered at the 2016 Sundance Film Festival and sold to Sony Pictures Classics.
Kendrick's other recent credits include Walt Disney Pictures' "Into the Woods," where she played Cinderella opposite Meryl Streep and Johnny Depp, Radius/Weinstein's film adaptation of the musical "The Last Five Years," indies "Cake" and "Happy Christmas," "Drinking Buddies," in which she starred opposite Olivia Wilde and Ron Livingston, Summit Entertainment comedy-drama "50/50," with Seth Rogen and Joseph Gordon-Levitt, and David Ayer's intense crime-drama, "End of Watch," opposite Jake Gyllenhaal. Kendrick was also in the blockbuster "Twilight Saga" franchise.
In 2010, Kendrick starred opposite George Clooney and Jason Bateman in the lauded film "Up in the Air," directed by Jason Reitman, for which she earned an Oscar nomination for Best Supporting Actress, and was honored by The National Board of Review for Best Supporting Actress and by the MTV Movie Awards for Best Breakout Star. She also earned nominations from the Critics' Choice Movie Awards, The Golden Globes, BAFTA, and the Screen Actors Guild.
Kendrick notably starred in Picturehouse's "Rocket Science," directed by Jeffrey Blitz. Her performance as an ultra-competitive high school debate team member garnered critical acclaim and the film received a nomination for the Grand Jury Prize at the 2007 Sundance Film Festival. Kendrick was nominated for an Independent Spirit Award for Best Supporting Actress for her work in the film.
Kendrick made her feature film debut in director Todd Graff's "Camp," a favorite at the 2003 Sundance Film Festival. Her performance in the cult classic earned her an Independent Spirit Awards nomination, as well as a Best Supporting Actress nomination at the Annual Chlotrudis Awards.
An accomplished theater veteran, Kendrick began her career as Dinah Lord in the 1997 Broadway musical production of "High Society," for which she received a Tony Award nomination for Best Featured Actress in a Musical. At just 12 years old, the honor made her the second youngest Tony nominee in award history. Kendrick also garnered Drama League and Theatre World awards, as well as Drama Desk and FANY award nominations.
Kendrick's additional theater credits includes a feature role in the New York City Opera's production of "A Little Night Music," starring Jeremy Irons, "My Favorite Broadway/The Leading Ladies: Live At Carnegie Hall," and Broadway workshops of "Jane Eyre" and "The Little Princess."
For speaker-related inquiries, email speakers@caa.com, or send us a message using the form below.