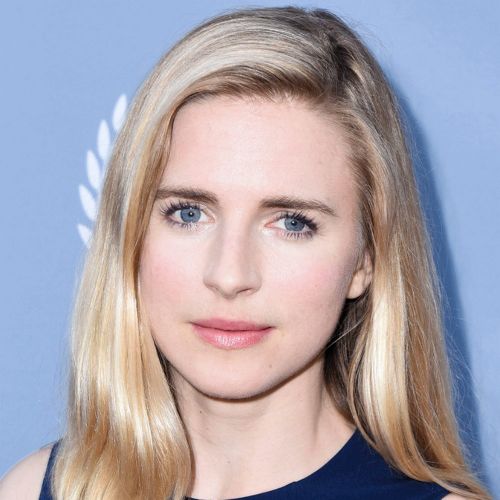 Inquire below to book
Brit Marling
Actress and Screenwriter
At a Glance
Brit Marling

: Biography at a Glance
Brit Marling can currently be seen in the return of "The OA," the critically acclaimed Netflix series in which she stars and co-created

In 2011, Marling made an indelible mark at the 2011 Sundance Film Festival as the first female multi-hyphenate to have two films ("Another Earth" and "Sound of My Voice") premiere side by side

Marling was nominated for Independent Spirit Awards for both films in the categories of Best First Feature and Best First Screenplay for "Another Earth" and for Best Supporting Female and Best First Feature for "Sound of My Voice"

Marling graduated valedictorian from Georgetown, having studied Economics and Studio Art
Biography
Marling can currently be seen in the return of "The OA," the critically acclaimed Netflix series in which she stars and co-creates alongside director Zal Batmanglij, and also features Kingsley Ben-Adir, Jason Issacs and Emory Cohen. Part II is a mind-bending story that follows OA (Marling) as she navigates a new dimension, one in which she had a completely different life as a Russian heiress and one in which she once again finds herself as a captive.
Prior to this, Marling's film credits include Daniel Barber's "The Keeping Room" opposite Hailee Steinfeld, Muna Otaru and Sam Worthington; AJ Edwards' "The Better Angels" opposite Diane Kruger and Jason Clarke; Mike Cahill's "I Origins," opposite Alexander Skarsgård and Ellen Page; Zal Batmanglij's "The East," which she also co-wrote and co-produced; Robert Redford's "The Company You Keep," co-starring alongside Redford, Shia LaBeouf, and Stanley Tucci; as well as Nichol as Jarecki's financial thriller Arbitrage, co-starring opposite Richard Gere, Susan Sarandon and Laetitia Casta.
In 2011, Marling made an indelible mark at the 2011 Sundance Film Festival as the first female multi- hyphenate to have two films premiere side by side. Marling's first feature length narrative film, "Another Earth," premiered at Sundance in the U.S. Dramatic Competition category. Directed by Mike Cahill, Marling stars, co-wrote and co-produced the film. "Another Earth" tells the story of an ambitious young student Rhoda Williams' (Marling). On the night of the world's discovery of a new planet, her life crosses paths with an accomplished composer, John Burroughs' (William Mapother) in a tragic accident. Stripped of their former lives and hopes, the two begin an unlikely love affair and contemplate possibilities for a new existence together. But as cosmic events unfold, the secret that brought them together threatens to tear them apart. Her second feature length film, "Sound of My Voice," premiered at Sundance in the Next category. Directed by Zal Batmanglij, Marling stars, co-wrote and co-produced the film. The film follows a young couple who infiltrate a cult lead by Maggie (Marling). The couple soon finds themselves falling under Maggie's' spell, testing their relationship and their sense of reality. Fox Searchlight acquired both films following the festival premieres, and released them in 2011 and 2012, respectively. Marling was nominated for Independent Spirit Awards for both films in the categories of Best First Feature (alongside Cahill, Hunter Gray and Nicholas Shumacher) and Best First Screenplay (alongside Cahill) for "Another Earth" and for Best Supporting Female and Best First Feature (alongside Batmanglij, Hans C. Ritter and Shelley Surpin) for "Sound of My Voice." 
Most notably on the small screen, Marling was also seen starring in the UK series "Babylon," created by Danny Boyle, written by Sam Bain and Jesse Armstrong. Marling portrayed Liz Garvey, an American visionary from the world of new media, who enters the London police force's PR department which is struggling to keep up in an age of rolling news, smart phones and a news-breaking, information-hungry public. 
Marling's introduction to filmmaking was during her college years at Georgetown University, as she began writing and starring in projects that her friends were working on. This led her to take a leave of absence from school, moving to Havana, Cuba to co-direct the documentary Boxers and Ballerinas, which followed young artists and athletes living in the communist country. Marling graduated valedictorian from Georgetown, having studied Economics and Studio Art. Realizing that acting and filmmaking was what she found most fulfilling, she followed her passion and moved to Los Angeles, where she currently resides.
For speaker-related inquiries, email speakers@caa.com, or send us a message using the form below.