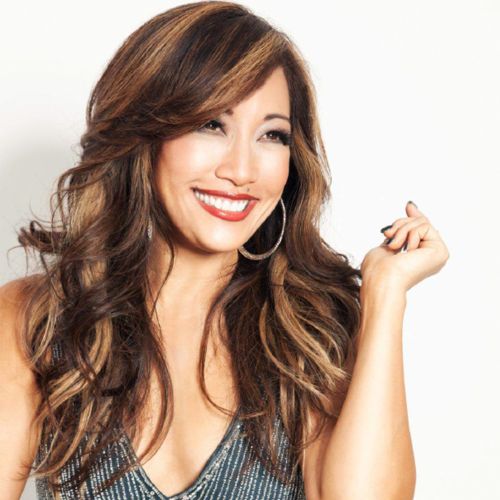 Inquire below to book
Carrie Ann Inaba
Co-Host, "The Talk"; Judge "Dancing with the Stars"
At a Glance
Carrie Ann Inaba

: Biography at a Glance
Co-Host on CBS' "The Talk"
Judge on ABC's Emmy-winning reality series "Dancing With the Stars"
Worked on "American Idol" and "So You Think You Can Dance"
Co-founder of Personna Dance Company
Founded the Carrie Ann Inaba Animal Project, which funds programs that help end the senseless killing of animals
First appeared as a "fly girl" on "In Living Color"
Biography
Carrie Ann Inaba is a veteran choreographer who has worked on some of the most popular shows in TV history, including American Idol and So You Think You Can Dance. She is most recognized as one of the three judges on ABC's Emmy Award-winning highly rated primetime reality TV series Dancing With the Stars.
Carrie Ann's initial success was found overseas as a musical artist in Japan, where she honed her craft and submerged herself in Japanese culture. One of her first jobs was as a dancer for the Emmy Award-winning television show, In Living Color (1990). Carrie Ann was one of the first Asian Americans to perform contemporary dance on national television. She became one of the "Fly Girls," a gorgeous collection of multi-ethnic dancers who jumped to the rhythmic pop, rap and hip-hop music at the beginning and during breaks between comedy skits.
Carrie Ann studied choreography at the University of California, Irvine. She continued her education by moving north and studying contemporary dance in Los Angeles, California.
Her talents as a dancer, choreographer, and host have brought her opportunities on the big screen, which have paralleled her success on the small screen, appearing in Austin Powers: Goldmember, Austin Powers II: The Spy Who Shagged Me, American Virgin and Monster Mash. As a dancer, Carrie Ann has been featured in Boys and Girls, Flintstones II, Showgirls and Lord of Illusions. She has enchanted with her choreography such primetime shows as American Juniors, ABC's Dance Wars: Bruno vs. Carrie Ann, the iconic Miss America pageant, Dance Fever, in which she also served as backstage host, the TV Land Awards and the Kids Choice Awards. Carrie Ann's passion to move audiences and performers alike does not stop here; she served as guest host for Regis and Kelly, Live with Kelly and The View.
Carrie Ann found success, all the while sticking to her dance roots by supporting dance not only as Co-Founder of Personna Dance Company, but in all that she does, always finding a way to help the community and the world open their minds to how incredible dancers are.
In 2012, Carrie Ann launched The Carrie Ann Inaba Animal Project, which collaborates with other rescue and animal organizations by funding and creating unique programs that help end the senseless killing of millions of innocent animals each year and encourages the human - animal bond.
Giving back is an integral part of Carrie Ann's life. She is the National Celebrity Spokesperson for the Andrea Rizzo Foundation, which funds a pediatric dance therapy program for children with cancer and special education needs. She also serves her immediate community as a guest teacher at the CalArts Community Arts Partnership. She appeared in a PETA campaign that taught the ABC's of animal birth control and is a celebrity ambassador for Best Friends Animal Shelter. In 2011, she agreed to become part of the Board of Directors of C.A.P.E, Coalition of Asian Pacifics in Entertainment.
For speaker-related inquiries, email speakers@caa.com, or send us a message using the form below.