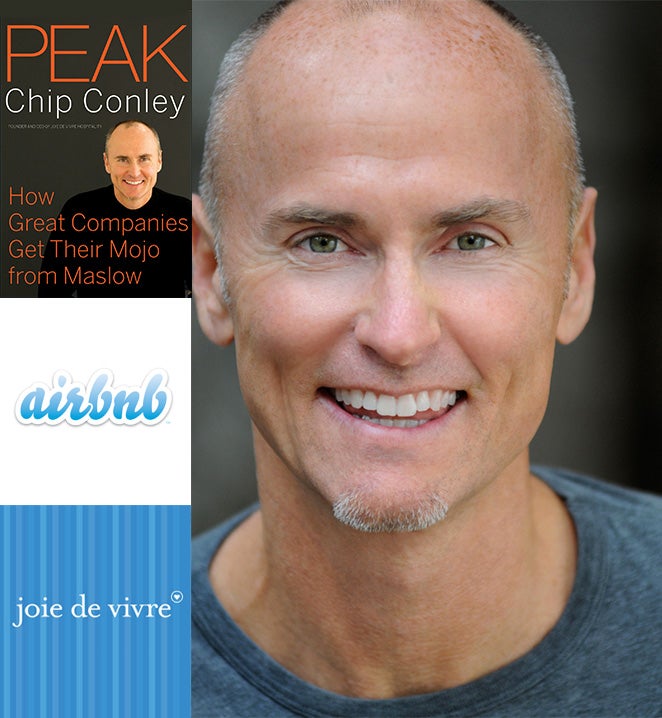 Inquire below to book Chip Conley
Strategic Advisor for Hospitality and Leadership, Airbnb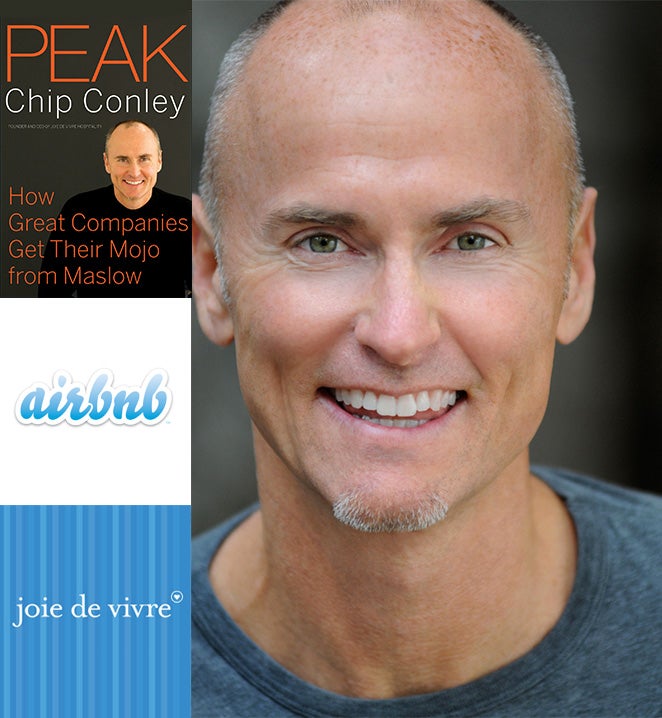 Chip Conley
Strategic Advisor for Hospitality and Leadership and Former Global Head of Hospitality for Airbnb
Taught his award-winning methods to hundreds of thousands of Airbnb hosts in nearly 200 countries, and created the Airbnb Open that brings thousands together in a global festival of belonging
Founder of America's second largest boutique hotel company, Joie de Vivre
Author of Peak and the New York Times bestseller Emotional Equations, which share his own theories on transformation and meaning in business and life
Received hospitality's highest honor, the Pioneer Award, joining industry icons Marriott, Kimpton and Wynn
Strategic Advisor for Hospitality and Leadership, Airbnb
Hospitality entrepreneur and best-selling author, Chip Conley is a leader at the forefront of the sharing economy. At age 26, Chip founded Joie de Vivre Hospitality, and took an inner city motel and turned it into the second largest boutique hotel brand in America.
After being CEO of his innovative company for 24 years, Chip accepted an invitation from the founders of Airbnb to help transform their promising home sharing start-up into the world's largest hospitality brand.
In his four years as Head of Global Hospitality and Strategy at Airbnb, Chip taught his award-winning methods to hundreds of thousands of Airbnb hosts and created Airbnb Open, the company's world-renowned hospitality conference. He currently holds the position of Strategic Adviser for Hospitality and Leadership.
Chip is also a celebrated author whose books share his theories on transformation and meaning in business and life. His most recent book, "Emotional Equations: Simple Steps for Creating Happiness + Success in Business + Life," was a New York Times best-seller and his book "PEAK: How Great Companies Get Their Mojo from Maslow" (10th anniversary Revised and Updated October 2017) features new content including Eight "PEAK" Leadership Practices. Chip's next book, "WISDOM@WORK: The Making of a Modern Elder," comes out in September 2018 and shares experiences from his tenure at Airbnb.
Conley remains very involved in his Northern California community and is the founder of Fest300 (part of Everfest), San Francisco's annual "Celebrity Pool Toss" that has raised millions for children and families, as well as the Hotel Hero Awards that shine a light on outstanding hospitality employees. He is the recipient of hospitality's highest honor, the Pioneer Award, joining industry icons Marriott, Kimpton and Wynn, as well as the GLIDE Cecil Williams Legacy Award. He was also named Bay Area's Most Innovative CEO and Northern California Real Estate Entrepreneur of the Year.
Chip holds a BA and MBA from Stanford University, and an honorary doctorate in psychology from Saybrook University. He serves on the boards of the Burning Man Project and the Esalen Institute.
I love the Joie de Vivre heart icon that Chip uses to illustrate how a passionate corporate culture breeds happy employees, which leads to satisfied customers, which results in a profitable and sustainable business.
Sir Richard Branson
Chip is that rare breed of CEO who possesses both a brilliant business mind and a very big heart. He's a true role model for anyone who wants to lead.
Gavin Newsom
Chip Conley is a very rare creature, who combines warmth, style, wit, and charm with a hard-head business sensibility and a profound commitment to business responsibility. Most of all he is deeply connected to his customers and able to transform their desires into new business and services...that's what a visionary is all about.
Co-founder and Chairman, Global Business Network
Chip Conley truly understands the importance of authenticity, integrity and self expression. I've worked with hundreds of socially responsible business owners and he is the real deal -- a gifted and successful entrepreneur who exemplifies the power of collaboration, creativity and generosity.
Executive Director, Social Venture Network
He was Great!
Inc. Magazine
My thanks to Chip and team for a session of fun and insight that over-delivered on high expectations! His story and guidance hit the mark perfectly with our audience.
Hanley Wood
Chip did an outstanding job for Congress and the verbal feedback we have had has been outstanding. From our perspective, as organisers, I was really grateful and impressed with Chip's genuine interest in getting his presentation right for the audience. The fact that he actually built a hierarchy for Financial Planners was over and above our expectations and it certainly made the audience sit up.
MLC Solutions
You wildly exceeded all of our expectations and we can honestly say that our company is stronger because of you. A week doesn't pass that I don't hear from many employees who reference your presentation, or something you said to them in a one-on-one conversation that continues to have a lasting impact on their thinking and behavior. Many of your quotes and comments have become part of our everyday vernacular. And, while I love hearing about how your presentation has impacted the lives and careers of employees who attended the event, I think I might love even more hearing from employees who didn't physically attend, but instead have gleaned all they can from watching the video, our ongoing communication about it, and through their colleagues. It's clear that your impact will continue to be far-reaching and lasting.
President, The Container Store
I am writing to thank you for recommending Chip Conley to be the inaugural speaker for the Chloe Eichelberger Business Education Series at York College of Pennsylvania. Chip was WONDERFUL!!! He embodied all that we could hope for in a speaker and his presentation transcended business alone to what are valuable life lessons.
Assistant Director, Master of Business Administration Program, York College of Pennsylvania
Our event was a huge success. Chip was very charismatic and pleasant. I believe the take home value for the attendees was great. Chip was fantastic and I received a lot of very positive feedback from attendees after the event. I personally plan to read his book over the summer!
YPO Cairo
He was fantastic. I thought he was going to be great and he exceeded my expectations.
Boston Financial Data Services
To book a speaker, or for more information, call 424-288-2898, or send us a message using the form below.