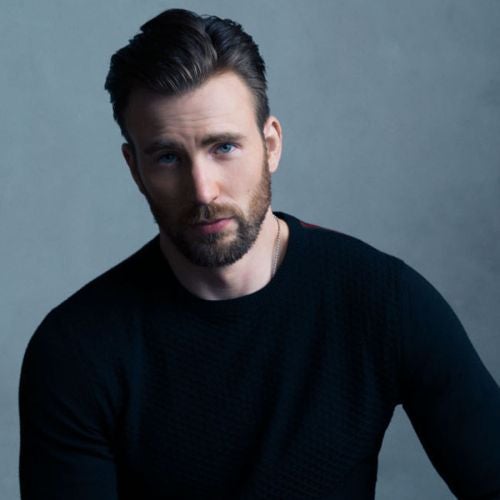 Inquire below to book
Chris Evans
Award Winning Actor
At a Glance
Chris Evans

: Biography at a Glance
Chris Evans is one of Hollywood's most in-demand actors for both big budget and independent features.

Chris Evans is the star of the blockbuster Captain America films, which have catapulted to enormous success among the superhero franchises.
His other credits include Knives Out, Defending Jacob, Scott Pilgrim vs. the World, and Fantastic Four.
He is the co-founder of A Starting Point, a civic engagement platform that provides Americans with clear, unbiased information on political news.

Philanthropies he regularly lends his time to include Boston's Children Hospital, Make-A-Wish and Concord Youth Theatre.
Biography
Chris Evans is one of Hollywood's most in-demand actors for both big budget and independent features.
Evans most recently starred in and executive produced the Apple TV+ limited series, "Defending Jacob," which was released in April 2020. The series is based on William Landay's 2012 New York Times best-selling novel of the same name. The crime drama series, which starred Michelle Dockery, Cherry Jones, J.K. Simmons, and Jaeden Martell, was directed by Morten Tyldum and written by Mark Bomback.
Up next, Evans will begin production on Netflix's film "The Gray Man," alongside Ryan Gosling. The film will be directed by Anthony and Joe Russo. Evans also recently wrapped production on Adam McKay's Netflix film "Don't Look Up." The film, which also stars Jennifer Lawrence, Leonardo DiCaprio, and Cate Blanchett, will be released on the platform in 2021.
In 2019, Evans starred in Rian Johnson's critically acclaimed "Knives Out," a mystery crime film. He starred alongside Daniel Craig and Michael Shannon. Lionsgate released the film on November 27, 2019 and it has grossed over $300 million worldwide.
Evans recently launched his new civics engagement project called "A Starting Point," alongside partners Mark Kassen and Joe Kiani. The project launched as a website with the goal being to create informed, responsible and empathetic citizens who are empowered to further their understanding of the world of politics.  Through ASP, they aim to demystify politics by providing answers to common questions directly from the people who create the policies that affect them.  The website debuted in July 2020.
Chris is internationally renowned for his role of Captain America in the Disney/ Marvel Avengers franchise. In 2019, Evans starred "Avengers: Endgame," which was released by Disney on April 26, 2019. The film became the fastest in history to pass $2 billion at the global box office. In the spring of 2018, Evans was seen in "Avengers: Infinity War," the first of two back-to-back sequels of "Avengers."  Disney released the film on April 23, 2018.
Evans made his Broadway debut in Kenneth Lonergan's "Lobby Hero" on March 26, 2018.  The play opened to rave reviews.  Ben Brantley from the New York Times called it "a terrific Broadway debut" and said, "Mr. Evans is a marvel."  Chris starred alongside Michael Cera and Bel Powley. The play, directed by Trip Cullman, centers on a slacker security guard, a veteran police officer and murder investigation.  His run concluded in May of 2018.
In 2017, Chris starred in Marc Webb's "Gifted" alongside McKenna Grace, Octavia Spencer and Jenny Slate.  The film follows a man (Evans) who sues for custody of his 7-year-old, intellectually gifted niece. Fox Searchlight released the film April 12, 2017.
In 2016, Evans starred in "Captain America: Civil War," the highly anticipated third installment to 2011's "Captain America: The First Avenger" and 2014's "Captain America: The Winter Soldier." Evans reprised his role as the famed Marvel Comics character, Steve Rogers.  In this film, after the government sets up a governing body to oversee the Avengers, the team splinters into two camps—one led by Steve Rogers and his desire for the Avengers to remain free to defend humanity without government interference, and the other following Tony Stark's surprising decision to support government oversight and accountability.  The film was released by Disney on May 6, 2016 and is the top grossing film of 2016 with more than $1.1 billion worldwide.
Evans marked his feature film directorial debut with "Before We Go". He also produced and starred in the film alongside Alice Eve and Mark Kassen. The film premiered at the 2014 Toronto International Film Festival and was released by Radius on September 14, 2015.  Prior to its release, the film garnered $1.53 million in VOD and was the first pre-theatrical film of 2015 to reach both the top 5 on iTunes and the top 10 on Rentrak's weekly digital chart.
Evans starred in Marvel's "Avengers: Age of Ultron" opposite Robert Downey Jr., Samuel L. Jackson, Scarlett Johansson, Mark Ruffalo and Chris Hemsworth.  Disney released the film May 1, 2015 and to date it has grossed over $1.4 billion worldwide. Evans was seen in "The Avengers" in 2012 which in its opening weekend, smashed previous domestic records and continued its box office success with a current worldwide gross of over $1.5 billion. 
In June 2014, Evans also starred in Bong Joon-ho's "Snowpiercer" opposite Octavia Spencer, Tilda Swinton, John Hurt and Ed Harris. Set in a world covered in snow and ice, the film follows a train full of travelers who struggle to co-exist. 
His other film credits include Gideon Raff's "Red Sea Diving Resort," Ariel Vroman's drama "The Iceman" opposite Michael Shannon; Mark Mylod's comedy "What's Your Number?" opposite Anna Faris; Edgar Wright's action comedy, "Scott Pilgrim vs. the World," opposite Michael Cera; Sylvain White's "The Losers" with Jeffrey Dean Morgan and Zoe Saldana; "Push" opposite Dakota Fanning; "Street Kings" with Keanu Reeves and Forest Whitaker; "Fantastic Four: Rise of the Silver Surfer" opposite Jessica Alba, Michael Chiklis and Ioan Gruffudd; and Danny Boyle's critically acclaimed "Sunshine." Additional credits include "The Loss of a Teardrop Diamond," "Cellular," "The Perfect Score," "Fierce People," "Puncture" and the romantic drama "London." Evans' first cinematic role was in the 2001 hit comedic spoof, "Not Another Teen Movie."
Raised in Massachusetts, Evans began his acting career in theatre before moving to New York where he studied at the Lee Strasberg Institute. Philanthropies he regularly lends his time to include Boston's Children Hospital, Make-A-Wish and Concord Youth Theatre.
For speaker-related inquiries, email speakers@caa.com, or send us a message using the form below.