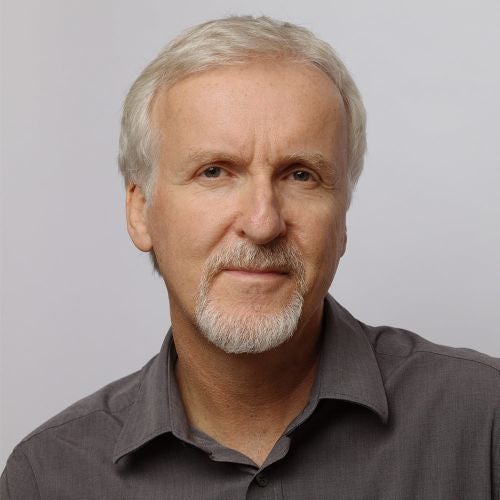 Inquire below to book
James Cameron
Academy Award-Winning Filmmaker, Explorer & CEO of Lightstorm Entertainment
At a Glance
James Cameron

: Biography at a Glance
James Cameron is the director of two of the highest-grossing films of all time, Titanic and Avatar.
The highly anticipated Avatar 2 is set for release in December 2022. 
He is the winner of five Academy Awards and four Golden Globes and is a 3-D filmmaker with the highest box-office revenue.
Known as a master visual effects artist and film technology pioneer, he has been a major contributor to 3-D and underwater filming technology. 
Cameron is also an accomplished deep-sea explorer and the first person to reach the bottom of the Mariana Trench solo.
Biography
James Cameron is an acclaimed film-maker, explorer and environmental advocate.  As director, writer and producer he is responsible for some of the most memorable films of the past three decades: THE TERMINATOR, ALIENS, THE ABYSS, TERMINATOR 2: JUDGMENT DAY, TRUE LIES, TITANIC, and AVATAR. 
For 10 years AVATAR was the highest grossing film in history with over $2.7 billion in global box office, beating the previous record holder, Cameron's own film TITANIC, which held that record for 12 years.  Cameron's films have also earned numerous nominations and awards, most notably TITANIC's 14 Academy Award nominations (tied for the record) and 11 Oscars (also a record), including Cameron's own 3 Oscars for Best Picture, Best Direction and Best Editing.  Cameron also won the DGA Award for directing Titanic, in 1998.  Both TITANIC and AVATAR won the Golden Globe for Best Director and Best Picture.  AVATAR was nominated for 9 Academy Awards and won 3.
Over the last 20 years Cameron developed cutting edge 3D camera systems for movies and documentaries, as well as for broadcast sports and special events. He was at the vanguard of the 3D renaissance that has transformed the movie industry in recent years.
Avatar was shot with cameras developed by Cameron's company.   He has also developed unprecedented deep ocean exploration vehicles, lighting and 3D camera equipment.  Cameron has led eight deep ocean expeditions from 1995 to 2012, including three to the Titanic wreck.  He has dived that wreck 33 times, and spent over a hundred hours piloting small remotely operated vehicles of his own design inside the wreck, to create an archeological survey the interior.  His research has led to a definitive understanding of the forensics of the Titanic's sinking.
Other expeditions included exploration of the German battleship Bismarck in 2002, and hydrothermal vents in the Atlantic, Pacific and Sea of Cortez in 2002 and 2003.  He has spent over 3000 hours underwater, and made 75 deep submersible dives.  He is a member of the Deep Submersible Pilots Association.
In 2012, Cameron led his eighth deep ocean expedition to some of the deepest trenches in the world. On March 26, 2012, he set the world's solo deep diving record of 35,787' in the Challenger Deep in a vehicle of his own design. 
Cameron is a National Geographic Explorer in Residence, and recipient of their most prestigious award, the Hubbard Medal, as well as the Explorer's Club medal for Explorer of the Year.
Cameron is also passionately involved in sustainability, having founded the Avatar Alliance Foundation to take action on climate change, deforestation, indigenous rights, ocean conservation and sustainable agriculture.  The Avatar sequels production is the first entirely vegan-catered motion picture set, for environmental reasons, and is dedicated to being as green and sustainable as possible.
James and Suzy Amis Cameron, both environmental vegans, are the founders and majority owners of Verdient, a pea protein extraction facility located in Saskatchewan.  They operate organic farms in both Canada and New Zealand. 
Cameron has completed two years of principal capture on Avatar 2, 3 and 4, and is currently shooting live action for those films in New Zealand.
Reviews
James' talk was absolutely perfect to the theme of the day and the needs of the audience. We've been receiving bucket loads of rave feedback from clients and attendees describing how inspired they were – and how the event and James Cameron's talk inspired them to think differently as marketers. James' passion and storytelling contributed so much to the event. And his generosity after stepping off the stage was hugely appreciated.
Director of Marketing, SapientNitro
A legend. So generous and insightful. A huge hit.
C2MTL 2014
Everyone was really happy with the event.
Dell
For speaker-related inquiries, email speakers@caa.com, or send us a message using the form below.