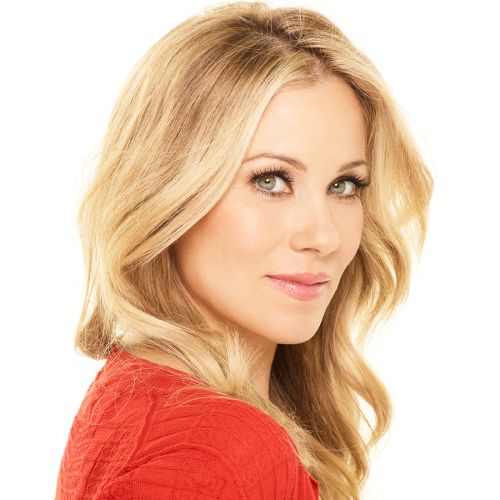 Inquire below to book
Christina Applegate
Award-Winning Actress
At a Glance
Christina Applegate

: Biography at a Glance
Known for starring in "Married With Children," "Anchorman: The Legend of Ron Burgundy" and "Anchorman 2: The Legend Continues"
Recent credits include "Bad Moms," "Alvin and the Chipmunks: The Road Chip" and "Web Therapy"
Received Emmy, Golden Globe and Screen Actors Guild nominations for "Samantha Who?"
Won an Emmy for outstanding guest actress in a comedy series for her role on "Friends"
Nominated for the Tony Award for best leading actress in a musical for her role on "Sweet Charity"
Founded Right Action for Women, which advocates for breast cancer education
Biography
Christina Applegate has endeared herself to audiences and received accolades for her strength and versatility in theatre, film and television. With Emmy, Golden Globe and Tony nominations to her credit, she has proven herself to be one of Hollywood's most influential leading ladies.
Applegate was most recently seen in Warner Bros. Vacation, a reboot of the cult classic franchise starring Chevy Chase. Applegate had previously reprised her role as 'Veronica Corningstone' in Anchorman 2: The Legend Continues, which chronicles the on-set adventures of San Diego's top rated newsman 'Ron Burgundy.'
Applegate's performance as the titled character 'Samantha Newly' in the ABC series Samantha Who? has been applauded by critics and fans and garnered her her third SAG Award nomination. Previous nods include two Emmy nominations, two Golden Globe nominations and two SAG Award nominations. In addition, Applegate served as a producer for the show, which won a People's Choice Award for Favorite New TV Comedy during its first season.
Applegate's additional credits include Up All Night, Hall Pass, Alvin and the Chipmunks: The Squeakquel, Going the Distance, Anchorman: The Legend of Ron Burgundy and The Sweetest Thing.
Applegate first gained widespread attention as the sexy and sarcastic 'Kelly Bundy' on the long-running Fox series, Married with Children. After a very successful 11-season run, she furthered her television success by starring in her own NBC comedy series, Jesse. In 1999, the highly rated show garnered Applegate a Golden Globe nomination in the category of Best Performance by an Actress in a TV Series, Comedy or Musical.
In 2004, Applegate returned to television as a guest star on Friends as Rachel's (Jennifer Aniston) younger sister, 'Amy.' Her performance earned her an Emmy Award in the category of Outstanding Guest Actress in a Comedy Series for her role. She was nominated for an Emmy once again the following year for her witty performance.
In 2005, Applegate made her Broadway debut in the revival of Sweet Charity, in the starring role of 'Charity Hope Valentine.' For her role, Applegate was nominated for a Tony Award for Best Performance by a Leading Actress in a Musical as well as a Drama Desk Award in the category of Outstanding Actress in a Musical. Her other stage credits include an appearance in John Cassavetes' Los Angeles production of The Third Day with Gena Rowlands, The Axeman's Jazz, Nobody Leaves Empty Handed, The Run-Through and The Grass Harp.
In 2008, after receiving her breast cancer diagnosis through an early, doctor-ordered MRI, Applegate founded Right Action for Women to educate women about what it means to be at high risk for breast cancer and encourage them to talk to their doctors about appropriate screening. Right Action for Women will provide aid to individuals who are at increased risk for breast cancer and do not have insurance or the financial flexibility to cover the high costs associated with breast screenings. Applegate has been a longtime supporter of women's cancer causes. In 2003 and 2009 she served as the ambassador for Lee National Denim Day, one the largest single-day fundraisers for breast cancer in the country.
For speaker-related inquiries, email speakers@caa.com, or send us a message using the form below.