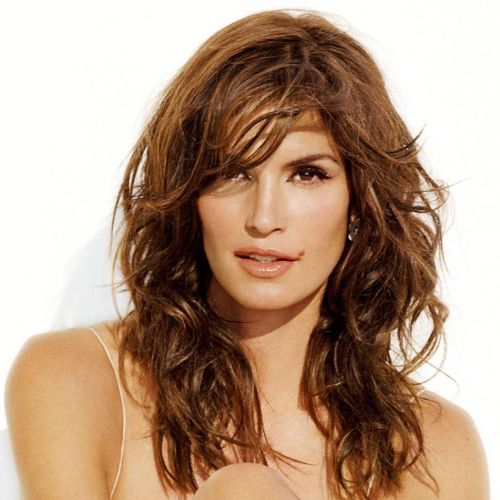 Inquire below to book Cindy Crawford
Supermodel
Cindy Crawford: Biography at a Glance
One of the original supermodels
Appeared on the cover of more than 1,000 magazines, including Vogue, Elle, W, Harpery's Bazaar, Cosmopolitan and Allure
Featured in campaigns for Versace and Calvin Klein
Continues to hold long-term global contracts with Revlon, Omega and Pepsi
Co-founded Meaningful Beauty, a skincare product line
Launched the Cindy Crawford Home collection, which is sold in more than 500 stores and annually grosses over $250 million
Supermodel
Cindy Crawford is known to the world as one of the original supermodels who defined that pivotal moment when fashion models became stars in their own right.
Crawford used her fame as a springboard to launch a career that has spanned over two decades and resulted in an exceedingly successful and trusted brand. The Illinois native's staying power in a notoriously fickle industry can be credited to her consummate professionalism, keen business savvy and dedicated approach to every endeavor. These attributes, combined with her timeless beauty, earned her long-term, global contracts with the likes of Revlon, Omega and Pepsi.
Crawford was discovered by a local photographer while a student in high school. At age 17, she was a finalist in Elite Model Management's Look of the Year Competition and still went on to graduate as valedictorian of her class. She studied chemical engineering as a scholarship student at Northwestern University before the building momentum of her modeling career took her to New York. Since then her all-American face with the iconic beauty mark has graced over 1,000 magazine covers worldwide, including Vogue, Elle, W, Bazaar, Cosmopolitan and Allure.
She walked the runway for Karl Lagerfeld, Chanel, Ralph Lauren and Dolce Gabbana and was featured in countless ad campaigns for virtually every top fashion designer, including Versace and Calvin Klein.
Soon after, MTV came calling and asked Crawford to host House of Style, a new show that merged the worlds of music and fashion. With its coverage of everything from the voyeuristic and fun to the more serious, House of Style became a huge hit. It also gave Crawford, who hosted for six years, a voice and a presence beyond the pages of magazines.
Crawford went on to create, produce and star in best-selling exercise videos with personal trainer Radu, and with Sonia Kashuk co-wrote Cindy Crawford's Basic Face, a successful instructional make-up book.
Crawford went on to co-found Meaningful Beauty, a line of skincare products created with Parisian cosmetic surgeon Jean-Louis Sebagh. Crawford engineered the match between Sebagh's brains and the marketing expertise of Guthy-Renker, the California-based direct response giant. Meaningful Beauty quickly became one of the company's best-selling beauty lines.
Crawford is also busy expanding her hugely successful Cindy Crawford Home collection, which grosses over $250 million annually in retail sales and includes rugs and accessories. The furniture collection originated as a partnership with Rooms To Go and is now carried at 9 retailers across the United States and Canada.
Cindy formed a partnership with retail giant JCPenney, launching Cindy Crawford Style at JCPenney, a home furnishings and accessories line that includes bedding, bath, kitchen, and windows. Cindy Crawford Style was the most successful launch of all new brands at JCPenney in 2009, including apparel.
Cindy lives in Malibu with her husband Rande Gerber and their children, Presley and Kaia.
To book a speaker, or for more information, call 424-288-2898, or send us a message using the form below.