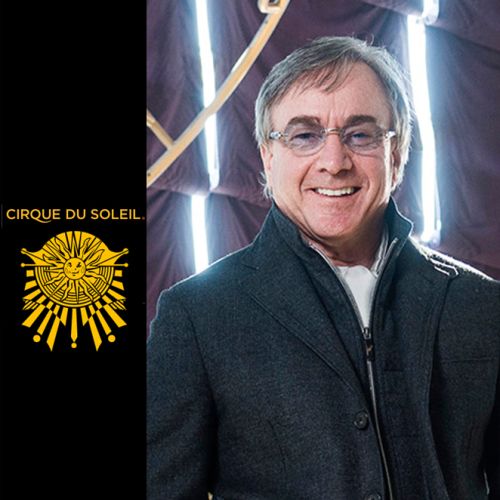 Inquire below to book
Daniel Lamarre
President and CEO of Cirque du Soleil Entertainment Group
At a Glance
Daniel Lamarre

: Biography at a Glance
Responsible for nurturing the balance between Cirque du Soleil's global strategy across five continents, its financial growth and stability and the integrity of its culture and values
Played key role in creating the shows based on music by The Beatles ('LOVE') and a celebration of Michael Jackson's life and work ('ONE')
Previously worked for TVA Group, National Public Relations, and Burson Marstellar
Founded the C2MTL worldwide conference, a platform for exploring creative answers to commercial questions
Biography
Daniel Lamarre is a French Canadian whose talent for international business development spans a long career in creative industries, culminating with his current position as President and CEO of the Cirque du Soleil.
Daniel is responsible for nurturing the delicate balance between Cirque du Soleil's global strategy across five continents, its financial growth and stability, and the integrity of its culture and values.
Among Daniel's greatest achievements are the execution of complex negotiations resulting in signed agreements with The Beatles and Michael Jackson's estate. Cirque du Soleil's production of 'LOVE' based on The Beatles' music is the only live show ever agreed to by the iconic group. The celebration of Michael Jackson's life and work 'ONE' was produced after competing with other entertainment giants who had established relationships with Michael Jackson's estate. Both accomplishments required outstanding business skills to be brought to the fore.
Daniel's strength is his ability to marry the needs of disparate groups and interests, finding positive solutions and outcomes for all—a skill he has fine-tuned throughout his career with TVA Broadcast Group, NATIONAL Public Relations, and Burson Marsteller. A natural storyteller, his best advice is usually delivered as a story from his rich personal experience. Drawing from his successes and failures, Lamarre's weapons of choice are laughter and humility.
In 2012 he collaborated on the creation of C2MTL Conference, a one-of-a-kind coming together of the creative and business elite of the world. It is a platform for exploring creative answers to commercial questions. In line with his belief that without creativity, there is no commerce.
He has been honored with Doctorates from the Faculty of Law, McGill University, and his alma mater the University of Ottawa, Faculty of Arts.
Daniel's outlook is resolutely international, but his roots are firmly in his tiny hometown of Grand-Mère, a small town located in the French part of Canada. This strong sense of self and values is fundamental to how Daniel does business, but is also a source of great personal satisfaction.
Concerned for education, and health and welfare matters, he supports a variety of charities. For 12 years, Daniel has been involved with Cirque du Monde, a worldwide social circus program which targets at-risk youth. He has been a Founding Member of the Board of Directors of the Foundation for the Montreal Heart Institute since 1994.
Reviews
Daniel was unbelievable! Inspiring, educational and a pleasure to deal with. He was an absolute highlight for our delegates.
Association of Superannuation Funds of Australia
I have to say that Daniel was to date the best and most inspirational speaker that we have ever had at ISE.
Integrated Systems Events
He rocked. Standing ovation at the end.
WOBI
For speaker-related inquiries, email speakers@caa.com, or send us a message using the form below.