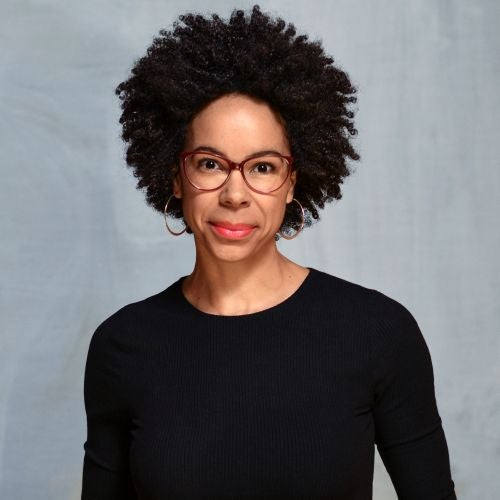 Inquire below to book
Dr. Ayana Elizabeth Johnson
Marine Biologist & Conservation Strategist; Founder & CEO of Ocean Collectiv
At a Glance
Dr. Ayana Elizabeth Johnson

: Biography at a Glance
Dr. Ayana Elizabeth Johnson is a marine biologist, policy expert, writer, and Brooklyn native.
Her work is at the intersection of science, policy, culture and justice, with a particular expertise in connecting the dots between ocean/climate issues and racial justice.

She is a founder of Urban Ocean Lab

, a think tank for coastal cities, and co-creator and co-host of the Spotify/Gimlet podcast How to Save a Planet

, on climate solutions.

Recently, she co-authored the Blue New Deal

, a roadmap for including the ocean in climate policy.

Dr. Johnson's book, 

All We Can Save,

will be a compilation of essays and select poems to create a mosaic, highlighting the diverse voices of women leading on climate in America.

As executive director of the Waitt Institute, Ayana co-founded the Blue Halo Initiative and led the Caribbean's first successful island-wide ocean zoning effort, resulting in the protection of one-third of Barbuda's coastal waters.

She has held policy positions in the National Oceanic and Atmospheric Administration (NOAA) and the Environmental Protection Agency.

 Ayana has advised the presidential campaign of Sen. Elizabeth Warren (D-Mass.) on ocean and climate policy
Biography
Dr. Ayana Elizabeth Johnson is a marine biologist, policy expert, writer, and Brooklyn native.  She is a founder of Urban Ocean Lab, a think tank for coastal cities, and co-creator and co-host of the Spotify/Gimlet podcast How to Save a Planet, on climate solutions. With Dr. Katharine Wilkinson, she co-edited the climate anthology All We Can Save, and co-founded The All We Can Save Project. Recently, she co-authored the Blue New Deal, a roadmap for including the ocean in climate policy. Previously, she was executive director of the Waitt Institute, developed policy at the EPA and NOAA, served as a leader of the March for Science, and taught as an adjunct professor at New York University. Dr. Johnson earned a BA from Harvard University in environmental science and public policy, and a Ph.D. from Scripps Institution of Oceanography in marine biology. She publishes widely, including in The New York Times, Washington Post, and Scientific American. She is on the 2021 Time 100 Next List and was named one of Elle's 27 Women Leading on Climate. Outside magazine called her "the most influential marine biologist of our time." Her mission is to build community around solutions to our climate crisis.
Reviews
Ayana was really great, so pleased we could make it happen.
Apple
It went great! Ayana was fantastic and added such an insightful and important voice to the conversation.
Salesforce
Ayana in a word: incredible. She was so warm and engaging and real – the students loved her!
Stanford University
Ayana was fantastic! The conversation was informative and took on the serious topic in a responsible way, but it was also full of laughs and inspiration. She struck the perfect tone and our audience has been sharing glowing feedback with us all weekend.
The Connecticut Forum
Ayana was wonderful. The guests really enjoyed the conversation and it was very engaging.
Salesforce
Ayana was great and the audience loved her.
Surfrider Foundation
Ayana was a big hit! The event went so well.
Chicago Ideas Week
She was wonderful and we wish we could have had her for more time! 
Women of Renewable Industries and Sustainable Energy (WRISE)
I just wanted to express our immense gratitude for Ayana! That was such a fantastic panel discussion. From the chat comments, the students and staff thoroughly enjoyed hearing from Ayana.
National Audubon Society & American Conservation Coalition Campus
It was so great! Ayana was wonderful as always - a really smooth process and we're already getting tons of positive feedback about the session. 
Intentional Endowments
Dr. Johnson did a fantastic job. Aside from being so very accomplished and intellectually compelling, she is a beautiful orator, poetic at times. We loved it!
The Hun School
We've received such great feedback about the event from students, faculty and staff and are so grateful for Dr. Johnson's willingness to be part of it. 
University of California, San Diego
For speaker-related inquiries, email speakers@caa.com, or send us a message using the form below.