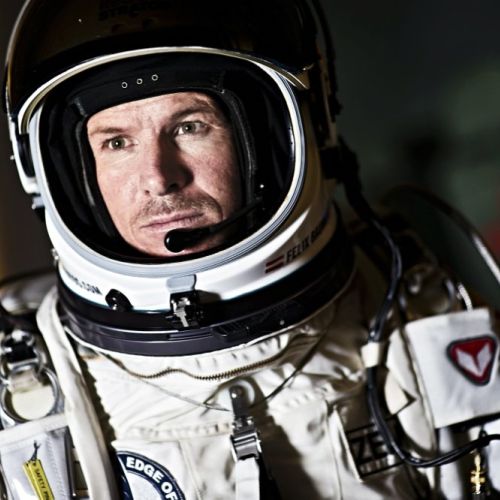 Inquire below to book
Felix Baumgartner
Record-Breaking Skydiver & BASE Jumper
At a Glance
Felix Baumgartner

: Biography at a Glance
Broke the record for highest skydive when he completed the Red Bull Stratos mission, the most viewed live event on YouTube history
Received the Laureus World Sports Award for sportsman of the year
Named "Adventurer of the Year" by National Geographic in 2012
Has completed BASE jumps from landmarks including the Christ the Redeemer statue in Rio de Janeiro, the Millau Viaduct in France and the Taipei 101 tower 
Biography
On October 14, 2012, Austrian base jumper Felix Baumgartner broke three World Records: the first human to break the sound barrier without the assistance of a vehicle, the highest manned balloon flight, and the highest skydive. In the Red Bull Stratos mission, Baumgartner jumped 24 miles above earth, reaching a velocity of 843 mph before landing on his feet in eastern New Mexico nine minutes later. Eight million people watched the live streaming event making the jump the most watched live event ever on YouTube.
Felix's original claim to fame was his free fall "flight" across the English Channel in 2003. Jumping from an aircraft at more than 32,000 feet over England, in a custom-built jumpsuit and helmet Felix reached speeds of 220 miles per hour, completing the 22-mile free fall to France in six minutes.
In 1997, Felix won the overall BASE jumping championship at West Virginia's Bridge Day. His 1999 jump from the Petronas Towers in Kuala Lumpur established a new world record for highest BASE jump from a building. He also completed the lowest BASE jump from Christ the Redeemer statue in Rio de Janeiro, the highest span jumping from the Millau Bridge in France and the highest jump from a building at Taiwan's Taipei 101 tower.
Felix has transitioned his training to a new thrill: Audi Motorsport. In 2014, he joined Audi Motorsport, driving an Audi R8 LMS, and competing in the endurance racing event, 24 Hours Nürburgring. After intense physical and driver training, he led the team to a respectable 9th place finish.
Outside of his penchant for daredevil acts, Felix was awarded the 2012 BAMBI Award in the category of "Millennium," the Laureus World Sportsperson of the Year Award, and named the National Geographic Adventurer of the Year for his unique achievement. He has also been named to Vienna's Street of Champions.
Born on April 20, 1969, Felix was raised in Salzburg, where he dreamed of skydiving and flying helicopters, inspired by astronauts on TV. He made his first skydive at age 16. After sharpening his parachute skills as a member of a Special Forces demonstration team for the Austrian military, he supported himself by repairing motorcycles before becoming a skydiving professional.
Felix divides his time between the United States and Switzerland.
Reviews
Amazing! Loved him and his talk! Great guy!
Symatec
Felix was brilliant, he worked extremely well with the moderator. Everybody loved Felix and his awesome ventures.
Stavanger Chamber of Commerce
For speaker-related inquiries, email speakers@caa.com, or send us a message using the form below.