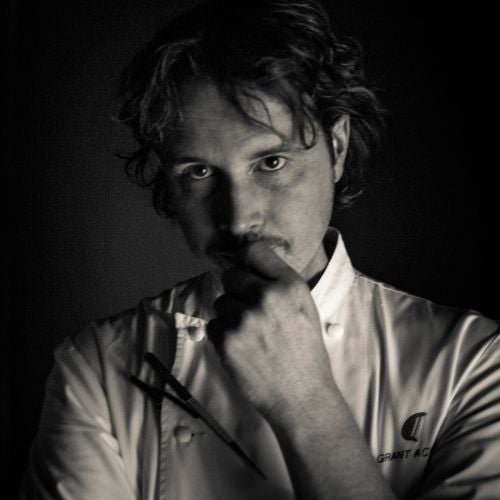 Inquire below to book
Grant Achatz
Chef, Alinea
At a Glance
Grant Achatz

: Biography at a Glance
Executive chef and co-owner of Next, The Aviary, and Alinea, named one of "The World's 50 Best Restaurants"
Named one of Time magazine's "100 Most Influential People"
Won the James Beard Award for outstanding chef
Author of "Life, on the Line: A Chef's Story of Chasing Greatness, Facing Death, and Redefining the Way We Eat"
Biography
Grant Achatz is the chef and co-owner of Alinea, NEXT and the Aviary in Chicago, IL.
Since 2007 Alinea has been on Restaurant Magazine/San Pellegrino's 50 Best list, ranking number 9 in 2014 and twice being named the Best Restaurant in North America. In 2013 Restaurant Magazine bestowed the coveted Chef's Choice Award on Achatz. In spring of 2011, Chef Achatz was named as one of Time magazine's "100 Most Influential People in the World." The James Beard Foundation awarded him "Outstanding Chef of the Year 2008" and Gourmet Magazine named his restaurant the "Best Restaurant in America" in 2006. Since 2011, Alinea has been awarded 3 stars in the Michelin guide. Elite Traveler Magazine has named Alinea "The Elite 100 Restaurants" top restaurant since 2012.
In collaboration with Crucial Detail design studio, Lara Kastner Photography and Kokonas, Achatz released the self-published cookbook, Alinea, in 2008. Achatz and Kokonas co-authored Life on the Line, the memoir about chef Achatz' journey in restaurant business and his battle with stage four tongue cancer.
Reviews
It was amazing! He seemed to really enjoy himself.
Nestle
For speaker-related inquiries, email speakers@caa.com, or send us a message using the form below.