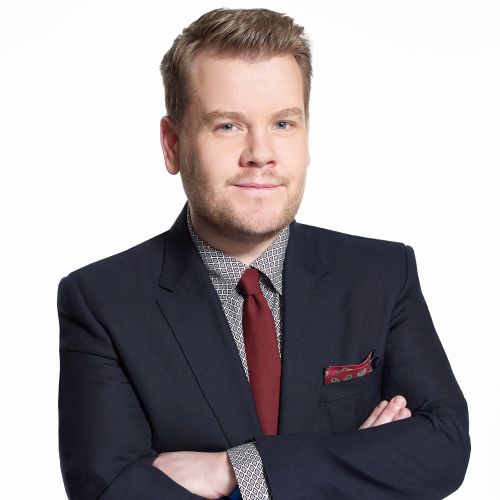 Inquire below to book
James Corden
Host, The Late Late Show with James Corden
At a Glance
James Corden

: Biography at a Glance
Host of CBS' The Late Late Show with James Corden, which has been nominated for 5 Emmy's and won for Outstanding Interactive Program
Former host of the BAFTA Award-winning UK sports-themed comedy game show A League of Their Own
Starred in, produced, and wrote the BAFTA-nominated comedy thriller The Wrong Mans
Named one of TIME magazine's "100 Most Influential People"Awarded the Writers' Guild of Great Britain Award for Comedy Writer of the Year, the South Bank Show Award for Comedy and the Royal Television Society Award for Comedy Writer of the Year for his work on The Wrong Mans
Biography
British actor James Corden is known around the world as a Tony Award-winning performer on Broadway, a BAFTA-winning comedy star, a feature film actor, and an acclaimed host, writer, and producer in several genres of television.
Corden can currently be seen hosting Emmy Award-winning variety show, "The Late Late Show with James Cordon," on CBS.
During the short time since Corden took the helm, "The Late Late Show" has reached new highs in viewers and generated numerous buzz-worthy viral videos, including his "Carpool Karaoke" video featuring singer Adele, which was the biggest YouTube viral video of 2016 with 135 million views. "The Late Late Show" won the Critics Choice Award for Best Talk Show and the Emmy for Outstanding Interactive Program in 2016. "Carpool Karaoke" also won the Emmy for Outstanding Variety Special in 2016 and 2017.
Corden rose to fame through his own original comedy series "Gavin & Stacey" on BBC Three, for which he co-wrote and co-starred from 2007 to 2010. At the 2008 BAFTAs, Corden won for Best Comedy Performance and the series won the 2008 British Comedy Award for Best TV Comedy. In March of 2010, Corden began hosting the BAFTA Award-winning UK sports-themed comedy game show "A League of Their Own" on Sky 1. He went on to host the Brit Awards, the biggest event in the British music industry, from 2010 to 2014.
In 2011, Corden starred in the wildly popular comedy play, "One Man, Two Guvnors." For his lead role, Corden won the Tony for Best Actor in a Play.
Corden teamed with former "Gavin & Stacey" co-star Mathew Baynon to write, produce, and co-star in the BAFTA-nominated comedy thriller series "The Wrong Mans," which aired on BBC Two and Hulu in 2013. The show was nominated for the BAFTA Award for Best Sit-Com, and Corden was nominated for Best Comedy Performance. Corden also won the Royal Television Society Award for comedy writer of the year.
Corden's film credits include "Gulliver's Travels," "The Three Musketeers," and "Into the Woods," among others.
In 2015, Corden received the BAFTA Britannia Award for British Artist of the Year. In 2017, Corden hosted the 2017 Grammy Awards and was named one of TIME magazine's "100 Most Influential People."
Reviews
James did an amazing job! Anheuser-Busch was blown away by his stage presence. I'm pretty sure James stole the show and absolutely left the attendees with a memorable experience.
Anheuser-Busch
James was awesome. Great feedback, loved having him.
Skechers
We all just love him. I have never heard our audience as responsive as they were last night. He was SO personable - no "star" ego, humble, unassuming, warm, cooperative and a total pleasure.
Jewish United Fund
For speaker-related inquiries, email speakers@caa.com, or send us a message using the form below.