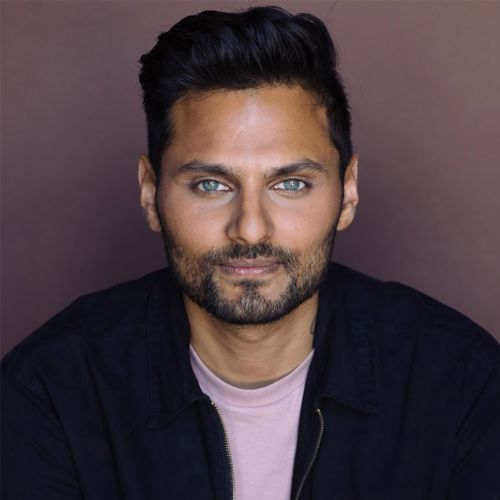 Inquire below to book
Jay Shetty
Award-Winning Host & Viral Content Creator
At a Glance
Jay Shetty

: Biography at a Glance
Jay Shetty's viral wisdom videos have garnered over 4 billion views and gained over 20 million followers globally, making him one of the most viewed people on the internet and the go-to for positivity, purpose and motivation
Named in the Forbes 30 Under 30 Class of 2017 for being a game-changer and influencer in the world of media
After spending 3 years training as a monk across India and Europe, he began sharing insights on productivity and applying his learnings to help workplaces
Former host of Huffpost Live #FollowTheReader, Jay has interviewed the likes of Russell Brand, Tim Ferriss and Deepak Chopra, reaching 1 million people daily and exploring themes that include passion, purpose, mindfulness, r

esilience, failure and communication

His innovative approach to speaking engages audiences of any size with interactive exercises he calls 'experiential learning'
He has worked with companies including Snapchat, Facebook, National Geographic, Google, L'Oreal, Facebook, Coca-Cola, Microsoft and Accenture
Biography
Jay Shetty's vision is to Make Wisdom Go Viral. He is on a mission to share the timeless wisdom of the world in an accessible, relevant and practical way. He has produced over 400 viral videos which have surpassed more than 5 billion views, and his podcast, On Purpose is consistently ranked as the #1 Health podcast in the world. He was named in the Forbes 30 Under 30 Class of 2017 for being a game changer in the world of media and has won both the Streamy and Shorty Awards for Best Health and Wellness Creator of the Year 2018.
After meeting a monk at the age of 18, Jay sought to redefine personal success. He was inspired by a life of service, impact and passion as opposed to money, fame and power. After graduating with a first-class BSc (Hons) Degree in Behavioral Science from Cass Business School, he turned down lucrative job offers from prestigious companies, moved to India and lived as a monk. He traded his suits for robes, shaved his head, slept on the floor and lived out of a gym locker. Jay meditated for 4-8 hours a day and studied ancient philosophy. Half the day was spent on personal growth and the other on help others. This included everything from personal and collective meditation, study and reflection to teaching and philanthropy. For three years, Jay helped build sustainable villages, food programs distributing over one million meals per day and coached Millennials throughout India and Europe.
Jay received a proposal from his guru who believed he could share what he had learnt if he left the path. Jay moved back to London with his parents, in massive debt with no recognizable skills on his resume. Fortunately, his friends, now working for the largest organizations in the world yet experiencing tremendous stress and pressure, invited Jay to coach them on wellbeing, purpose and mindfulness. Jay began sharing his experiences as a monk in the world's largest corporations including EY and Nasdaq.
Driven by a desire to share his learnings with as many people as possible, he re-engaged with the world and dove head first into learning about the tools and techniques that might allow knowledge to spread as fast as entertainment. He joined Accenture, helping them build their digital division while learning about the forces shaping the new digital landscape. He quickly became their #1 social media influencer, having advised over 150 executives on their personal brands, which provided a very broad base with which to test theories. He leveraged his findings to launch his own Facebook page in 2016.
Jay's videos were spotted by Arianna Huffington, who asked him to create a series for HuffPost. His first four videos hit over 50 million views - the highest HuffPost had ever received. Arianna invited Jay to New York to be a Senior Host & Producer for HuffPost Live where he created #FollowTheReader. The Facebook Live Daily Talk Show, featuring authors and life changing ideas, became #1 for audience engagement – with themes that include passion, purpose, mindfulness, resilience, failure and communication.
Jay continues to expand his brand through his viral video agency, group coaching & workshops with his 32+ million followers. He is also collaborating with Ellen DeGeneres' Ellen Digital to produce content centered on purposeful living, in addition to developing a larger celebrity-driven series. His first book, Think Like a Monk, is an effortless guide on how ANYONE can be courageous, compassionate and determined in our fast-paced, stressed out and disconnected world - was released in 2020.
Reviews
Jay has a special energy that draws people towards him, and a talent at taking people on a journey of digital learning, understanding & realisation. Every time I meet Jay I learn something new & I walk away feeling ready to take on the next big challenge. Jay is not just the 'urban monk', he's an inspirer, an innovator, a digital activist.
HSBC
Aside from being an excellent communicator, all of the advice, stories and tips Jay shared were spot on and super related to what the event was about. Everyone loved the session and Jay helped us end the event on a very high note.
Google
Jay was phenomenal and we loved having him! He is everything we are trying as a company to push for - from a culture standpoint. We would absolutely love to have him here again.
Microsoft
For speaker-related inquiries, email speakers@caa.com, or send us a message using the form below.