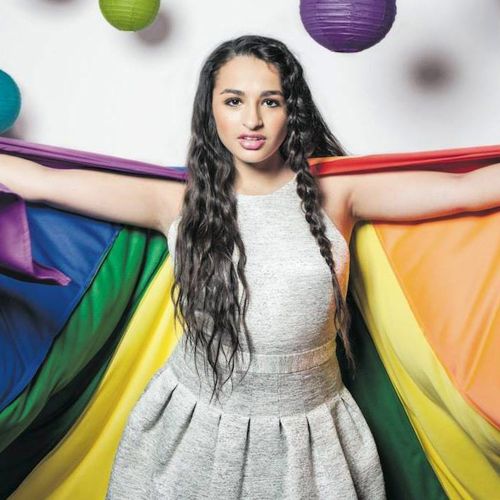 Inquire below to book
Jazz Jennings
Star of TLC's "I am Jazz", LGBTQ Rights Activist & Author
At a Glance
Jazz Jennings

: Biography at a Glance
Transgender American YouTuber, spokesmodel, television personality, an HRC youth Ambassador, author and LGBTQ rights activist
Stars in the GLAAD Award winning TLC reality TV series, "I Am Jazz", which focuses on her life with her family as a teenager and as a transgender youth
Honorary co-founder of the Transkids Purple Rainbow Foundation
Speaks at universities, medical schools, conferences, conventions, symposiums, and major corporations all over the country advocating for the transgender community
Named to TIME's list of "Most Influential Teens" two years in a row
Biography
Jazz Jennings is a transgender American YouTuber, spokesmodel, television personality, an HRC youth Ambassador, author and LGBTQ rights activist. Jazz stars in the GLAAD Award winning TLC reality TV series, "I Am Jazz", which focuses on her life with her family as a teenager and as a transgender youth. She's an honorary co-founder of the Transkids Purple Rainbow Foundation. Jazz speaks at universities, medical schools, conferences, conventions, symposiums, and major corporations all over the country advocating for the transgender community. 
Jazz is notable for being one of the youngest publicly documented people to be identified as transgender, and for being the youngest person to become a national transgender figure.
Christine Connelly, a member of the board of directors for the Boston Alliance of Gay, Lesbian, Bisexual and Transgender Youth, stated, "She was the first young person who picked up the national spotlight, went on TV and was able to articulate her perspective and point of view with such innocence".
When she was six, Jazz appeared on 20/20 with Barbara Walters. Since then, she's been featured on a variety of major programs and news outlets, including a 20/20 update with Barbara Walters when she was 11, Katie Couric twice, Oprah: Where are the Now?, Dr. Drew, Nightline, Dateline, MSNBC, 60 Minutes, Dr. Oz, Time Magazine, Teen Vogue, Cosmopolitan, Huffington Post, Elle Magazine, the Rosie Show, The Meredith Vieira Show, The View, an Oprah Winfrey Network documentary, "I am Jazz: A family in Transition" and many others. Jazz plays Zadie, one of the first animated transgender characters in, Amazon's, "Danger & Eggs."
In 2014, Jazz co-wrote a children's picture book with Jessica Herthel titled "I Am Jazz".  Jazz's memoir, "Being Jazz: My Life as a (Transgender) Teen" was released in bookstores and digitally on June 7th, 2016. In 2015 she became one of the faces of Johnson & Johnson's Clean and Clear Campaign: "See the Real Me." Jazz served as the 2016 Grand Marshal in the New York City Pride March. She is the youngest person to serve as Grand Marshal in the history of the march. In 2017 she became the first transgender person to have a doll modeled after her. Jazz plays Zadie, one of the first animated transgender characters in Amazon's, "Danger & Eggs".
In April of 2016, Jazz was a featured speaker at WE Day which also featured Selena Gomez, Demi Lovato and Charlize Theron. The event was attended by over 16,000 students from Los Angeles area schools who earned their ticket by volunteering and service. 
Jazz is the youngest recipient of the Colin Higgins Youth Courage Award, the youngest person ever to be recognized in The Advocate magazine's, "Top Forty Under 40" annual list, OUT Magazine's Top 100 list, the 2014 Trans100 list, and in 2014 the youngest recipient of the Equality Florida "Voice for Equality" Award. Jazz is the recipient of LogoTV's 2014 youth Trailblazer Award. She was named as one of TIME Magazine's Most Influential Teens for 2014 and 2015. She is also listed on Huffington Post's 14 Most Fearless Teens of 2014. Jazz has also been honored and recognized at the 2013 GLAAD Awards, where she got to meet former President Bill Clinton. In March of 2015 Jazz and her family were the recipients of the Ackerman Institute's Gender & Family Project, and in May of 2015, she received the Harvey Milk and Pride Center's Diversity Honors Youth Award. In 2016, Jazz was invited to the White House, where she met President Obama. In October of 2015 she was honored as Miss Teen Pride USA. In August of 2016, Jazz was recognized on Teen Vogue's "21 under 21" list. Jazz is also the recipient of the 2015 Trevor Youth Courage Award. In December of 2015 she was honored alongside Caitlyn Jenner at the, "Angels of Change" fundraiser through the LA Children's Hospital. Jazz is the recipient of Equality California's 2017 Equality Visibility Award. She's also the recipient of HRC's Upstander Award for 2017, the receipt of SAVE's Champions of Change award for 2017 and Equality Illinois 2018 Spotlight Award. 
In 2016 Jazz and her TLC docuseries won the GLAAD Media Award for Outstanding Reality Program in a tie with "I Am Cait." "I Am Jazz" was nominated for the GLAAD award in 2017 & 2018. 
Jazz is no stranger to discrimination. For five years she wasn't allowed to use the girls restroom in her school. For 2 1/2 years Jazz was banned from girls' soccer in her state.  After a long battle, the United States Soccer Federation ordered her home state to lift the ban.  As a result of the discrimination that Jazz was forced to endure, the USSF created a policy to include all transgender athletes who want to play soccer in the United States of America.
Jazz and her family continue to participate in many projects with a goal to educate, and spread the message of tolerance and acceptance for all Transkids.
For speaker-related inquiries, email speakers@caa.com, or send us a message using the form below.