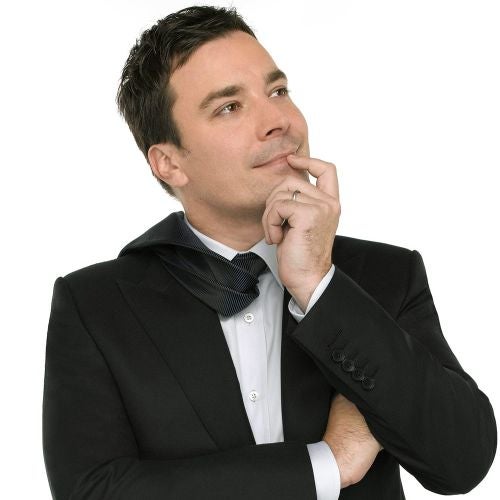 Inquire below to book
Jimmy Fallon
Host, "The Tonight Show Starring Jimmy Fallon"
At a Glance
Jimmy Fallon

: Biography at a Glance
Jimmy Fallon is best known as the host of The Tonight Show.
He was a Saturday Night Live cast member from 1998 to 2004. 
He co-hosted Weekend Update" alongside Tina Fey on Saturday Night Live. 
Fallon won a Grammy for best comedy album for Blow Your Pants Off.
His film credits include Fever Pitch and Almost Famous. 
Biography
Long a renowned comic talent, Jimmy Fallon's ability to deliver versatile, standout performances on the screen has allowed him to join the exclusive ranks as one of the Saturday Night Live alumni at the forefront of a diverse line-up of television and film projects - while always staying grounded in his standup roots.
In early 2014, Fallon took over the Late Night legacy, succeeding Jay Leno and Johnny Carson with The Tonight Show Starring Jimmy Fallon. The show immediately garnered attention for viral videos, audience games, and A-list guests. He previously hosted Late Night with Jimmy Fallon for five years. Throughout it all, Fallon's choice of house-band, The Roots, have been universally praised. The hip-hop legends were immediately embraced by fans and critics. In 2013, Fallon won a Grammy for Best Comedy Album for Blow Your Pants Off.
Fallon first garnered attention in 1998 when he joined the cast of Saturday Night Live and quickly became an audience favorite for his impressions of Jerry Seinfeld, John Travolta, and Adam Sandler, as well as spot-on musical impressions of Justin Timberlake, Jack White, and Enrique Iglesias. Fallon created many memorable recurring characters on SNL, including "Nick Burns," the sarcastic tech support representative; rowdy Boston teen "Sully" known for playing tonsil hockey with Denise, as played by Rachel Dratch; and the explosive "Barry Gibb" opposite Justin Timberlake in "The Barry Gibb Talk Show." In 2000, Fallon became the co-anchor of the popular segment Weekend Update alongside Tina Fey.
During his six-year stint on SNL, Fallon ventured off into other television roles, including his role of "Second Lieutenant George Rice" in Tom Hanks' and Steven Spielberg's 2001 Emmy Award-winning miniseries Band of Brothers.
Fallon made his feature film debut in Cameron Crowe's rock 'n roll road film, Almost Famous, in which he played band manager Dennis Hope. In 2003, he appeared alongside Christina Ricci in Woody Allen's Anything Else. In 2004, Fallon starred with Queen Latifah in the action-comedy Taxi. That same year he starred opposite Drew Barrymore in the blockbuster romantic comedy Fever Pitch, the Farrelly Brothers' homage to Boston Red Sox fanaticism. Fallon starred with Lucy Liu in the comedy The Year of Getting to Know Us, which premiered at the 2008 Sundance Film Festival. He was also seen in the roller derby feature Whip It, opposite Ellen Page and Drew Barrymore.
For speaker-related inquiries, email speakers@caa.com, or send us a message using the form below.