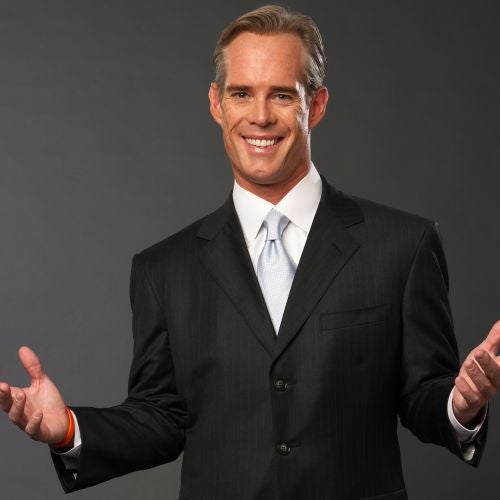 Inquire below to book
Joe Buck
Fox Sports Commentator
At a Glance
Joe Buck

: Biography at a Glance
Lead voice for Fox's NFL coverage since 2002 and MLB coverage since 1996
Winner of seven Sports Emmy awards
Called the World Series 17 times, the League Championship Series 17 times and the Super Bowl four times
Hosted "Fox NFL Sunday," "The OT" and "Joe Buck Live"
The youngest play-by-play announcer to call the World Series since Vin Scully
Biography
Since breaking on to the national scene as a promising 25-year-old, Joe Buck has become one of sports' premier play-by-play broadcasters. Buck handles lead play-by-play duties for Fox Sports' Emmy Award-winning coverage of MLB and the NFL. For baseball, he teams with Emmy Award-winning analyst Tim McCarver, while his football partner is three-time Super Bowl champion and Pro Football Hall of Famer Troy Aikman.
Spring 2012 Buck added a seventh Emmy Award to his impressive list of broadcasting accomplishments, garnering the honor for his work numerous times over the past decade. During the 2015 Super Bowl weekend, Buck earned the prestigious Pat Summerall Award, recognizing his lifetime achievement in sports coverage.
Buck has held lead MLB on Fox play-by-play duties since 1996. At age 27, he became the youngest play-by-play announcer to call the World Series since the legendary Vin Scully (age 25) sat behind the mic during the 1953 Fall Classic. He's already called 17 World Series, 17 League Championship Series and four Super Bowls. As the lead voice for the NFL on Fox since 2002, Buck worked with analysts Aikman and Cris Collinsworth for three seasons (2002-2004), and since 2005 has been partnered exclusively with Aikman.
Buck worked his 16th All-Star Game with McCarver July 2014 in Kansas City, more than any other broadcast pair. He currently holds the record for the announcer with the most All-Star Game broadcasts.
In addition to his lead play-by-play role, Buck served as host of Fox NFL Sunday, America's most-watched NFL pregame show, and The OT, the nation's most-watched NFL postgame show, in 2006. That season, Fox NFL Sunday traveled to the site of each week's biggest game, allowing Buck to both host the pregame show and call each game. It marked the first time in sports television history that a broadcaster hosted an NFL pregame show while simultaneously handling play-by-play duties.
Joe is the son of late broadcasting legend Jack Buck, whose career spanned parts of six decades. Jack and Joe are the only father and son to each call the Super Bowl on network television.
Buck joined FOX Sports in 1994, and along with analyst Tim Green, formed one of the NFL on Fox's six original NFL broadcast teams. Just 25 years old in '94, Buck was the youngest announcer to call a full slate of NFL games on network television. The two worked together for Fox's first four NFL seasons.
Buck was a local radio and television announcer for the St. Louis Cardinals from 1991 to 2007. His broadcasting career began in 1989, while he was an undergraduate at Indiana University. That year he called play-by-play for the Louisville Redbirds of the American Association, a minor league affiliate of the Cardinals, and was a reporter for ESPN's coverage of the Triple-A All-Star Game. Buck also hosted a talk show for HBO Sports, Joe Buck Live in 2009 and is a partner in J. Buck's, two popular sports bars in the St. Louis area, with his sister Julie.
Active in many national and local charities, he hosts The Joe Buck Classic golf tournament, which benefits St. Louis Children's Hospital and helps fund its imaging center. Since it began in 2000, the annual event has raised more than $5 million. He also works closely with the Parkinson's Foundation, Mathews-Dickey Boys' & Girls' Club and City of Hope.
Reviews
Joe was phenomenal. Everyone loved him. What a class act--sincere, honest, funny, and kind! Hit it out of the ballpark. Thanks for getting him for us!
Calgary Italian Sportsman's Dinner Association
For speaker-related inquiries, email speakers@caa.com, or send us a message using the form below.