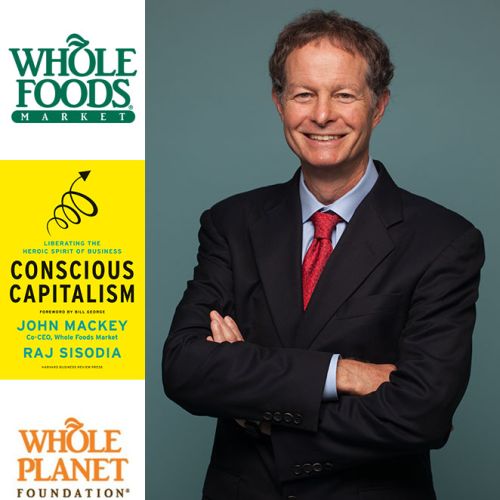 Inquire below to book John Mackey
Co-Founder & CEO, Whole Foods Market
John Mackey: Biography at a Glance
Co-Founder and CEO of the leading natural and organic grocery and $17 billion Fortune 500 company, Whole Foods Market
Author of The New York Times and Wall Street Journal bestseller Conscious Capitalism
Named Ernst & Young's "United States Entrepreneur of the Year," Institutional Investor's "Best CEO in America," Barron's "World's Best CEO" and Fortune's "Businessperson of the Year" and one of "The World's 50 Greatest Leaders"
Founded Whole Planet Foundation to help end poverty in developing nations and launched the Local Producer Loan Program to help local farmers expand their business
Biography
John Mackey, co-founder and CEO of Whole Foods Market, has led the natural and organic grocer to a $17 billion Fortune 500 company. With more than 490 stores and 94,000 Team Members in three countries, the company has been named by Fortune magazine as a "Best Company to Work For" for 20 consecutive years and the Number One Most Admired Food and Drug Store Company in the World in 2012 and 2014.
While devoting his career to helping shoppers satisfy their lifestyle needs with quality natural and organic foods, Mackey has also focused on building a more conscious way of doing business. He was the visionary for Whole Planet Foundation to help end poverty in developing nations, the Local Producer Loan Program to help local food producers expand their businesses, the Global Animal Partnership's rating scale for humane farm animal treatment, and the Health Starts Here initiative to promote health and wellness.
Mackey has been recognized as one of Fortune's "World's 50 Greatest Leaders," Ernst & Young's "Entrepreneur of the Year Overall Winner for the United States," Institutional Investor's "Best CEO in America," Barron's "World's Best CEO," MarketWatch's "CEO of the Year," Fortune's "Businessperson of the Year," and Esquire's "Most Inspiring CEO."
A strong believer in free market principles, Mackey co-founded the Conscious Capitalism Movement and co-authored a New York Times and Wall Street Journal best-selling book entitled Conscious Capitalism: Liberating the Heroic Spirit of Business (Harvard Business Review Press 2013) to boldly defend and reimagine capitalism, and encourage a way of doing business that is grounded in ethical consciousness. Mackey cut his pay to $1 in 2006 and continues to work for Whole Foods Market out of passion to see the business realize its potential for deeper purpose, for the joy of leading a great company and to answer the call to service that he feels in his heart.
"John was our favorite speaker; we could have listened to him speak all day."

Capitalism.com
"FANTASTIC! John was a hit with our audience and his speech was very engaging and he was SUPER nice and personable with everyone. Couldn't have been better – the audience hung on his every word."

VP Development Programs, Bellevue University
"John Mackey is and will always be a unique star speaker for any health care audience in particular, but frankly for any audience. Our companies do over 200 conferences a year, each with 40 to 400 speakers, and John is always among the most appreciated."

Chairman, World Health Care Congress
"Our event was a complete success! His presentation was amazing. Thank you very much for your help. I hope we can work together again."

Abras, Brazil
"Conscious Capitalism is a welcome explication and endorsement of the virtues of free-enterprise capitalism—properly comprehended, there is no more beneficial economic system—and a simultaneously pragmatic and inspirational extolment of higher purpose and humanism in business."

Herb Kelleher, Former Chairman & CEO, Southwest Airlines
"John Mackey's journey to awakening is an inspiration not just to entrepreneurs, but to anyone who believes in a new definition of success for capitalism—one that includes positive societal impact as well as traditional business metrics."

Biz Stone, Co-Founder & Creative Director, Twitter
"I have long believed that companies have a responsibility to balance profitability with a social conscience, yet few leaders have an inherent understanding of just how to do it.I highly recommend listening to what John Mackeyhasto say."

Howard Schultz, Chairman, President & CEO, Starbucks
To book a speaker, or for more information, call 424-288-2898, or send us a message using the form below.