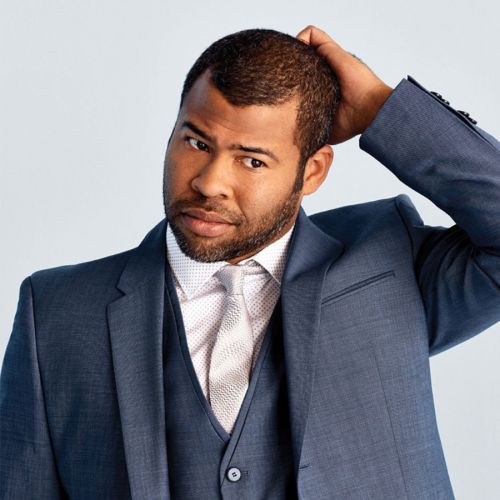 Inquire below to book
Jordan Peele
Comedian, Actor, & Filmmaker
At a Glance
Jordan Peele

: Biography at a Glance
Jordan Peele is the writer and director of the Academy Award-winning Get Out, one of the highest-grossing horror films of all-time
His 2018 Oscar nominations marked the first time an African American has been honored with Best Picture, Best Directing and Best Original Screenplay nominations in one year
He received his second Academy Award nomination for Best Picture for producing Spike Lee's "BlacKkKlansman" (2018). He then directed, wrote, and produced the acclaimed horror film "Us" (2019).
Co-star and co-creator of Comedy Central's Key & Peele, which in 2014 won a Peabody Award and an American Comedy Award for Best Alternative Comedy Series
Key & Peele has become a TV and internet sensation with 12 Emmy nominations and over 900 million online hits
Named among TIME magazine's "Most Influential People" of 2014 and 2017 and Entertainment Weekly's "Entertainers of the Year of 2012"nations and launched the Local Producer Loan Program to help local farmers expand their business
Biography
Jordan Peele is an actor, comedian, writer, director, and producer whose directorial debut, horror film "Get Out," was nominated for an Oscar for Best Picture and Best Director. Jordan won the Oscar for Best Original Screenplay, the first black screenwriter to win the award. "Get Out" has grossed over $255 million making it one of the most profitable horror movies of all time. He received his second Academy Award nomination for Best Picture for producing Spike Lee's "BlacKkKlansman" (2018). He then directed, wrote, and produced the acclaimed horror film "Us" (2019).
Jordan co-created and starred in Comedy Central's sketch comedy show "Key & Peele," which won a Peabody Award, American Comedy Award, and received 12 Emmy nominations.
Jordan is currently co-creating and co-producing comedy series "The Last O.G.," starring Tracy Morgan and Tiffany Haddish, which premiered on TBS in April 2018.
Jordan rose to prominence as a series regular on MADtv where he met and formed immediate chemistry with comedian Keegan-Michael Key. The two went on to create their own show, "Key & Peele," on Comedy Central, which aired from 2012 to 2015 and was a wild success, generating many viral skits and clips.
Jordan's other prominent TV appearances include a recurring role on season one of FX drama "Fargo," as well as on Netflix's "Wet Hot American Summer," CBS's "Life in Pieces," and Adult Swim's "Children's Hospital."
Jordan has also appeared on episodes of "Reno 911!, ""Modern Family," "Workaholics," and "The Mindy Project," and voices characters in animated shows such as "Bob's Burgers," "American Dad," "Rick and Morty," and "Big Mouth." His feature film credits include "Little Fockers," "Wanderlust," and "Keanu," which Jordan starred in and produced along with Key in 2016.
For speaker-related inquiries, email speakers@caa.com, or send us a message using the form below.