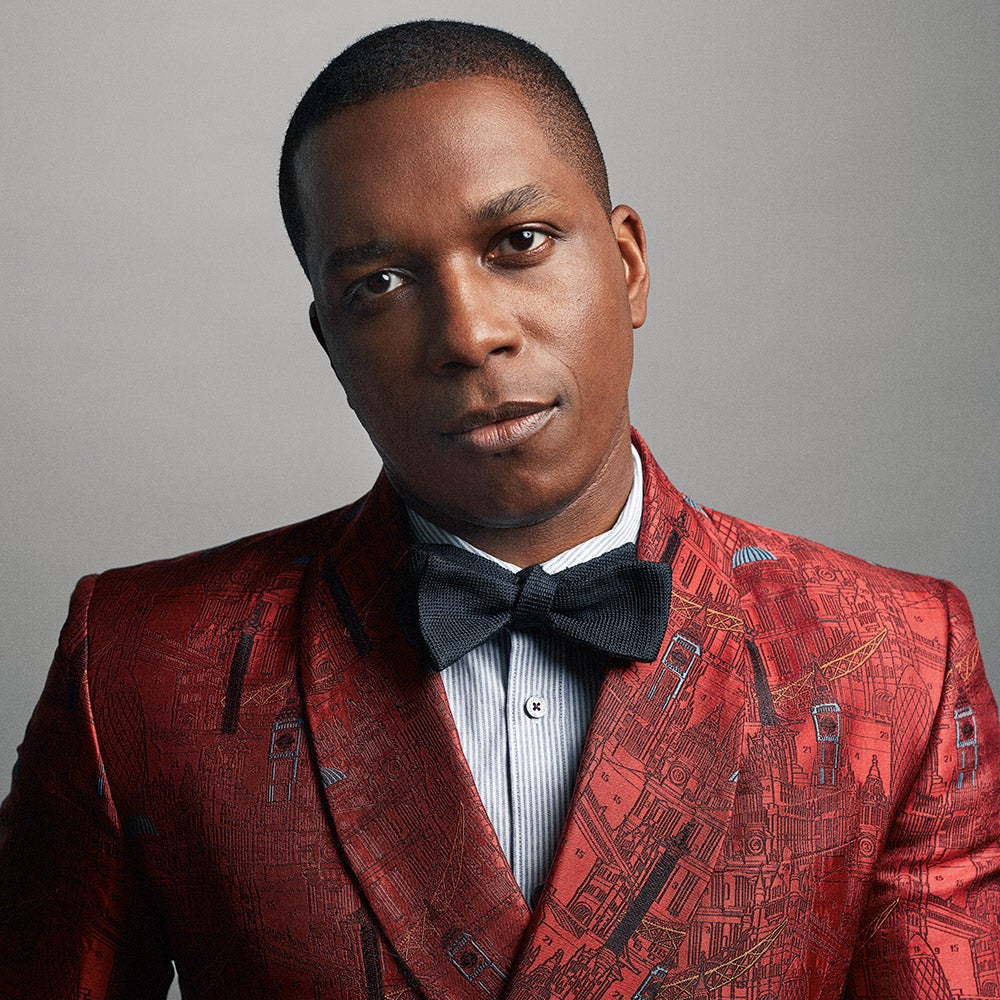 Inquire below to book Leslie Odom Jr.
Tony Award-Winning Actor & Musician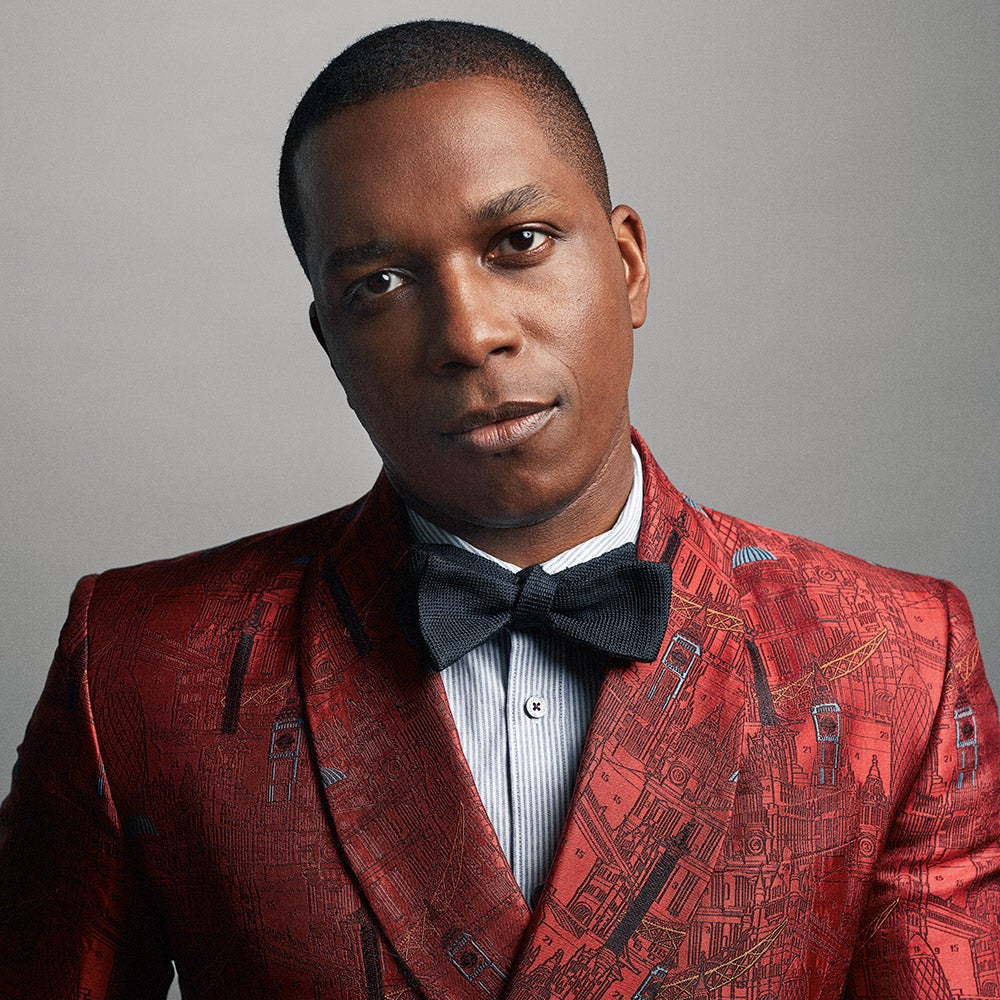 Leslie Odom Jr.
Won the Tony Award for the Best Leading Actor in a Musical for his portrayal of 'Aaron Burr' in the blockbuster Broadway musical Hamilton
Principal soloist on Hamilton's Original Broadway Cast Recording, which won the 2015 Grammy for Best Theater Album
Other theatre credits include Rent, Leap of Faith, Venice and Tick, Tick...Boom!
Best-known on the small screen for his portrayal of 'Sam Strickland'

in the NBC musical series Smash and his recurring role as 'Reverend Curtis Scott' on Law & Order: SVU
Tony Award-Winning Actor & Musician
Tony and Grammy Award-winning performer, Leslie Odom Jr., has taken the entertainment world by storm across a variety of media – spanning Broadway, television, film, and music.
A Grammy Award- winning recording artist, Odom, Jr.'s self-titled debut album was part-funded by a successful Kickstarter campaign and released in 2014 by Borderlight Entertainment, Inc. In June 2016, the album was re-released with additional material and charted at #1 on the Billboard Jazz chart. In winter 2017, he re-released Simply Christmas as a deluxe edition with new arrangements and new songs. The holiday album hit #1 on iTunes and Billboard Jazz Charts.
Best known for his breakout role as 'Aaron Burr' in the smash hit Broadway musical, Hamilton, Odom Jr. received a 2015 Drama Desk Award nomination and won the Tony Award for "Best Actor in a Musical" for his performance. He also won a Grammy Award as a principal soloist on the original cast recording. He made his Broadway debut in Rent and starred in the stage adaption of Leap of Faith. Off-Broadway he appeared in Venice and the original staging of Hamilton, both at the Public Theater. He also starred opposite Lin-Manuel Miranda and Karen Olivo in a 2014 City Center Encores! revival of Jonathan Larson's Tick, Tick ... Boom!.
Odom Jr. was most recently seen on the big screen starring alongside Johnny Depp, Daisy Ridley, Penelope Cruz, Michelle Pfeiffer, and Judi Dench in Kenneth Branagh's Murder on the Orient Express for Twentieth Century Fox. Previous film work includes the 2012 historical drama, Red Tails, executive produced by George Lucas and co-starring Terrence Howard, Cuba Gooding, Jr., and David Oyelowo, among others.
On the small screen, Odom, Jr. starred on the cult-classic musical drama series, Smash, created by Theresa Rebeck. He had recurring roles on NBC's Law & Order: Special Victims Unit and CBS' Persons of Interest and CSI: Miami and made guest appearances on such shows as The Good Wife, Gotham, and Showtime's House of Lies.
In December 2017, Odom, Jr. returned to the New York City stage in a solo concert at Jazz at Lincoln Center. The cabaret-style performance was crafted around signature songs and music that shaped this artist's journey, all performed with a world-class band in front of a live audience. The show was filmed for broadcast as an hour-long PBS special as part of the 17-time Emmy Award-winning series, Live From Lincoln Center, and will premiere April 24, 2018.
This spring, Odom, Jr. added the title of "Author" to his resume with the release of his book – FAILING UP: HOW TO TAKE RISKS, AIM HIGHER, and NEVER STOP LEARNING. Written in the style of a commencement speech, the book brings together what Odom, Jr. has learned in life so far, tapping into universal themes of starting something new, following your passions, discovering your own potential, and surrounding yourself with the right people. FAILING UP is about unlocking your true potential and making your dreams come true even when it seems impossible.
It couldn't have been more perfect. I'm not just referring to the event itself, but how Leslie interacted with our guests at the reception, and all others he encountered throughout the day. We had lots of happy folks.
The University of Iowa
We were really worried about a severe weather warning yesterday, but gale-force winds and 2 days of drenching rain didn't keep an enthusiastic crowd of more than 1000 from enjoying the performance of Leslie Odom Jr. And that was after his backstage meeting with all our enthusiastic students from the Committee on Lectures, National Affairs Series, Student Union Board, Student Government, performing arts, and Black Student Alliance. His energy was contagious and he really seemed to enjoy sharing advice and answering their questions. They were thrilled too that he took the time for group photos and selfies and autographing, and then what an outstanding performance!
Iowa State University
It was a HUGE success. The format was perfect for our audience. Also when people found out via social media he was singing they left their hotel and came to see him (They were sleeping in)! The Q & A was great as well. The team was true professionals. I am happy it worked out.
GE
Our students LOVED Leslie! He was a huge hit; he had a standing O the moment he walked on stage, and a few other times throughout the night. He sounded amazing, and was incredibly well spoken for our moderated Q&A. An absolutely wonderful event, with only positive feedback from our audience. Thank you for helping us make this happen!
Ohio State University
To book a speaker, or for more information, call 424-288-2898, or send us a message using the form below.