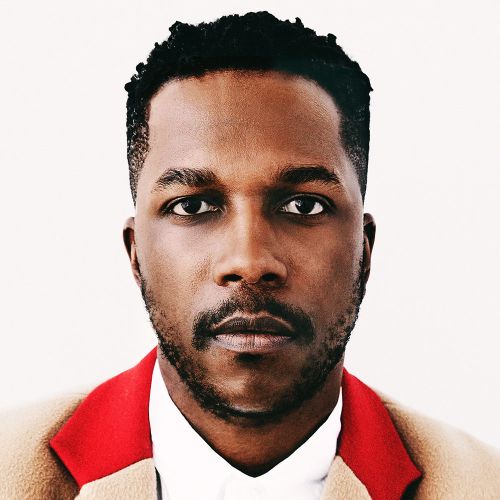 Inquire below to book
Leslie Odom Jr.
Tony Award-Winning Actor & Musician
At a Glance
Leslie Odom Jr.

: Biography at a Glance
Leslie Odom Jr. won the Tony Award for the Best Leading Actor in a Musical for his portrayal of
"Aaron Burr" in the blockbuster Broadway musical Hamilton.
He portrayed Sam Cooke in the critically acclaimed film One Night in Miami, and received Academy Award nominations for Best Supporting Actor and Best Original Song.
He co-starred in the Hamilton movie, released on Disney+ in July 2020.
In 2019, he starred alongside Cynthia Erivo in the Oscar nominated film Harriet.
He is best-known on the small screen for playing the role of "Sam Strickland" in the NBC musical series Smash and his recurring role as "Reverend Curtis Scott" on Law & Order: SVU.
Biography
Leslie Odom, Jr. is a Tony and Grammy Award-winning and Emmy nominated performer – with a multifaceted career that spans all performance genres: Broadway, television, film, and music. Odom most recently released his second holiday album titled, The Christmas Album, in November, which features a collection of beloved traditional favorites together with two newly penned, original tracks. He is joined on The Christmas Album by guest artists, including Cynthia Erivo, Nicolette Robinson, and the Mzansi Youth Choir.
Odom also starred in the film adaptation of the Olivier Award-nominated play One Night in Miami directed by Regina King, where he portrayed and performed the songs of legendary singer Sam Cooke. For the film, King also enlisted Odom to write and perform the original song, "Speak Now." He received Academy Award nominations for Best Supporting Actor and Best Original Song. He can also be heard voicing the character of "Owen Tillerman" in the Apple TV+ animated musical-comedy series Central Park, for which he received an Emmy nomination, as well as in the recently released filmed performance of the original Broadway production of "Hamilton" on Disney+. His other upcoming projects include the feature film Music written and directed by singer-songwriter Sia; Needle in A Timestack written and directed by John Ridley; and next Spring he will star in The Many Saints of Newark, a prequel to David Chase's Award-winning HBO series The Sopranos. Additional film and television credits include the limited series Love in the Time of Corona, which he co-starred opposite Nicolette Robinson and produced, Harriet, Murder on the Orient Express, Only, Red Tails and Smash.
Odom is best known for his breakout role as 'Aaron Burr' in the smash hit Broadway musical Hamilton, for which he won the Tony Award for "Best Actor in a Musical" and a Grammy Award as a principal soloist on the original cast recording. He made his Broadway debut in RENT at the age of 17. He also starred opposite Lin-Manuel Miranda and Karen Olivo in a 2014 City Center Encores! revival of Jonathan Larson's Tick, Tick…Boom!
In December 2017, Odom returned to the New York City stage in a solo concert at Jazz at Lincoln Center. The cabaret-style performance was crafted around signature songs and music that shaped this artist's journey, all performed with a world-class band in front of a live audience. The show was filmed for broadcast as an hour-long PBS special as part of the 17-time Emmy Award-winning series, Live from Lincoln Center, and premiered in April 2018.
A Grammy Award-winning recording artist, Odom's self-titled debut album was part-funded by a successful Kickstarter campaign and released in 2014 by Borderlight Entertainment, Inc. In June 2016, the album was re-released with additional material and charted at #1 on the Billboard Jazz chart and #147 on the Billboard 200. In winter 2017, he re-released his first holiday album, Simply Christmas, as a deluxe edition with new arrangements and new songs, topping the charts once again. The holiday album hit #1 on iTunes and Billboard Jazz Charts. In November 2019, Odom released his third full-length album and first of original material, titled Mr, and this past October teamed up with nine-time Grammy-nominated and multi-platinum artist Sia to debut a re-recorded, new version of standout track "Cold."
In March 2018, Odom added the title of author to his resume with the release of his book – Failing Up: How to Take Risks, Aim Higher and Never Stop Learning. Written in the style of a commencement speech, the book brings together what Odom has learned in life so far, tapping into universal themes of starting something new, following your passions, discovering your own potential, and surrounding yourself with the right people. Failing Up is about unlocking your true potential and making your dreams come true even when it seems impossible. The book was published by Feiwel & Friends, an imprint of Macmillan Publishers.
Reviews
It couldn't have been more perfect. I'm not just referring to the event itself, but how Leslie interacted with our guests at the reception, and all others he encountered throughout the day. We had lots of happy folks.
The University of Iowa
Gale-force winds and 2 days of drenching rain didn't keep an enthusiastic crowd of more than 1000 from enjoying the performance of Leslie Odom Jr. His energy was contagious and he really seemed to enjoy sharing advice and answering their questions.
Iowa State University
It was a HUGE success. The format was perfect for our audience.
GE
He was a huge hit; he had a standing O the moment he walked on stage, and a few other times throughout the night. He sounded amazing, and was incredibly well spoken.
Ohio State University
For speaker-related inquiries, email speakers@caa.com, or send us a message using the form below.