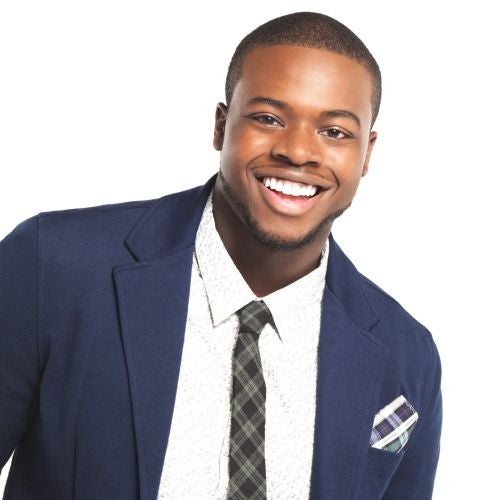 Inquire below to book
Kevin Olusola
Beatboxer, Pentatonix
At a Glance
Kevin Olusola

: Biography at a Glance
Beatboxer for the platinum-selling, Grammy-winning a cappella group Pentatonix
Since winning "The Sing-Off" in 2011, the group has released four studio albums and has drawn more than 1.4 billion views on YouTube
Won the Grammy for best arrangement, instrumental or a cappella for "Daft Punk"
Popularized "celloboxing," or beatboxing while playing cello
Named one of 100 "History Makers in the Making" by NBC's theGrio.com and profiled by the "Today" show
Biography
Kevin "K.O." Olusola is best known as the beat boxer of the Grammy-winning vocal quintet Pentatonix. The winners of season 3 of NBC's The Sing-Off have more than 10 million YouTube subscribers (more than both Avicii and Beyoncé) and over 1.4 billion cumulative views. Pentatonix's most recent release is the fourth studio album, Pentatonix. The album was released in October 2015 and is the group's first #1 album on the Billboard 200 chart. Their platinum-selling That's Christmas to Me, was the #1 holiday album in the country and featured the title track written wholly by the group. Their music video for "Daft Punk" has been viewed more than 181 million times and the medley earned the group their first Grammy win. To date, Pentatonix has released 4 studio albums, each landing in the top 15 of Billboard's Top 200 Album Chart and cumulatively selling roughly 1.5 million albums.
Kevin grew up in the small town of Owensboro, Kentucky, the son of a Nigerian psychiatrist and a Grenadian nurse. At an early age, Kevin began learning piano, cello and saxophone. He performed at Carnegie Hall twice as soloist on the cello and saxophone and has appeared on NPR's From The Top.
After finishing high school at Phillips Academy Andover, Kevin enrolled in Yale University where he was pre-med and majored in East Asian Studies. He spent 18 months in Beijing becoming fluent in Chinese as a part of his Yale fellowship.
While in college, Kevin began developing his "celloboxing" skills and in 2009, he won second place in the "Celebrate and Collaborate with Yo-Yo Ma" international competition. Ma would call Kevin's celloboxing version of "Dona Nobis Pacem" both "inventive and unexpected." In 2011, Kevin's "Julie-O" celloboxing YouTube video was featured by CBS, AOL, Huffington Post and Washington Post, among others. Kevin was also named one of 100 "History Makers in the Making" by NBC's TheGrio and was hand-chosen by Quincy Jones to represent him in concert at the 2012 Montreux Jazz Festival alongside Bobby McFerrin and Chick Corea.
Reviews
Kevin's presentation was clear and engaging and his later discussions with students were highly interactive and informative.
Yale University
I had high hopes for Kevin's performance, but I didn't expect that my hopes would have been setting the bar too low. All in attendance were engaged throughout the performance and touched deeply. Kevin did more and stayed longer than he needed to, which was greatly appreciated. He is forever welcome and we would love to bring him back. We don't want him back just because of his accomplishments but because of who he is and how he influenced our campus.
Walla Walla University
Great night with Kevin. Amazing talent and humble. He was great with members and the conversation was insightful and entertaining. Glad everything worked out.
World 50
Kevin was the perfect addition to our event. Funny, intelligent, and incredibly talented. His performance captivated our audience but even more so, they were thrilled to hear Kevin talk through his unique story. 
 
Fika Ventures
We had a wonderful day with Kevin. He is awesome and our audience loved him. Both performances were overflowing and well received!
Calvin College
His enthusiasm is infectious and the lessons he relays are invaluable for audiences looking to learn more about entertainment, business and life.
Forbes
Kevin was wonderful to work with and so talented. The guests really enjoyed the evening.
Chambers School
For speaker-related inquiries, email speakers@caa.com, or send us a message using the form below.