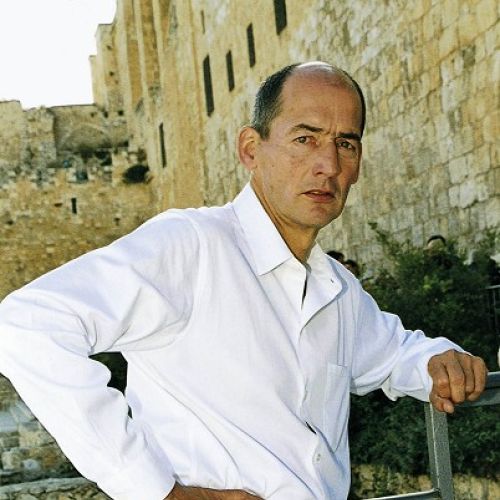 Inquire below to book Rem Koolhaas
Award-Winning Architect
Rem Koolhaas: Biography at a Glance
Considered one of the world's most brilliant, daring and creative architects
Founded the Office for Metropolitan Architecture
Recipient of the prestigious Pritzker Architecture Prize
Authored "Delirious New York" and "S,M,L,XL"
Notable projects include Masterplan City Center and Lille Grand Palais in France, H-project in Seoul and Educatorium in the Netherlands
Professor at Harvard University, where he conducts a study titled "Project on the City"
Award-Winning Architect
His unique vision and inspirational designs are seen throughout the world.
One of the world's most honored architects, a recipient of the prestigious Pritzker Architecture Prize in 2000, Rem Koolhaas is considered one of the world's most brilliant, daring and creative architects.
Rem began his career as an architect not by designing a building but by writing a book. His Delirious New York was hailed as a classic text on modern architecture and society. The book instantly established Rem as not just a presence to be reckoned with in the architectural world, but also as one of the great creative minds of our generation.
In 1975, Rem Koolhaas founded the Office for Metropolitan Architecture with Elia and Zoe Zenghelis and Madelon Vriesendorp in London, and he has been involved in building and urban planning projects ever since. In 1995, he published S,M,L,XL, in collaboration with graphic designer Bruce Mau; the book documents the work of OMA and Koolhaas' interest in contemporary society, building and urban development.
Some of OMA's most important projects include Masterplan City Center, Lille; Lille Grand Palais, Lille; H-project, Seoul; Educatorium, Utrecht; Kunsthal, Rotterdam; Netherlands Dance Theatre, The Hague; Nexus Housing, Fukuoka; Dutch House, Holland; and Villa dall'Ava, Paris.
The work of the office has won several international awards, including the Pritzker Architecture Prize in 2000, and it was the subject of a retrospective exhibition held at the Museum of Modern Art, New York in 1995: Rem Koolhaas and the Place of Public Architecture.
Koolhaas is a professor at Harvard University where he conducts the Project on the City. In 2014, he was the director of the 14th International Architecture Exhibition of the Venice Biennale, Fundamentals.
He currently resides in Rotterdam in the Netherlands.
To book a speaker, or for more information, call 424-288-2898, or send us a message using the form below.