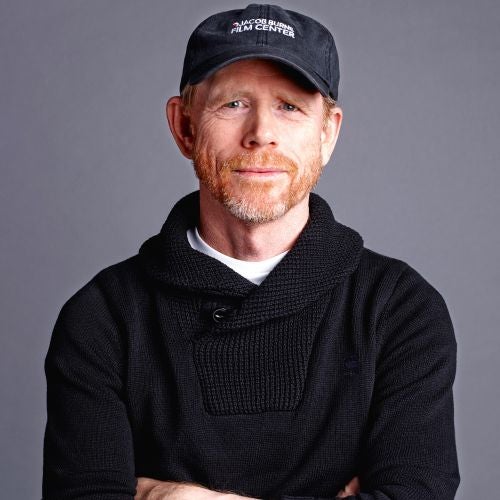 Inquire below to book
Ron Howard
Award-Winning Director
At a Glance
Ron Howard

: Biography at a Glance
Earned an Oscar for best director for A Beautiful Mind
Producer and narrator of the Emmy-winning series Arrested Development
Film credits include The Da Vinci Code, How the Grinch Stole Christmas, Frost/Nixon, Cinderella Man, and Apollo 13
Awarded the National Medal of Arts from the National Endowment of the Arts for his contributions to cinema
Co-founded Imagine Entertainment, which produced Friday Night Lights, 8 Mile, 24, Felicity, and Parenthood
Biography
Academy Award-winning filmmaker Ron Howard is one of this generation's most popular directors.  From the critically acclaimed dramas A Beautiful Mind and Apollo 13 to the hit comedies Parenthood and Splash, he has created some of Hollywood's most memorable films.
Howard directed and produced Cinderella Man starring Oscar winner Russell Crowe, with whom he previously collaborated on A Beautiful Mind, for which Howard earned an Oscar for Best Director and which also won awards for Best Picture, Best Screenplay and Best Supporting Actress.  The film garnered four Golden Globes as well, including the award for Best Motion Picture Drama.  Additionally, Howard won Best Director of the Year from the Directors Guild of America.  Howard and producer Brian Grazer received the first annual Awareness Award from the National Mental Health Awareness Campaign for their work on the film.
Howard's skill as a director has long been recognized.  In 1995, he received his first Best Director of the Year award from the DGA for Apollo 13.  The true-life drama also garnered nine Academy Award nominations, winning Oscars for Best Film Editing and Best Sound.  It also received Best Ensemble Cast and Best Supporting Actor awards from the Screen Actor's Guild.  Many of Howard's past films have received nods from the Academy, including the popular hits Backdraft, Parenthood and Cocoon, the last of which took home two Oscars. Howard was honored by the Museum of Moving Images in December 2005, and by the American Cinema Editors in February 2006.  Howard and his creative partner Brian Grazer, were honored by the Producers Guild of America with the Milestone Award in January 2009, NYU's Tisch School of Cinematic Arts with the Big Apple Award in November 2009 and by the Simon Wiesenthal Center with their Humanitarian Award in May 2010. In June 2010, Howard was honored by the Chicago Film Festival with their Gold Hugo - Career Achievement Award. In March 2013, Howard was inducted into the Television Hall of Fame. In December 2015, Howard was honored with a star in the Motion Pictures category, making him one of the very few to have been recognized with two stars on the Hollywood Walk of Fame.
Howard is currently directing the documentary Pavarotti, about famed tenor and larger than life talent Luciano Pavarotti. The documentary is from the same team that worked with Howard on the critically acclaimed documentary The Beatles: Eight Days a Week – The Touring Years, which Howard directed. The film won a Grammy for Best Music Film in February 2017 and was nominated for five Emmy nomination, including Outstanding Documentary.
Howard recently directed the Han Solo spinoff Solo: A Star Wars Story and produced the second season Mars and Genius: Picasso for NatGeo. Genius: Einstein was recognized by the Television Academy with ten Emmy nominations – including Outstanding Miniseries and Outstanding Directing. It was Howard first directing nomination for television. The second season, Genius: Picasso garnered seven Emmy nominations, as well as multiple Golden Glove, Critic's Choice and SAG nominations.
In 2009, Howard produced and directed the film adaptation of Peter Morgan's critically acclaimed play Frost / Nixon.  The film was nominated for five Academy Awards including Best Picture, and was also nominated for The Darryl F. Zanuck Producer of the Year Award in Theatrical Motion Pictures by the PGA. In addition, Howard directed RUSH, also written by Peter Morgan, based on the rivalry of Formula One Race Circuit drivers James Hunt and Nikki Lauda.
Howard's portfolio includes some of the most popular films of the past 20 years.  In 1991, Howard created the acclaimed drama Backdraft, starring Robert De Niro, Kurt Russell and William Baldwin.  He followed it with the historical epic Far and Away, starring Tom Cruise and Nicole Kidman.  Howard directed Mel Gibson, Rene Russo, Gary Sinise and Delroy Lindo in the 1996 suspense thriller Ransom.  Howard worked with Tom Hanks, Kevin Bacon, Ed Harris, Bill Paxton, Gary Sinise and Kathleen Quinlan on Apollo 13, which was re-released recently in the IMAX format. 
Howard's other films include Inferno, In The Heart of the Sea, based on the true story that inspired Moby Dick; Made In America, a music documentary he directed staring Jay Z for Showtime; his adaptation of Dan Brown's best-selling novels Inferno, Angels & Demons, and The Da Vinci Code staring Oscar winner Tom Hanks; the blockbuster holiday favorite Dr. Seuss' How the Grinch Stole Christmas starring Jim Carrey; Parenthood starring Steve Martin; the fantasy epic Willow; Night Shift starring Henry Winkler, Michael Keaton and Shelley Long; and the suspenseful western, The Missing, staring Oscar winners Cate Blachett and Tommy Lee Jones. 
Howard has also served as an executive producer on a number of award-winning films and television shows, such as the HBO miniseries From the Earth to the Moon, Fox's Emmy Award winner for Best Comedy, Arrested Development, a series which he also narrated, Netflix's release of new episodes of Arrested Development, NBC's Parenthood, and NatGeo's Breakthrough, MARS, and Genius.
Howard made his directorial debut in 1978 with the comedy Grand Theft Auto.  He began his career in film as an actor.  He first appeared in The Journey and The Music Man, then as Opie on the long-running television series The Andy Griffith Show.  Howard later starred in the popular series Happy Days and drew favorable reviews for his performances in American Graffiti and The Shootist.
Howard and long-time producing partner Brian Grazer first collaborated on the hit comedies Night Shift and Splash.  The pair co-founded Imagine Entertainment in 1986 to create independently produced feature films.
Reviews
Ron Howard was terrific this morning, both on-stage and off. All of the feedback from his moderated Q&A has been really positive. He was a pleasure and I know we all hope to work with him again soon. Please pass along our thanks to him for a great gig! And thanks for all of your help too!
IBM
We are running at a 90-plus percent "very satisfied" rating for speaker presentation, which rates Ron in the top 10-12 speakers we have presented in the last six seasons.
Guilford College
Ron did a great job. He could not have been nicer or more accommodating. The session was very well received. We were all very happy. Thanks again for everyone's help.
IBM
For speaker-related inquiries, email speakers@caa.com, or send us a message using the form below.