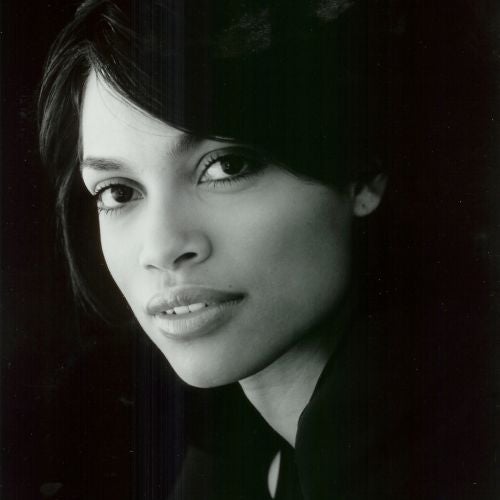 Inquire below to book
Rosario Dawson
Actress
At a Glance
Rosario Dawson

: Biography at a Glance
Rosario Dawson p

lays the role "Claire Temple" in The Defenders, Iron Fist, Luke Cage, Daredevil and Jessica Jones on Netflix.
Had her breakthrough performance in Kids
Other film credits include Sin City, Sin City: A Dame to Kill For, Seven Pounds, Grindhouse and Clerks II
Co-founder and chairwoman of Voto Latino, a nonpartisan organization with civic engagement campaigns that have reached an estimated 55 million Latino households nationwide
Co-founder of Studio One Eighty Nine, a platform to help promote and curate African and African-inspired content
Biography
Rosario Dawson has starred in a range of films including Unforgettable, Top Five, the Sin City franchise, Cesar Chavez, Trance, Unstoppable, Rent, The 25th Hour, Men in Black II, Kids and the recently released Krystal. She has also starred in The Lego Batman Movie as the voice of Barbara Gordon/Batgirl and in several DC Animated films as the voice of Wonder Woman. For her performance in Gabriele Muccino's Seven Pounds, Dawson won Best Actress in a Motion Picture Award at the 2009 NAACP Image Awards. On the small screen, Dawson first starred as 'Claire Temple' in the Netflix adaptation of the Marvel comic book series Daredevil in 2015, which premiered to critical and fan acclaim. She has since reprised her role in the follow up Marvel/Netflix series Luke Cage, Iron Fist, Jessica Jones, and The Defenders. 
In 2013, Rosario founded Studio One Eighty Nine (Studio 189) with Abrima Erwiah, a fashion and media lifestyle brand made in Africa that produces African and African-inspired content and clothing. The brand currently operates a store in NY and Accra (Ghana), an ecommerce site, a manufacturing facility in Accra, and supports various community led projects in Africa and in the USA. Studio 189 was recently the recipient of the prestigious CFDA Lexus Sustainable Fashion Initiative, partners with the United Nations ITC Ethical Fashion Initiative, NYU Stern School of Business and has collaborated with brands including EDUN (LVMH) and Yoox Net a Porter. Studio 189 is the recipient of various awards including the Martin Luther King Jr Social Justice award from UPenn in 2015, the MOCADA Social Justice award in 2016, the Design Miami Visionary award in 2017, the Filming On Italy Social Justice award in 2018 and more. 
Dawson is an activist lending her time to a range of influential organizations, most notably Voto Latino, which she co-founded in 2004 to help empower Latino millennials to vote and influence change in government. Dawson is an active board member of V-Day, The Lower East Side Girls Club, Operation USA and the Environmental Media Association. She was also honored with the President's Volunteer Service Award for her valuable contributions to the community.
Reviews
Rosario's message of commitment to bring about positive change is truly inspiring and resonated with our audience. Her participation helped us to deliver a world-class event, and we are pleased to have received such positive feedback and accolades from those in attendance.
National Executive Co-Chairs, GE Hispanic Forum
Rosario was an absolute pleasure to work with! The audience was really engaged and loved every bit of the discussion.
University of Kentucky
Thank you Rosario for contributing to the success of the Learning Series at Life is Beautiful. We are so grateful for her participation and please know that our audience loved hearing from her. I especially loved her message to the audience of "if you are going to give, just give" (instead of hassling a homeless person about what they would spend that money on) and also for telling the audience to just lower their cell phones from recording and just be present in the moment. Thank you for that.
Learning Series at Life is Beautiful
Rosario was totally wonderful. Over 600 people attended! She is at once beautiful, stunning, charismatic, playful, charming, fun, intelligent, engaged, warm, loving, accomplished, deep and awesome. Loved her!
University of Connecticut
For speaker-related inquiries, email speakers@caa.com, or send us a message using the form below.