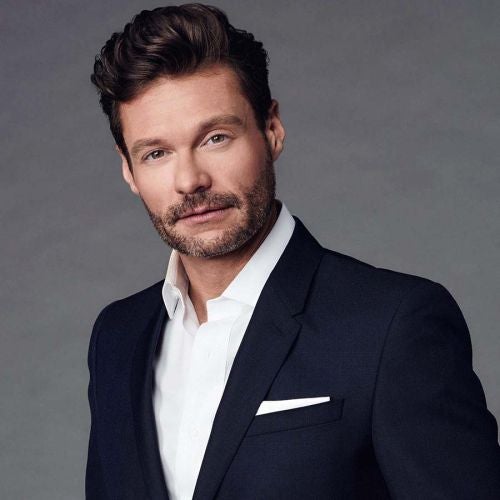 Inquire below to book Ryan Seacrest
Host, FOX's "American Idol" & "On Air with Ryan Seacrest"
Ryan Seacrest: Biography at a Glance
Best known for hosting "American Idol"
Host of "On Air With Ryan Seacrest," a nationally syndicated morning show for iHeartMedia's 102.7 KIIS-FM
Host and executive producer of "Dick Clark's Rockin' Eve With Ryan Seacrest"
Launched Ryan Seacrest Productions, which is behind "Keeping Up With the Kardashians" and "Shades of Blue"
Philanthropic efforts focus on youth-oriented initiatives, including serving as chairman of the Ryan Seacrest Foundation and honorary chair of the Grammy Foundation
Host, FOX's "American Idol" & "On Air with Ryan Seacrest"
Ryan Seacrest holds preeminent positions in nationally syndicated radio and local radio, as well as broadcast and cable television.
On radio, Seacrest is host of On Air with Ryan Seacrest, his market-topping #1 nationally syndicated LA morning drive-time show for iHeartMedia's 102.7 KIIS-FM, as well as the nationally-syndicated On Air with Ryan Seacrest, American Top 40 with Ryan Seacrest, and the weekday vignette Direct from Hollywood.
He is celebrated internationally as host of the top-rated primetime talent showcase American Idol on Fox, which he has been nominated for an Emmy many times. He is host and executive producer of ABC's annual New Year's Eve program, Dick Clark's Rockin' Eve with Ryan Seacrest. He also has an agreement with NBCUniversal that includes on-air broadcasting and producing duties across the NBC and E! Networks; he is the host executive producer of E! Live the Red Carpet award shows, and he will be hosting NBC's late night coverage of the 2016 Summer Olympics in Rio.
Seacrest launched Ryan Seacrest Productions (RSP) in 2006, which has since become an Emmy-winning entertainment production powerhouse creating unscripted, scripted and digital programming. RSP produces the E! hit cable series Keeping Up with the Kardashians and spin-offs Kourtney and Khloe Take the Hamptons, Revenge Body, as well as Bravo's Shahs of Sunset, and CMT's I Love Kellie Pickler. Additionally, RSP is producing Shades of Blue, a NBC drama series starring Jennifer Lopez.
As an entrepreneur, Seacrest has investments in media and entertainment companies including Civic Entertainment Group, a marketing services company, Pinterest, FlightCar, attn:, a news media company targeted at millennials through Seacrest Global Group. He has also made independent investments in DigiTour Media, an emerging media and entertainment company that creates and produces IRL ("in real life") YouTube experiences in the form of concerts, Headspace, a mobile wellness brand, as well as the cable network, AXS TV.
In the fall of 2014, he launched a new men's tailored clothing and accessories collection, Ryan Seacrest Distinction, at Macy's. It has become one of the most successful menswear launches at Macy's in the last decade.
He has long-standing endorsement relationships with blue-chip brands including Coca-Cola and Ford.
His philanthropic efforts are focused on youth-oriented initiatives, including serving as Chairman of The Ryan Seacrest Foundation and Honorary Chair of the Grammy Foundation. The Ryan Seacrest Foundation has ten broadcast media centers – Seacrest Studios – in pediatric hospitals in cities across the country. He is also on the board of the Los Angeles County Museum of Art (LACMA).
To book a speaker, or for more information, call 424-288-2898, or send us a message using the form below.