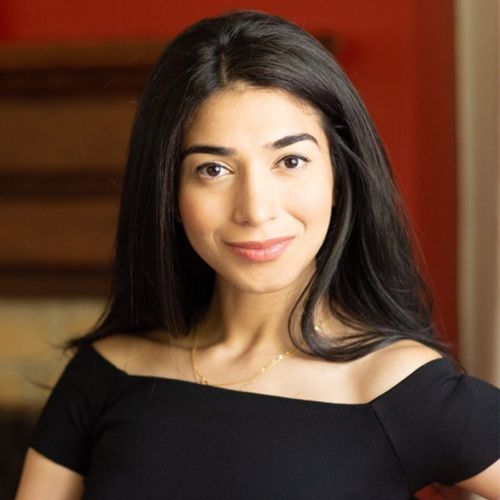 Inquire below to book
Shiza Shahid
Co-Founder, The Malala Fund; Co-Founder, Our Place; Founder, NOW Ventures
At a Glance
Shiza Shahid

: Biography at a Glance
Shiza Shahid is the co-founder and founding CEO of the Malala Fund along with Nobel-Prize winner Malala Yousafzai, advancing access to education around the world
Co-founder of Our Place, a brand of ethical kitchenware created in partnership with immigrant communities
Partnered with the largest venture capital platform in the world to launch NOW Ventures, her investment fund that empowers mission-driven startups
Consults with businesses, teaching how to inspire their teams and build a purpose-driven organization
Host of USA Today's ASPIREist, inspiring millennials to make a positive impact on the world's most important issues
Named one of TIME's "30 Under 30 People Changing the World", Forbes' "30 Under 30 - Social Entrepreneurs", and Business Insider's "30 Under 30 Venture Capital Investors in Tech"
Biography
Shiza Shahid is an entrepreneur, investor, technologist, activist, and world-renowned impact leader. She co-founded the Malala Fund with Nobel Prize winner Malala Yousafzai, and led the organization as founding CEO, focusing on creating access to high quality education for all children around the world.
Shiza is passionate about the future of technology and the powerful impact it can have on people's lives, and actively invests in startups that have the potential to advance humanity.
A former business analyst with McKinsey & Co, Shiza has her finger on the pulse of economic and technology trends around the globe. In partnership with AngelList, the largest Venture Capital Platform in the world, Shiza launched NOW Ventures through which she invests in mission-driven tech startups that are solving the world's most pressing challenges through technology, innovation, and high-growth business models. Shiza is also the founder of The Collective, a community of leading entrepreneurs that come together to build collaborative change.
Widely recognized for her humanitarian work and tech innovation, Shiza has receiving many awards as a thought leader. She was named one of TIME's "30 Under 30 People Changing the World," Forbes' "30 Under 30 - Social Entrepreneurs," and a Tribeca Institute Disruptive Innovator. She is a member of the WEF Global Agenda Council and has been featured in numerous publications, including Forbes, Fast Company, Elle, Glamour, Town and Country, The Edit, CNN, ABC, Al Jazeera, MSNBC, and others.
A prominent speaker, Shiza has spoken regularly at major international events, including Aspen Ideas Fest, Milken Global Institute, Forbes Women, Fortune Most Powerful Women, Inc Women, Women Moving Millions, the World Economic Forum, and others.
Shiza is also the host of the new USA Today show "ASPIREist," which inspires millennials to take action on the issues that matter most.
Shiza graduated from Stanford University with University Distinction and studied exponential technologies at Singularity University, which is dedicated to applying futuristic innovations to advancing humanity.
Reviews
The event with Shiza was really wonderful. She is an incredibly engaging speaker. It was a fantastic, inspirational event that I have no doubt our campus and community members will continue to learn and benefit from.
California State University, San Marcos
It was an absolute honor and pleasure meeting Shiza and hearing her speak about her passion and progress towards change. We received such wonderful feedback from the Johnson & Johnson senior leaders and media after the lunch.
Neutrogena
Shiza was phenomenal. The students and faculty LOVED her talk and were so inspired. She was great to work with and really kind with her time.
Belmont University
The entire audience immediately responded with a standing ovation. We do not often see this at our Commencement ceremonies. Shiza created an exceptional experience for everyone present.
Capella Education Company
I was very pleased with her presentation, as was the rest of the audience. We liked everything about her: educated, talented, perceptive, ambitious, driven, persuasive, diplomatic, and wise beyond her years. We would highly recommend her.
Van Wyk Risk Solutions
Shiza's time on stage and meeting with all of our students has made a large impact on our community. Shiza's passion came through loud and clear. 
Berkshire School
We filled the room to fire code capacity with another 100 sitting in the lobby, about 1300 attendees total. Additionally, another 750 people joined in via the live web stream. Overall, it was a big success for our program. 
University of Wisconsin - Madison
She is a delight and very easy to be with, not to mention incredibly inspiring and articulate and gracious. She received a standing ovation at the end of her talk!
Uncharted International
It was truly an amazing event! Shiza was genuinely kind and down-to-earth. She offered unique insights and valuable advice - everyone in the audience was captivated by her story!
University of Oklahoma
Shiza was wonderful! She was very well spoken and well received by the community.
The Hockaday School
We hit a home run with Shiza. 3 standing ovations, and she was very gracious and accommodating of the staff and VIP's.
American Veterinary Medical Association
For speaker-related inquiries, email speakers@caa.com, or send us a message using the form below.