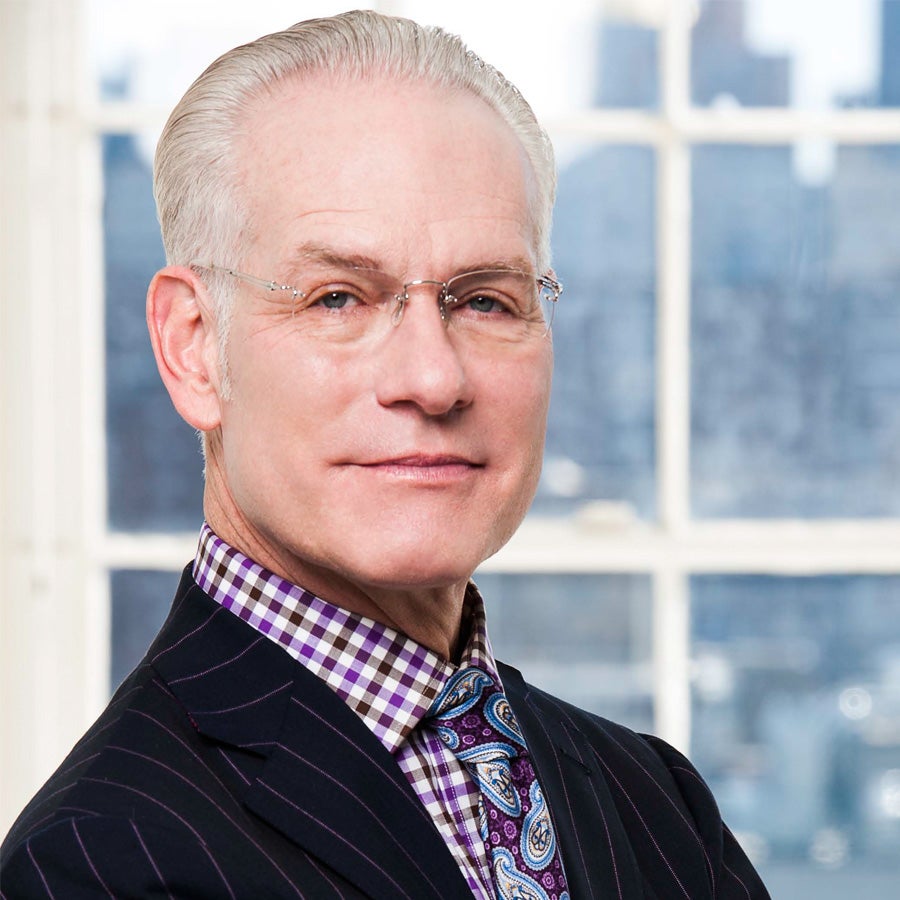 Inquire below to book Tim Gunn
Host, Lifetime's "Project Runway"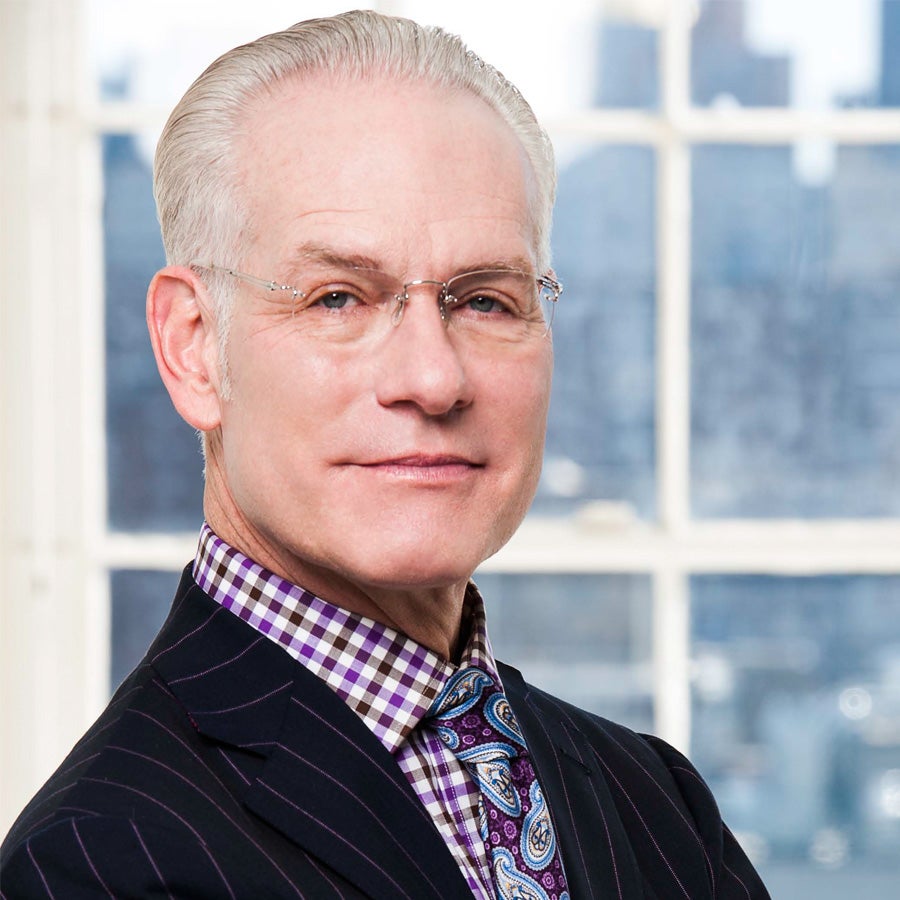 Tim Gunn
Co-host and mentor for Lifetime's six-time Emmy-nominated Project Runway
Former Fashion Dean at Fifth & Pacific
Former Chief Creative Officer at Liz Claiborne Inc.
Author of New York Times best-selling Tim Gunn's Fashion Bible
Works with charitable organizations PETA, the Human Rights Campaign and National Domestic Violence Hotline
Host, Lifetime's "Project Runway"
Tim Gunn is the Emmy-winning co-host, producer, and fashion mentor for Lifetime's hit series "Project Runway." He received the Emmy for Outstanding Host for a Reality Program in 2013.
So much more than a TV personality, Gunn was also the former CCO at Liz Clairborne Inc. and then served as Fashion Dean when the company rebranded to Fifth & Pacific. Gunn was responsible for attracting, retaining, and developing the creative talent within the company's portfolio of brands. Fifth & Pacific is now Kate Spade & Company.
Prior to his time at Liz Claiborne Inc., Gunn was a prestigious member of the administration and faculty at Parsons School of Design for 29 years and has a rich and deep history with the institution. In August 2000, he was appointed Chair of the Department of Fashion Design at Parsons with the charge of retooling and invigorating the curriculum for the 21st century. Under his direction, the department was repositioned as the indisputable leader in fashion design education in America and as one of only a handful of leading programs in the world. Upon leaving Parsons, Gunn received the title of Honorary Chair of Fashion Design at the school. In addition, Liz Claiborne, Inc. endowed a scholarship in his name.
Gunn has lectured widely on fashion and lifestyle design and, especially, Parsons' profound role in putting America on the global design map. His interviews have appeared in a wide range of publications, from Newsweek and The New York Times to Entertainment Weekly and Martha Stewart Living, as well as Women's Wear Daily, Fortune, and Fast Company. In 2009 he delivered the keynote at Harvard Business School's Conference on Luxury Retail in 2009. Gunn has also covered the red carpet at the Academy Awards, Emmy Awards and Golden Globes for "The Today Show" and "Entertainment Tonight," and he co-hosted the Official Oscar Red Carpet Pre-Show in 2009 and 2011 for ABC.
From 2007 to 2008 he had his own reality show "Tim Gunn's Guide to Style" on Bravo, and was also the star of "Project Runway: Under the Gun" which aired for one season in 2014.
As well as his role on "Project Runway," he is also an executive producer and mentor for teen fashion designers on Lifetime's spinoff series "Project Runway Junior."
Gunn is a New York Times bestselling author of "Tim Gunn: A Guide to Quality, Taste, and Style," "Gunn's Golden Rules: Life's Little Lessons for Making It Work," and "Tim Gunn's Fashion Bible: The Fascinating History of Everything in Your Closet." Tim released his fourth book, "Tim Gunn: The Natty Professor: A Master Class on Mentoring, Motivating, and Making It Work!" in Spring 2015.
He has written articles for Elle, Seventeen, People, US Weekly, and Fortune and has a monthly feature in People Style Watch and Marie Claire. The now 61 year-old was named one of People magazine's "Sexiest Men Alive" in 2006.
In 2009, Marvel comics made Gunn a superhero in their revival of Models, Inc., with a special feature, "Loaded Gunn," in which he dons the Iron Man armor to fight crimes against fashion.
Tim was wonderful!!! I could write paragraphs about how much so… He was personable, engaging, and approachable. He is so authentic, and his story was so real and that really resonated with my donors and audience. Many, many people commented to me that they thought it was our best luncheon yet. Along with so many more people, I am indebted to Tim for having the courage to share his story with us—with honesty, humor, and grace. And for helping to forward the DBSA mission in a very meaningful way I am SOOOOO glad Tim was our speaker and can't thank you and your team enough for ensuring this luncheon was a beautiful success!!! I wish I had been able to give Tim a big hug and thank you before he left—if you can please extend my heartfelt thanks to him that would be great. Please feel free to contact me if there is anything further I can do.
Depression & Bipolar Support Alliance, Texas
Tim was incredible. Warm, caring, giving, funny - I can't say enough positive things about him. The crowd absolutely adored him and it was the biggest seated and standing room only crowd we've seen. Also the first standing ovation a celebrity has ever received at our event. He touched the lives of thousands.
Erickson Publishing
Tim Gunn was simply brilliant! Has the gift of making everyone in the room feel special and there was such a wonderful buzz throughout the museum. He is a gracious and thoughtful gentleman!
Minneapolis Institute of Art
Thank you! I just got all the wonderful reports from the show, and everyone was thrilled! Mr. Gunn was everything they could have hoped for and more--charming, warm, effusive, participatory. He was so wonderful and professional to work with. Please extend our sincerest thanks to Mr. Gunn for making this such a spectacular event.
LiveNation
Mr. Tim Gunn is one of the finest human beings I have ever had the pleasure of meeting. The response from every corner of my world has been overwhelming. Mr. Gunn was genuine, full of grace, kind, and extremely generous. Tim left an indelible impression on our students who will never forget the experiences he provided them.
Illinois State University
Tim was so wonderful to our star-struck guests (and staff!) He arrived early and stayed late, graciously chatting, signing autographs, and posing for photos. As an emcee, Tim thrilled guests at the show by sharing behind-the-scenes stories about Project Runway and about Denver's own Mondo Guerra.
Goodwill Industries of Denver
To book a speaker, or for more information, call 424-288-2898, or send us a message using the form below.