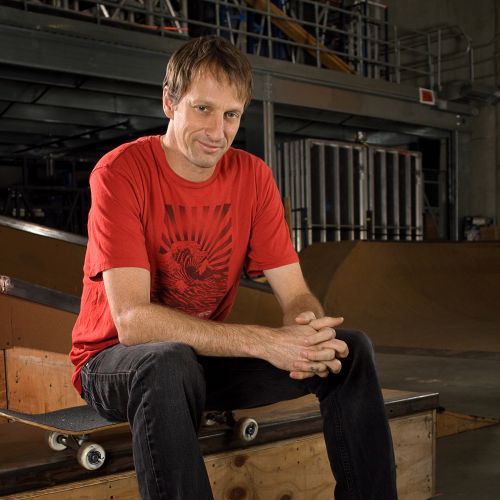 Inquire below to book
Tony Hawk
Professional Skateboarder
At a Glance
Tony Hawk

: Biography at a Glance
Tony Hawk is widely regarded as one of the best skateboarders in the world
Became the first person to ever land a 900 in the X-Games
The "Tony Hawk's" video game series became one of the most popular game franchises in history
Launched several successful businesses, including Hawk Clothing, Hawk Shoes and Tony Hawk HuckJam bicycles
Author of the best-selling "Hawk: Occupation: Skateboarder"
Founder of the Tony Hawk Foundation, which aims to promote and help finance public skate parks in low-income areas
Biography
Tony Hawk was nine years old when his brother changed his life by giving him a blue fiberglass Bahne skateboard. By twelve, Tony was sponsored by Dogtown Skateboards, by fourteen he was pro, and by age sixteen Tony Hawk was widely considered the best skateboarder in the world. In the ensuing 17 years, Hawk entered an estimated 103 pro contests. He won 73 of them, and placed second in 19. By far the best record in skateboarding's history. He was the world champion for 12 years in a row. In 1999 at the X Games, Tony became the first skateboarder to ever land a 900, the holy grail of vert skateboarding. Soon after, he retired from competitions, though he continues to skate demos and exhibitions all over the world.
In 1999, Tony teamed up with Activision to create the Tony Hawk's Pro Skater video game franchise. The Tony Hawk video game series became one of the most popular game franchises in history and continues to this day.
Also respected as a businessman, Tony has launched several successful businesses such as Hawk Clothing, Hawk Shoes, Tony Hawk HuckJam bicycles and many others. His autobiography, Hawk: Occupation Skateboarder was a New York Times bestseller and his second book How Did I Get Here? The Ascent of an Unlikely CEO was released in October 2010.
The most recognized action-sports figure in the world, and according to some marketing surveys the most recognizable athlete of any kind in the United States, Tony regularly appears on television and in films, and hosts a weekly show on the Sirius XM satellite radio network. Tony is a role model for fans of all ages. He was named Choice Male Athlete at the Teen Choice Awards 2004 and had won the same in 2001 and 2000 and Favorite Male Athlete at the 2008 Nickelodeon's Kid's Choice Awards (he won the same award in 2003, 2004 and in 2001).  He is an active participant in the Make-a-Wish Foundation, which honored him as its Favorite Male Athlete in 2002.
With the creation of the Tony Hawk Foundation in 2002, Tony has also been helping others experience the same excitement he did as a young skateboarder, learning to skate and building the self-confidence that resulted in his success. Designed to promote and help finance public skateparks in low-income areas, the Tony Hawk Foundation has given away over $3.2-million to 463 skatepark projects throughout the United States: from Marathon, Florida to Port Angeles, Washington, serving over 3-million youth.
Tony currently resides in San Diego.
Reviews
He was great! When I told him there was a skate park in front of the venue his entire face lit up...so we went skating and the kids loved it. During the show we talked a lot about the foundation and we definitely saw a future in helping him bring his philanthropy south of the border.
NomadX Movement Festival
For speaker-related inquiries, email speakers@caa.com, or send us a message using the form below.