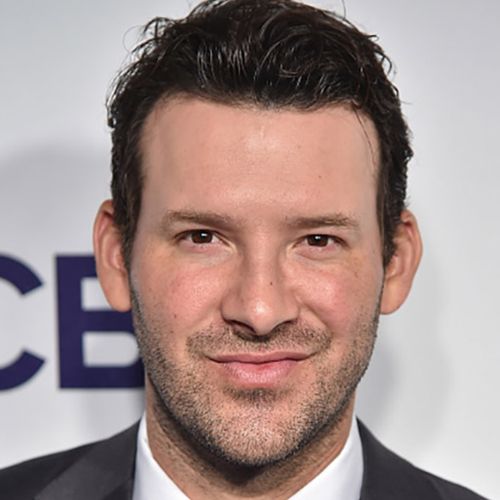 Inquire below to book
Tony Romo
Lead NFL Game Analyst, CBS Sports & Former NFL Pro Bowl Quarterback 
At a Glance
Tony Romo

: Biography at a Glance
Tony Romo is the lead NFL game analyst at CBS Sports
Former quarterback of the Dallas Cowboys
Four-time NFL Pro Bowl selection
Led the Cowboys to six postseason appearances
Holds several Cowboys' team records including passing touchdowns, passing yards, most games with at least 300 passing yards and games with three-or-more touchdown passes.
Worked his way up from a third-string quarterback to starting quarterback over the course of four years
2002 NCAA Walter Payton Player of the Year
Biography
Tony Romo is the Lead NFL Game Analyst at CBS Sports. Prior to his broadcast debut, Tony played fourteen seasons with the Dallas Cowboys, retiring from the NFL in April 2017.
Despite showing great athletic talent and having a stellar collegiate career, Tony came into the NFL undrafted as a backup quarterback. He proceeded slowly in Dallas, working from third-string quarterback to starting quarterback over the course of four years.
He was given a chance in 2006, as he replaced a veteran quarterback midway through the season resulting in a playoff appearance for the Cowboys after a three-year drought. Romo led the Cowboys to six playoff appearances and became a four-time Pro Bowler. Upon retirement following the 2016 season, Romo's 97.1 passer rating remains the fourth highest of all-time and the highest among retired players. He currently holds several Cowboys' team records including passing touchdowns, passing yards, most games with at least 300 passing yards and games with three-or-more touchdown passes.
It was not long before the media caught up with the small town boy-turned-Dallas Cowboys quarterback. His immediate rise from a blue-collar background to Texas Royalty epitomizes the American Dream.
Romo attended Eastern Illinois University. During his time with the Eastern Illinois Panthers football team, he led them to two Ohio Valley Conference Championships, and was named Ohio Valley Conference Player of the Year and All-American three times. In 2002, Romo was a recipient of the Walter Payton Award in his senior year, which recognizes the most outstanding offensive player in the Division I Football Championship Subdivision of college football. In 2009, Eastern Illinois University retired Romo's No. 17 jersey and inducted him into the EIU Hall of Fame. He is the first Eastern Illinois player to have his number retired.
He appeared regularly Sports Illustrated, ESPN the Magazine and The Sporting News. Midwestern origins and a close-knit family provide Tony with a strong foundation to handle challenges both on and off the field.
Reviews
Our group was extremely pleased. Tony was very friendly, accommodating and did a nice job with the Q&A.
Texas Apartment Association
For speaker-related inquiries, email speakers@caa.com, or send us a message using the form below.