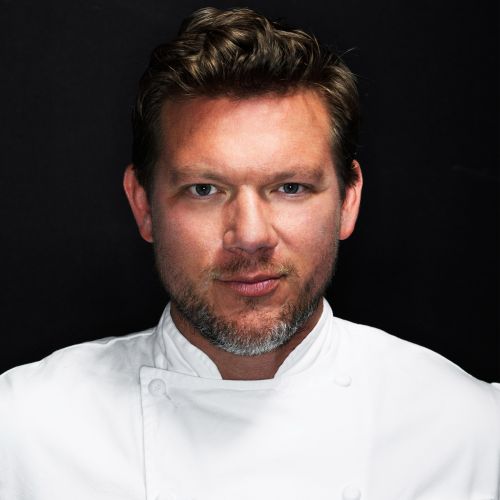 Inquire below to book
Tyler Florence
Chef, Entrepreneur, Food Network Host
At a Glance
Tyler Florence

: Biography at a Glance
Host of Food Network's "Food Court Wars" and "The Great Food Truck Race"
Former host of "Tyler's Ultimate"
Regular guest on the "Today" show, CNN, "The View," "The Tonight Show" and "Access Hollywood"
Owns and operates three acclaimed restaurants in the San Francisco Bay Area
Named "Restaurateur of the Year" by Wine Enthusiast Magazine
Two-time James Beard Award nominee
Biography
Chef Tyler Florence graduated from the prestigious culinary program at Johnson and Wales University, and moved to New York where he honed his skills under the tutelage of premier chefs like Charlie Palmer, Marta Pulini and Rick Laakonen, ultimately becoming executive chef at Cafeteria.
Tyler is a veteran star of the Food Network. He has starred in such series as How to Boil Water, Food 911 and Tyler's Ultimate, as well as The Great Food Truck Race, Food Court Wars, America's Best Cook and Worst Cook in America.
In 2010, Tyler opened his San Francisco restaurant, Wayfare Tavern, and in March 2011 he opened the historic El Paseo Restaurant in Mill Valley, followed by Tyler Florence Fresh located at San Francisco International Airport. He was awarded "Restaurateur of the Year" by Wine Enthusiast Magazine in 2011 & has consistently earned three star reviews from San Francisco restaurant critic, Michael Bauer. In February 2014 and again in February 2015, he was nominated for a James Beard award in the category of: Best Chef, West.
He is the author of multiple top-selling cookbooks – most recently: Tyler Florence Fresh. His 12th cookbook, Inside the Test Kitchen: 120 New Recipes Perfected was released in November 2014.
Tyler has his own organic baby food company called Sprout, and he produces wines under his California Crush label. In November 2014 Tyler and William Sonoma commenced a joint venture that leverages mutual brand strategies to identify emerging trends in the culinary market & bring customers new concepts and products. Currently, he has plans under way for the much anticipated opening of The Tyler Florence Test Kitchen: his culinary laboratory, think tank, and event space.
Reviews
He was amazing! It went very well. Everyone loved him and he really was a true professional. He did everything we needed!
Canadian Breast Cancer Foundation
The show was great…..it went as well as I could have hoped for. Tyler was very professional, so friendly and accessible to the press and his fans. It was really so fun to have him participate at the event.
Delicious Food Show, Ontario
Tyler was solid. This was his third appearance at our show. He's very polished on stage. He also had one of my favorite timely lines of the weekend. During Michael Symon's 'Block Party' on Saturday, we were surrounded by 10 local food trucks indoors at this signature event. Tyler steps on stage and says, "Wow, look at all these Food Trucks (pause) Let's race them!" Well played.
Fabulous Food Show, Cleveland
Every single guest is in need of being rolled home tonight. AMAZING. 
Empire Entertainment
For speaker-related inquiries, email speakers@caa.com, or send us a message using the form below.