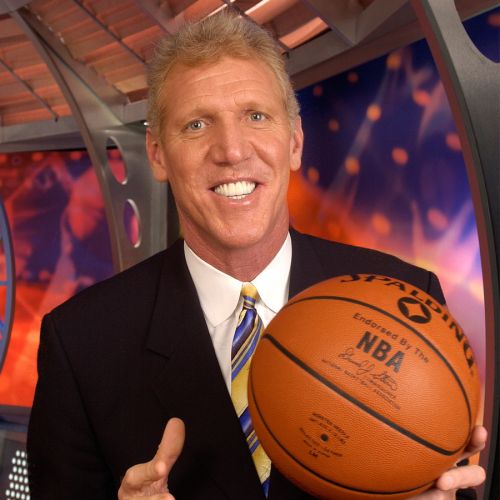 Inquire below to book Bill Walton
Basketball Legend
Bill Walton: Biography at a Glance
Three-time NCAA Champion and two-time NBA Champion
Walton's career began in 1990 and he has since worked with numerous networks, including ABC, ESPN, NBC, CBS and Fox
1978 NBA's Most Valuable Player, 1978 all-NBA First Team, 1977 and 1978 NBA-All Star Team, and 1977 NBA Playoff's MVP
Member of the Basketball Hall of Fame and named one of the NBA's Fifty Greatest Players of All-Time
Won an Emmy for Best Live Sports Television Broadcast in 2001
Basketball Legend
The lessons Bill Walton learned on the basketball court became life lessons that served him well throughout his sports, broadcasting and business careers. No lesson was more important than the words from the legendary John Wooden, Bill's basketball coach at UCLA, who simply said, "Do your best." Wooden never asked players to go out and win – simply to do their best and not beat themselves. Walton never forgot those words which helped him throughout his extraordinary career.
Following a celebrated college basketball career, Walton went on to have a Hall of Fame NBA career. After basketball, Walton pursued his dream job as a sports broadcaster – but first had to overcome the lifelong stuttering affliction. And then, in 2008, Walton endured risky back surgery for to repair damage done early in his basketball career. Through it all, Walton's determination carried him through.
Walton enrolled at UCLA in 1970. He played center for John Wooden's varsity team for three seasons (1972-1974), after a year with the freshman team in 1971. He was a member of two NCAA championship teams compiling an NCAA record 88 consecutive game-winning streak.
Walton's professional career began when he was the number one overall pick in the 1974 NBA Draft by the Portland Trailblazers. He was a member of their championship team in 1977. Nine years later he earned another championship title, this time with the Boston Celtics in 1986. He played with the Trailblazers 1974-1979, the San Diego Clippers 1979-1984, the relocated Los Angeles Clippers in 1985 and The Boston Celtics 1985-1988.
Walton was the NBA's Most Valuable Player, 1978; All-NBA First Team, 1978; NBA All-Star Team, 1977 and 1978; NBA Playoff's MVP, 1977; All-NBA second team, 1977; winner of the NBA Sixth Man Award, 1986. Walton is one of only four players in the history of basketball to have won multiple NCAA and multiple NBA Championships. Walton is also the second of only five players in the history of the NBA to lead the league in both blocked shots and rebounding in the same season. In 1991 Walton received the NBPA's Oscar Robertson Leadership Awards. In 1993 Walton was inducted into the Basketball Hall of Fame in Springfield, Massachusetts. In 1997 Walton was selected as one of the NBA's Fifty Greatest Players of All Time.
After retiring from basketball Bill began his broadcasting career in 1990 as an analyst for the then Prime Ticket Network. Walton worked for CBS Sports in the early 90's and then for NBC for many years, including work on the 1996 Atlanta and 2000 Sydney Summer Olympic Games. Over his career he's also done broadcasting work for ABC, ESPN, FOX, MSNBC, Turner Sports, KCAL, NESA and the NBA. Walton has been nominated for numerous Emmy Awards and in 2001 won an Emmy for Best Live Sports Television Broadcast. In 2009, Walton was named one of the top 50 sports broadcasters of all time by the American Sportscasters Association.
Walton is author of Back from the Dead and Nothing But Net.
To book a speaker, or for more information, call 424-288-2898, or send us a message using the form below.